Virgin Blue continues remorseless slide; Cathay Pacific fall accelerates rapidly last week
Analysis
Virgin Blue shares have slipped below AUD 20 cents for the first time, as relentless pressures at home and internationally weigh on its outlook. The share price has fallen more than a third since the beginning of the year. Cathay Pacific shares have suffered a similar fate.
Asia Pacific airlines price movements (% change): 06-Mar-09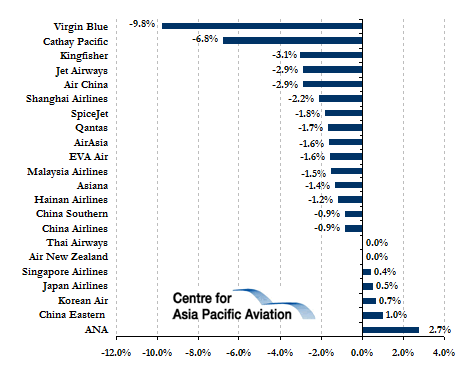 Last month, reporting on a still-profitable six months to 31-Dec-08, Virgin Blue CEO Brett Godfrey noted the airline was operating in "an exceptionally challenging and historically unprecedented operating environment". The entry of V Australia onto the Pacific route is confronting severe headwinds as demand slips and competitor Qantas cuts its lowest discount fares to about a third of the pre-V Australia announcement levels.
Virgin Blue Share price: 02-Jan-09 to 06-Mar-09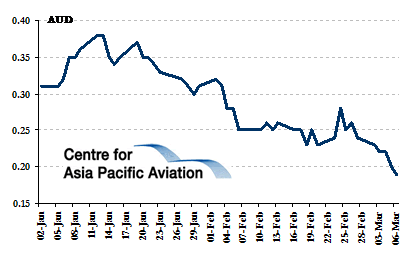 The situation is not helped by a need for restructuring of the carrier's shareholding, where Virgin Group holds a veto-controlling 25.5% and is unlikely to withdraw at current price levels.
Cathay Pacific meanwhile is also undergoing a vertigo-challenging slide this year, after already seeing its capitalisation halved last year.
A further slide of almost HKD2, from its previous level just below HKD10 in early Jan-09 to around HKD7 on Friday, appears to be accelerating, as it shed nearly HKD1.50 of that in the week ending 6-Mar-09. The combined effects of a slumping cargo market - down more than 20% in January - a large increase in capacity last year, and the erosion of premium traffic have seriously wounded the Hong Kong market.
Cathay Pacific Share price: 02-Jan-09 to 06-Mar-09