Virgin Blue and Thai AirAsia see profits, Tiger Airways' shares down 5% since listing
Shares in Virgin Blue slipped 1.8% yesterday, despite the carrier stating it expects to report a net profit (before tax and exceptional items) of AUD80-100 million in FY2009/10, compared to a loss of AUD93 million in FY2008/09.
The forecast reflects improved operating conditions in 1H2009/10 in respect of two key drivers - some recovery in yields for the domestic business from the market lows seen in early 2009 (to be broadly in line with the same period in 2008) and a reduction in the average fuel price paid by the Group.
This forecast is consistent with the most recent guidance (given at last year's AGM) that the Group would return to profitability in the year. The carrier noted that concerns remain around the pace of the global economic recovery and the continuing volatility in domestic and international markets.
Thai AirAsia on track for profitability in FY2009; profits to jump in FY2010
Thai AirAsia is also seeing yield improvements and an expectation of a profit in FY2009 and FY2010, with CEO, Tassapon Bijleveld, stating the carrier expects improved earnings this year, due to increased efficiency, stronger sales and improved yields, as follows:
Thai AirAsia FY2009 and FY2010 forecast
| | FY2009 | FY2010 |
| --- | --- | --- |
| Net profit | Over USD3 million | Over USD30 million |
| Revenue | Over USD241 million | USD362 million |
| Passengers | 5.1 million | 5.8 million, with a load factor of 85% (+7 ppts year-on-year) |
Mr Bijleveld added that the carrier is considering various options to raise new capital, including listing shares on the Thai stock exchange or the issue of new shares to investors, to finance expansion plans.
He commented to The Nation, "we're planning to expand our aviation business. So far, we don't know how large an investment budget we need, but we have to study many ways of mobilising funds to prepare ourselves. To list in the Stock Exchange of Thailand is one of the solutions. Our parent company - AirAsia [of Malaysia] - will have a dual listing in the SET [and Kuala Lumpur], but it's not necessary for us to follow them [into the SET]".
Tiger's shares down 5% since listing
Meanwhile, recently-listed Tiger Airways' share price has slipped by over 5% since listing at SGD1.50, falling 2.7% yesterday. The carrier's share price is slightly over lows of SGD1.44 set on 01-Feb-2010.
Tiger Airways share price growth: 22-Jan-2010 to 04-Feb-2010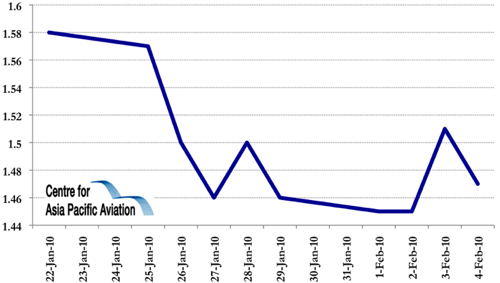 In North Asia, shares in Hainan Airlines, China's fourth-largest air carrier, soared above its 10% daily limit to reach CNY8.18. Conversely, Shares in Hong Kong and China weakened on Thursday, with the benchmark Shanghai Composite Index closing down 0.28% on Thursday, after rising 2.4% on Wednesday in its largest daily percentage gain in nearly six weeks. The benchmark Hang Seng Index ended down 1.84%, ending a three-day rise.
Shares in SpiceJet, Kingfisher and Jet Airways were also down yesterday (by 7.1%, 5.8% and 2.0%, respectively), reflecting general weakness in the market.
For all this and more coverage of today's Asia Pacific aviation developments, see Asia Pacific Airline Daily.
Asia Pacific selected airlines daily share price movements (% change): 04-Feb-2010