Vienna's third runway delayed but Skylink terminal goes ahead as Austrian Airlines sale approaches
Analysis
Flughafen Wien CEO, Herbert Kaufmann, has confirmed plans to delay the construction of a proposed third runway at Vienna International Airport by "several years", stating that it was likely "the next one or two years will bring less growth". However, Flughafen Wien remains committed to the construction of its proposed USD823.8 million Skylink Terminal, with Phase I scheduled to open in Oct-09. Mr Kaufmann also stated the airport's long-term forecast remains unchanged, expecting to handle 30 million passengers per annum in 2015. This is despite uncertain times for Austrian Airlines.
"We don't want to create too much capacity" - Kaufmann
According to Mr Kaufmann, "the one big thing where we can be flexible is the third runway. We'll certainly need it in the mid or long term, but we can postpone this investment for several years. The reason is not that we could not finance it, but that we invest according to demand and don't want to create too much free capacity."
Mr Kaufmann is sticking to a predicted passenger outlook of 30 million passengers in 2015 and is confident that 2008's total will just about touch or slightly exceed the outlook for 20 million passengers, it having been reduced from 20.3 million.
Vienna International Airport passenger numbers: 2001 to 2015F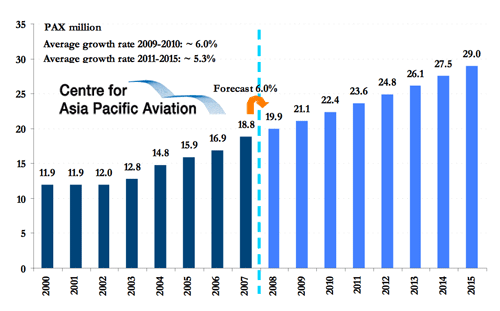 Flughafen Wien is the main hub into Eastern Europe for loss-making Austrian Airlines (AUA), which is currently being sold by the Austrian Government and seems likely to be absorbed into Lufthansa.

Lufthansa is now the exclusive bidder for the loss-making Austrian Airlines and a deal could come before Christmas, although Air France-KLM has threatened legal action over what it sees as changed bidding rules, potentially delaying the process.

Ryanair has also entered the fray, as it often does these days, requesting the European Commission to block the Austrian Government's proposal to assume EUR500 million of Austrian Airlines' debt, which reportedly stands at approximately EUR900 million, as part of its plan to sell its 41.6% stake in the carrier. Ryanair has termed the proposal a "clear violation of EU state aid rules", contravening the private investor statutes of the legislation. The carrier plans to appeal against any EU decision to allow the government to take on EUR500 million of Austrian's debt as "yet another case of blatant State aid to yet another EU flag carrier airline," according to Jim Callaghan, Director of Legal and Regulatory Affairs for Ryanair.

However, Ryanair's lack of success in influencing the sale of Alitalia, where there were even bigger state aid issues, does rather indicate that it will be no more than a frustrated spectator in this transaction.
Vienna to remain a key hub for the former Communist part of Europe
The projected sale to Lufthansa has raised fears (voiced in a recent edition of Airport Investor Monthly) that the German carrier might redirect flights away from Vienna to its Frankfurt or Munich hubs, but Kaufmann said he expected to remain a key hub for the former Communist part of Europe. "We are well prepared to remain a hub towards Eastern Europe," he stated. "This is compatible, or so we hear, with the interests of those who want to take over AUA. Nobody is going to buy this airline and ignore its biggest advantages - in particular the Eastern European traffic."

While it is certainly the case that Vienna holds a strong position for East-West European traffic that position is no longer unique by any means and is being challenged increasingly by the fast growing Prague Airport, also Budapest and the reinvigorated Zurich Airport, led by the Lufthansa-owned Swiss.
Vienna remains committed to terminal building
Though a third runway may be delayed, construction of Vienna's new Skylink terminal will proceed as planned under the Master Plan 2015 scheme.

FW remains committed to the USD823.8 million construction of a new passenger terminal and it remains on schedule. The new Skylink terminal will be opened in stages and will be completed in October 2009, as planned. The terminal will enable the airport to handle larger aircraft such as the Airbus A380 and boost passenger capacity from the present 18.9 million passenger a year. The airport has plans to expand the terminal as part of its Masterplan if traffic numbers increase beyond expectations.
Flughafen Wien has released financial/traffic highlights for the nine months ended 30-Sep-08 (all figures EUR millions):
Revenue: 418, +10.6%;
Ebitda: 164.2, +7.9%;
Ebit: 112.8, +11%;
Net profit, 84.7, +13.7%;
Passenger numbers: 15.3 million, +9%.
The slower growth in passenger volume has led to a revision of traffic forecasts for the full 12 months of 2008. FW now expects an increase of 6% in the number of passengers this year (instead of the previously announced 8%), and current information indicates that flight movements should increase 5% (instead of the previously announced 6%). The forecast for maximum take-off weight (MTOW) remains unchanged at 6%. FW claims these results will still place Vienna International Airport significantly above the European average.

The slow down in passenger volume in 3Q08 has influenced revenue, EBITand Net Profit.
Vienna International Airport financial performance: 3Q08 vs. YTD3Q08