Vienna Airport traffic up 12.1%; Lotte Shopping to target China and Russia over the next 8 years
Passenger numbers: 1.6 million, +12.1% year-on-year;
Cargo volume: 27,661 tonnes, -3%;
Aircraft movements: 20,376, +2.3%
Maldives' GMR Male International Airport CEO Andrew Harrison stated GMR Infrastructure (+3.6%) and Malaysia Airports Holdings Berhad (MAHB) (-2%) formally took over at Male International Airport on 25-Nov-2010, marking the beginning of expansion that includes the construction of a new airport terminal by late summer 2014 and the refurbishment of the existing terminal. Mr Harrison stated the "focus so far has been on engagement with employees, and bringing together various stakeholders". The company has also focused on training existing employees.
Mexico's GAP -1.8% on Tuesday (14-Dec-2010). The company was cut to "neutral" from "buy" at Bank of America Merrill Lynch. Meanwhile, ASUR (-0.1%) shares dropped while the company was raised to "buy" from "neutral" at Bank of America Merrill Lynch.
Selected airport operators/investors daily share price movements (% change): 14-Dec-2010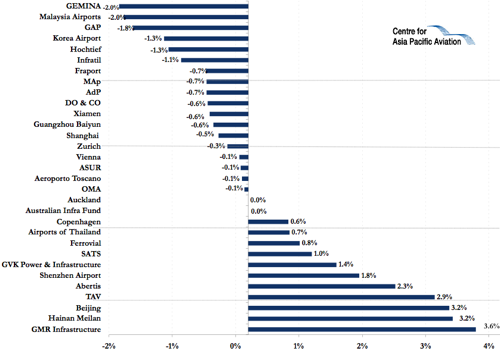 Lotte Shopping shares dropped -0.2% on Tuesday. The company reportedly plan to target China and Russia over the next eight years to boost its shares of overseas sales to 30% from just above 10% expected for 2010.
Selected airport suppliers daily share price movements (% change): 14-Dec-2010