Vancouver International Airport's vision: to connect Asia with Latin America as traffic jumps
Analysis
Vancouver International Airport charted impressive growth in 2014, leveraging and solidifying its position as Canada's second largest airport. Vancouver is buoyed by its leading position as the country's gateway to Asia; but in 2015 it has also secured new service from Air France and Aeromexico.

As it celebrates solid passenger numbers, Vancouver also faces growing competitive pressure from nearby Seattle now that Delta is quickly building the airport into its main gateway to Asia. But a recent expansion of Canada's transit without visa programme should help Vancouver face the increased competition by giving the airport the potential to eventually connect travellers from Asia to Central and South America.

Overall Vancouver seems well positioned to meet its growth targets, which include handling 25 million passengers annually by 2020, a nearly 29% jump over a record number of customers travelling through the airport in 2014.
Vancouver International recorded 7.7% passenger growth in 2014 to 19.4 million. It has posted steady increases in passenger input since recording a decline in 2009 of 9.4%.
Vancouver International Airport annual passenger numbers: 2009 to 2014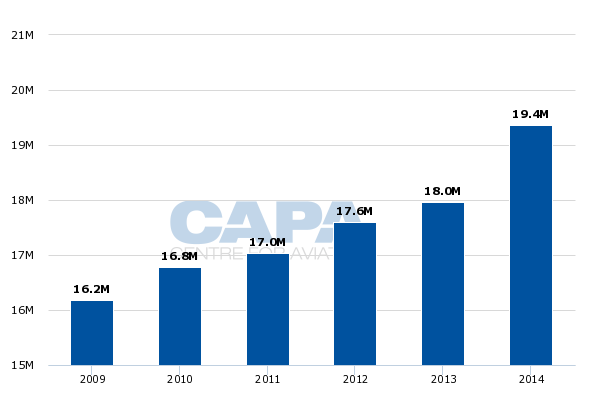 Vancouver International Airport annual passenger number growth: 2009 to 2014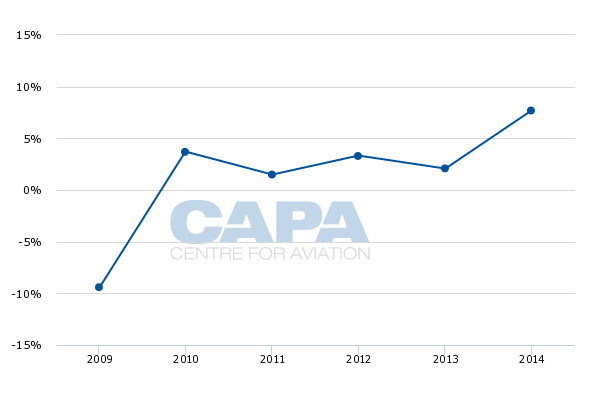 Vancouver's long-haul markets to Asia Pacific and Europe for the week of 15-Jun-2015 to 21-Jun-2015 include Amsterdam (KLM and Air Transat), Beijing (Air China and Air Canada), Auckland (Air New Zealand), Cancun (WestJet, Sunwing), Frankfurt (Lufthansa, Condor), Glasgow (Air Transat), Guangzhou (China Southern), Hong Kong (Cathay, Air Canada), London Gatwick (Air Transat), London Heathrow (British Airways, Air Canada), Manila (Philippine Airlines), Munich (Lufthansa), Osaka (Air Canada), Paris (Air France), Reykjavik (Icelandair), Seoul (Air Canada, Korean), Shanghai (Air Canada, China Southern and China Eastern), Shenyang (Sichuan), Sydney (Qantas, Air Canada), Taipei (China Airlines, Eva Air), Tokyo Narita (Air Canada, Japan Airlines) and Tokyo Haneda (All Nippon Airways).

The airport's international versus domestic seat mix for the week of 15-Jun-2015 to 21-Jun-2015 is roughly 47% and 53%. International ASMs outstrip domestic ASMs – 75% versus 25%, reflecting Vancouver's numerous trans-Pacific service offerings.
Vancouver International Airport international vs domestic capacity (% of seats): 15-Jun-2015 to 21-Jun-2015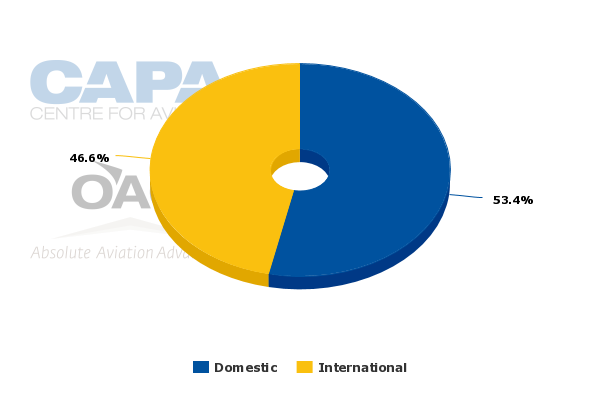 Vancouver International Airport international vs domestic capacity (% of ASMs): 15-Jun-2015 to 21-Jun-2015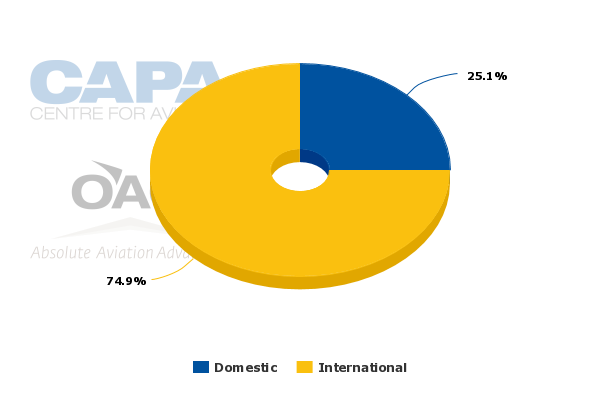 Asia Pacific routes dominate Vancouver's top international routes represented by ASMs, and also feature prominently in top routes ranked by seat deployment.
Vancouver International Airport top 10 international routes by ASMs: 15-Jun-2015 to 21-Jun-2015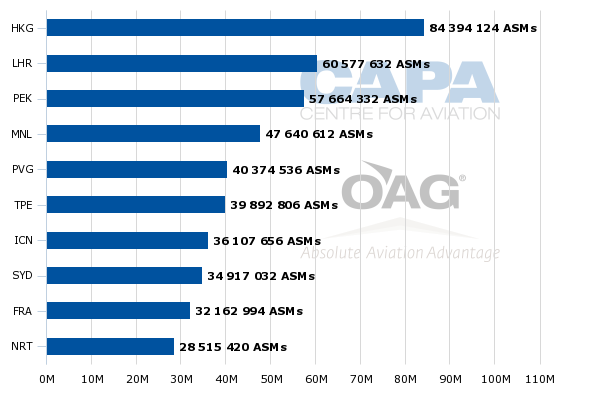 Vancouver International Airport top 10 international routes by seats: 15-Jun-2015 to 21-Jun-2015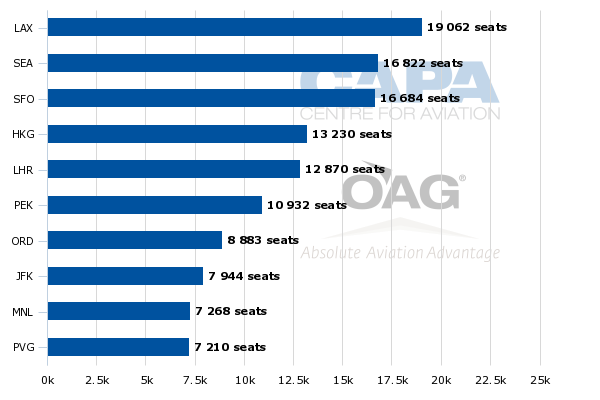 Vancouver adds a solid mix of new international service in 2014 and 2015
In 2014 ANA inaugurated its first service to Canada with the flights from Tokyo Haneda to Vancouver. Icelandair also began service to Reykjavik in 2014. During 2015 Vancouver is gaining new service by Air France to Paris and by Aeromexico to Mexico City Juarez, a route presently operated by Air Canada. Flights to Osaka, Japan have also resumed in 2015 by Air Canada's low cost subsidiary rouge.

In late Jun-2015 Vancouver's Asian markets are expanding after China Eastern decided to offer three times weekly service from Kunming, the largest city in Yunnan province, to Vancouver through Shanghai.

During the last two years, Vancouver has added a decent mix of airlines from Europe, Asia and a key addition with Aeromexico. Air Canada has also hinted that it could add new service to Brisbane in 2016, according to The Australian Business Traveller, joining its existing service between Sydney and Vancouver.
Expansion of the visa-free transit programme should bolster Vancouver's competitiveness
As Vancouver celebrated record passenger levels in 2014, it is also bracing for intensified competition from Seattle Tacoma International Airport, roughly 229km across the US border. Delta has been growing at a break-neck pace from Seattle during the last two-to-three years, with a particular focus on expansion into Asia. It has also added numerous flights to feed that long-haul service, including new flights between Seattle and Vancouver.

Presently, Seattle's service to Asia includes flights offered by Delta to Beijing, Hong Kong, Seoul, Shanghai and Tokyo Narita and Haneda. Hainan also operates between Beijing and Seattle and Korean and Asiana offer service from Seoul to Seattle. Delta competes with ANA on its service from Seattle to Tokyo Narita. Additionally, Eva Air offers flights between Taipei and Seattle.

Vancouver's footprint to Asia is clearly remains larger than Seattle, and Vancouver intends to keep its edge as one of the leading North American gateways to Asia. Canada recently approved an expansion of the China Transit programme to include Tokyo and Seoul, which should help with the amped up competition from Seattle.

The programme allows Chinese nationals to transit through approved airports such as Vancouver to the US without a Canadian visa. Presently, Beijing, Shanghai, Guangzhou, Hong Kong, Manila and Taipei are covered under the scheme.

At the time that Tokyo and Seoul were included in the transit programme, Craig Richmond, CEO of the Vancouver Airport Authority stated the entity would continue to work closely with the Canadian government to "progressively expand visa-free transit to the US, and eventually between Asia and Latin America".
Mr Richmond in Apr-2015 told news outlet The Vancouver Sun that with an expanded transit without visa programme could allow the airport to add up to 10 new destinations in the US, Central and South America during the next few years.

Presently, Vancouver's international offerings outside the US transborder, Asia Pacific and Europe are largely focussed on Mexico. WestJet and Sunwing offer service to Cancun and Los Cabos, Air Canada (and soon Aeromexico) offers service to Mexico City Juarez and Air Canada, Sunwing and WestJet operate flights to Puerto Vallarta. Sunwing also offers service to Varadero, Cuba.

With the exception of Mexico City, which is served by Air Canada daily and Aeromexico's daily flights beginning in Dec-2015, most of the service to the Mexican leisure destinations is roughly once-weekly.

Aeromexico is adding service to Vancouver, along with the resumption of service between Mexico City and Toronto, after the Canadian government in late 2014 initiated a programme to expedite the visa process for Mexican citizens that have travelled in the US or Canada within the last 10 years. Similar changes have been made for travellers from Brazil, and visa requirements have been lifted for Chileans travelling to Canada.

See related report: Aeromexico works to strengthen its global network as Mexico's economy starts a slow path to recovery
A goal for many large airports in the US and Canada is to leverage connections from Asia onwards to Latin America given the small penetration of direct service between Asia and Latin America. Even though they are in a public spat over alleged subsidies, Qatar and American's partnership offers some benefits in Asian-Latin American connections through Qatar's recently launched flights from Doha to Miami. American also is leveraging connections to Latin America from Asia with recent service additions from its hub in Dallas/Fort Worth to Beijing, Hong Kong, Seoul, Shanghai and Tokyo Narita.

See related report: Qatar Airways lays claim to Miami as Gulf airlines plan for a busy 2014 expansion into the US

Vancouver's extensive Asian footprint makes it ideal for the establishment of a connecting point between Asia and Latin America. Mr Richmond told The Vancouver Sun in late 2013 that even though representatives from the region's mining industry have been aiming for direct service to Lima and Santiago for years, there was not enough local traffic to lure airlines to start service, but connecting passengers from Beijing and Hong Kong could make those routes viable. The recent lifting of visa requirements for Chile and the expansion of the transit without visa programme could perhaps warrant a second look at Vancouver for some Latin airlines.
Even with increased competition, Vancouver is poised to break its stated passenger goals
Mr Richmond has previously stated that Vancouver International Airport's goal is to serve 25 million passengers by 2020. Enhancing its role as a gateway from Asia to the US, and Central and Latin America is no doubt driving a solid portion of the projected growth.

Perhaps the largest unknown is the severity of the competitive threat the recent additions of new Asian destinations in Seattle poses to Vancouver. Seattle is battling its own creep in cost per enplanement, and is in the midst of a capital improvement programme to handle its projected growth.

Vancouver certainly has no intentions of losing its edge with service to Asia, which includes four Chinese airlines offering direct flights from the airport. As all airports work feverishly to enlarge their Asian footprint, Vancouver recognises the advantages it holds in its Asia Pacific network, and appears to be working on the next stage of leveraging its service footprint in the region to offer key connections from Asia to Latin America.

See related report: Seattle Tacoma Airport's stature grows – and needs facility expansion to support hub airlines