United, American, JetBlue, Air Canada shares surge on uncertain logic. GOL and TAM up - Share Wrap
GOL (+4.9% on Wall Street and over 7% on its home exchange in Rio) and TAM (+4.1%) also rode the sentiment in Latin America. Brazil in particular is heavily reliant on commodity exports and any uptick in world trade is most welcome.

It is hard to detect any logical thread in buyer reasoning in the US airline sector at present.

If buyers were impressed with the highly unlikely euphoric scenarios of the previous day, where "the recession is over" was the word and there was even talk of a v-shaped recovery, then the stock price rises are understandable. They certainly had little to do with the near-tragic performance of the majors.

Despite capacity reductions (which have certainly helped improve load factors), traffic is still way down for April and there was, unusually, little boost to prices. Some observers for example talked up Continental's slightly less-bad yield profile in April, as compared with March (failing to mention the positive effect of an April Easter this year).

The fact is that price discounting is as deep or even deeper than previously. Combined with reduced traffic numbers, revenues are falling, even if the gap between revenue and cost – mostly still negative – may be narrowing a little.

Meanwhile, tiny Allegiant (-6.9%), whose unclassy, but highly successful LCC model had the affrontery to deliver a one-third increase in traffic for the month, was the only airline stock to show on the negative register.

Despite an announced sell-down (apparently not a dilution) of about a sixth of the airline's stock by PAR Investment Partners, an existing shareholder in the tightly held carrier, the LCC's performance is sparkling against a generally dreadful performance by mainstream airlines.

In an environment where fuel prices stay low, Allegiant's cheap, geriatric aircraft are helping this model to flourish. It is perhaps only its current multiple of 11 times earnings that is making it unattractive. Success has a price.
For daily updates on American aviation stock prices and a complete wrap of the day's breaking news, sign up now for a complimentary subscription to America Airline Daily.
North & South America selected airlines daily share price movements (% change): 05-May-09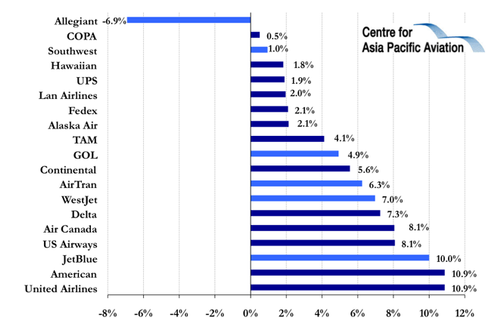 Air Canada (+8.1%) shares also jumped, apparently because the Canadian Auto Workers (CAW) Union President, who was the previous day attacking any suggestion of changes to the carrier's pension scheme, made a push to have the government intervene financially to ward off the threat of bankruptcy.

If that is the hope of buyers, it is likely to melt as quickly as the winter's snows, as spring discloses the usual ingredients left over from colder times. Even if the possibility of bailouts for auto manufacturers remains on the table, the prospect of national government investment in a North American airline today has to be right up there with Alice in Wonderland thinking.

This does not augur well for this month's salary negotiations with the CAW.