Union support of US Airways' quest to take over American is a first step in a long merger process
Public support by American's unions of a merger with US Airways is an unprecedented move, and reflects the years-long frustration that has built among American's employees towards previous and current management. The employees see an opportunity to start fresh, and work with a management team that will cease blaming labour for the carrier's plight. US Airways sees an opportunity to completely overhaul American's lacklustre revenue management that has consistently produced results that pale in comparison to its peers. But many questions remained unanswered over the perceived strength of a combined network, and many tasks have to be completed before a merger gets remotely close to reality.
US Airways formally declared it was examining its options regarding American earlier this year, and tactically began courting the carrier's unions to gain support for a merger of the two companies that would entail US Airways' management taking charge of the new American. Unlike US Airways' attempt to take over Delta Air Lines in 2006 when it was restructuring under Chapter 11 and Delta employees rallied to block the deal, American's employees are exhausted with methods management has adopted in negotiating new collective bargaining agreements during the last few years.
Resentment still lingers with American's employees over management's decision under then president Gerard Arpey to accept hefty bonuses in 2006 after the carrier's executives wrung concessionary contracts from unions in 2003 to stave off filing for bankruptcy at that point in time.
Angst has only intensified among American's staff since the carrier filed for Chapter 11 reorganisation in Nov-2011 and Thomas Horton was named CEO. "American Airlines management has made several excessive demands of our contract since filing for bankruptcy protection last November. Not only were there demands unreasonable, but their business plan was uninspired and not viable," said leaders of the Association of Professional Flight Attendants (APFA) in a recent communication with members.
American's new business plan outlined by management in February of this year shows USD1.25 billion of the USD2 billion the company seeks in costs reductions is targeted at employee cost reductions as 13,000 jobs would be eliminated. US Airways has vowed to save more than 6,000 of those positions.
The carrier's three main unions – APFA, the Allied Pilots Association and the Transport Workers Union – have signed term sheets with US Airways that would serve for the basis of new contracts if the merger crystalises. Those agreements were strategically announced by the unions three days before a months-long process began on 23-Apr-2012 for American to seek bankruptcy court approval to void its labour contracts, and for the unions to attempt to convince the judge not to grant the company's request.
US Airways management has been in discussions with American's pilots since early Mar-2012, and union leaders characterised US Airways' vision as "compelling" and stressed the "new American" would be bolstered on the US east coast and in the country's midwestern region.
Revamping revenue management
If US Airways is successful in its attempt to merge with American, a high priority should be a revamp of American's revenue management, which has produced sagging results. In 2011 American's passenger revenue per available seat mile (PRASM) grew just 6.3% compared with 10% at Delta, 9.6% at US Airways and 9.1% at United. Unit revenue in American's Atlantic markets declined 0.3% year-over-year in 2011 even as the transatlantic joint venture among oneworld alliance partners American, British Airways, Iberia, Finnair and Royal Jordanian was in full swing, buoyed by an hourly shuttle from New York's JFK airport to London Heathrow.
American has built its network strategy during the last few years around its "cornerstone" plan that centres its flying in Chicago, Dallas, Los Angeles, New York and Miami. In most of those markets the carrier is number two in market share, and some analysts have indicated American should abandon Chicago altogether due to poor revenue performance.
American has indicated it will cut unprofitable routes, and has already announced it will end its Chicago-Delhi service. It has also outlined a very achievable plan to grow revenue by USD1 billion.
See related articles:
As US Airways' management begins to scrutinise American's network in earnest, it will not be shy in quickly eliminating underperforming markets throughout the system. After the 2005 merger between America West and US Airways, the combined entity initiated drastic cuts at the America West stronghold of Las Vegas and US Airways' Pittsburgh hub, and now those cities are merely spokes serving the carrier's hubs in Charlotte, Philadelphia and Phoenix.
US Airways has been more successful than American in honing in on placing the majority of its flying from its three hubs and Washington National. But given the smaller populations surrounding its hubs, US Airways has always faced challenges in matching the revenue generation of its larger rivals that have hubs in larger areas.
Population of major US metropolitan centres: 2011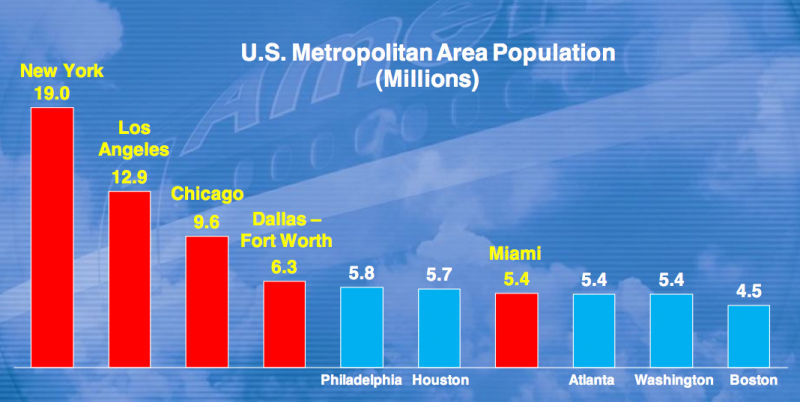 Still, US Airways unit revenue performance in 2011 dwarfed American's unit revenue generating ability even as American's hubs were positioned in stronger population centres. Two of American's hubs are in the top five O&D revenue generating hubs, yet the carrier's revenue performance lagged its peers in 2011.
Revenue generation of US Airways' hubs compared with its network airline peers: 2009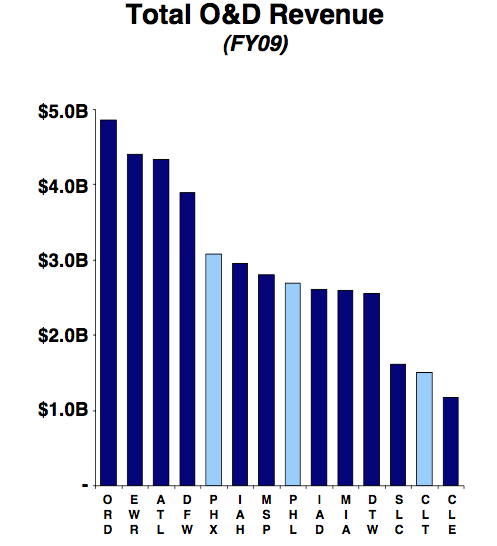 Promises of number one
The Allied Pilots Association representing American's pilots made bold promises for a combined American-US Airways, noting that under a "lean, energetic and highly capable management team" American "will go from number five to number one" on the US east coast, and in the midwest, "we will go from number four to number one". In Miami, American's dominance to South America "will be enhanced by stronger east coast traffic flows".
The last scenario seems the most plausible as US Airways could flow passengers from Philadelphia, Charlotte and Washington, DC over Miami to American's vast Latin American network. US Airways' presence is non-existent in South America with the exception of flights from its Charlotte hub to Rio de Janeiro, so expanding the passenger flow from American's New York LaGuardia and JFK operations could likely bolster the revenue generating potential of Miami.
Even if US Airways' Philadelphia hub is downgraded as a result of the merger, there would still be enough flow traffic from the city to help bolster Miami's performance. US Airways' increased presence at Washington National also has the potential to bolster traffic through Miami to Latin America as American is third in terms of seats offered from both Washington Dulles and Washington National airports.
United is the dominant carrier at Washington Dulles, and it would need to feed passengers through Houston to its Latin American network, which pales in comparison to American's.
US to Upper South America capacity (seats per week, one way): 19-Sep-11 to 14-Oct-12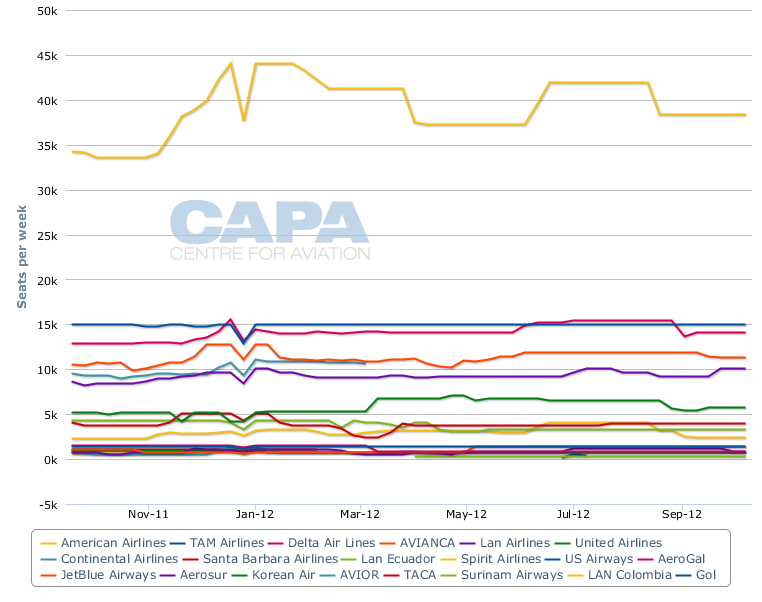 US to Lower South America capacity (seats per week, one way, 19-Sep-11 to 14-Oct-12)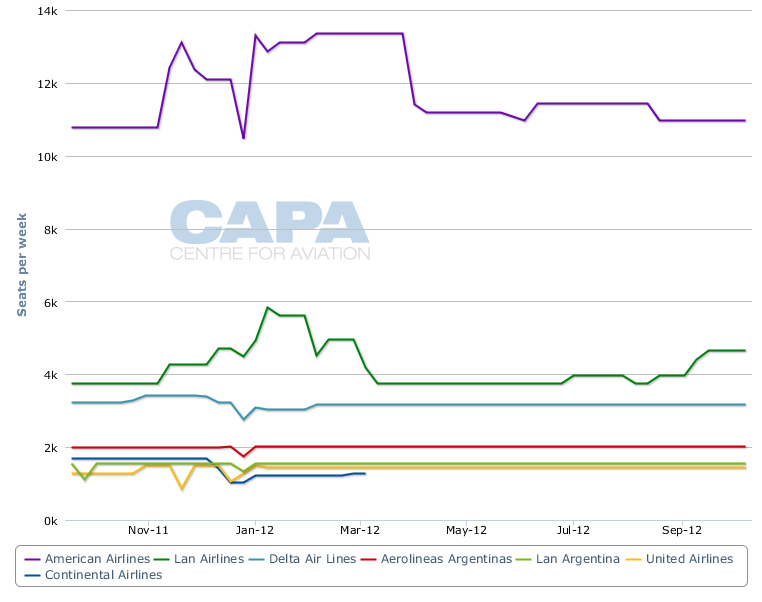 Traffic on American's flights from Dallas to Latin America could also improve as passengers from US Airways' west coast destinations could flow through to American's destinations in Latin America. US Airways does not operate any flights from the west coast to South America is and merging with American would allow for significant traffic levels from Phoenix to flow through Dallas to Latin America, which American has been growing.
See related article: Even in bankruptcy protection American Airlines continues to grow important Brazilian market
US domestic upside to US Airways-American merger remains unknown
Although American's pilots believe a combination with US Airways would propel the carrier to first place in the US midwest, current patterns show that a combined entity would still be second at Chicago and Los Angeles in terms of seats offered.
It is not likely US Airways will adhere to American's stand-alone plans to increase capacity by 20% from its cornerstone markets during the next five years. US Airways could potentially bolster the revenue potential of Chicago by increasing feed from its markets on the US east coast, and flowing some passengers from Phoenix over Chicago to American's long-haul flights from Chicago. US Airways offers no long-haul flights from Phoenix to Europe and stopping in Chicago could make the trip easier than flowing passengers through its current European gateways of Philadelphia and Charlotte.
The fate of US Airways' Philadelphia trans-Atlantic hub remains uncertain as Philadelphia currently competes for traffic with the New York metropolitan area. US Airways' total European footprint is relatively small, and only 10% of its entire network is dedicated to international destinations. Only one European market, Philadelphia-Frankfurt, is featured in US Ariways' top ten international markets in terms of weekly seats.
US Airways international vs domestic seat capacity share: 23-Apr-2012 to 29-Apr-2012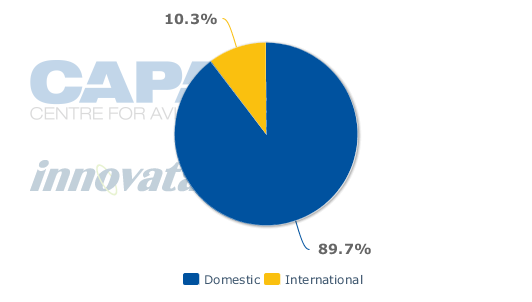 US Airways top ten international routes by capacity (seats per week): 23-Apr-2012 to 29-Apr-2012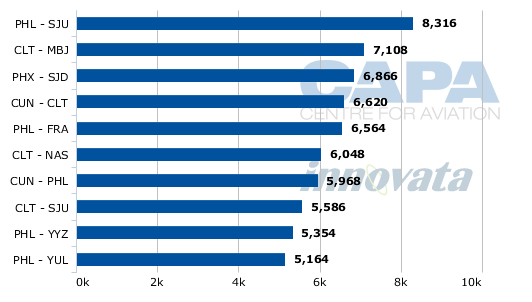 The combined entity could flow passengers through New York while keeping Charlotte as a European gateway from the US southeast. Charlotte could likely benefit from an increased European presence through the merger. US Airways during the last few years has favoured growing international flights from Charlotte in lieu of Philadelphia.
With Charlotte's strong ties to the banking industry, adding flights to some of American and oneworld's existing European destinations could likely boost the revenue generating potential of Charlotte as it would spread out the combined entity's US east coast gateways in the northeast and southeast, similar to Delta's hub structure in New York and Atlanta. A stronger European network from Charlotte would also increase the number of high-yield business travellers in the market.
The new American would remain the underdog in US-Asia
Since US Airways offers no flights to Asia, the combined entity has no significant competitive advantage in the key Asian market. In terms of seat share offered by US carriers from the US to Asia, American would still remain a distant third behind United and Delta. The Pacific was American's worst performing region in 2011, as unit revenues in those markets fell by 7.4% even as its joint venture with Japan Airlines was well underway. Some of the decrease was caused by the Mar-2011 earthquake and tsunami that struck Japan, which caused demand in US-Japan markets to plummet.
US carriers capacity to Asia (seats per week, one way): 23-Apr-2012 to 29-Apr-2012
It is not clear if a combined American-US Airways could create enough domestic feed to improve revenue in American's Pacific markets since United dominates Asia from the two western gateways of Los Angeles and San Francisco, and oneworld is the weakest among the three global alliances in Asia Pacific capacity.
An American steered by US Airways management will likely be cautious in introducing new flights to Asia, as evidenced by the carrier opting not to launch Philadelphia-Beijing service after getting rights to launch the route in 2008. US Airways pushed back the launch many times, citing unfavourable economic conditions, and eventually let its dormancy waiver expire.
Terms of alliance joint ventures could be reviewed
It is nearly certain the combined entity would remain in oneworld since US Airways is a relatively minor player in the Star Alliance and prospects of American joining Star would raise regulatory red flags. But the Atlantic and Pacific joint ventures could be scrutinised by the new American management. US Airways recently declared it is no longer interested in participating in the Star Alliance trans-Atlantic joint venture among Air Canada, Lufthansa and United.
It is hard to imagine US Airways' management agreeing to similar terms in any oneworld tie-up if the current agreements are similar in structure to the conditions of the Star arrangement. American has admitted the benefits from the joint venture were spooling up slower than it had previously forecast, so the potential new management team may wish to work with the joint venture partners to improve the revenue prospects of the tie-up.
Many hurdles to clear before US Airways and American can merge
Unions publicly declaring their support for US Airways' plans for American is an important first step, but some sceptics believe it could be a negotiating ploy by the employee groups to spook American's current management.
American has exclusivity from the bankruptcy court until Sep-2012 to pursue its stand-alone reorganisation plan that includes USD2 billion in cost savings and USD1 billion in annual revenue generation. The bankruptcy court has started months of testimony from both American management and labour arguing for and against wiping out current labour contracts. The creditors committee could petition the court to end American's exclusivity in reorganising under its own plan, but US Airways would need to convince all nine members that its plan would produce higher returns than the elements American has laid out as the foundation for its restructuring.
Boeing also sits on the American creditors committee. American placed a 200 aircraft with Boeing last year as part of a mammoth 460 aircraft order spilt between Boeing and rival Airbus.
In the short-term both carriers will continue operating in the status quo while tensions intensify between American and its unions, which could prove beneficial as US Airways continues to makes it case that three strong network carriers will create a stronger US airline industry capable of sustaining its new-found profitability.