Turkish Airlines soars, Finnair advances, BA, Aeroflot and Air France-KLM fall
Analysis
Turkish Airlines' stock surged 7.4% yesterday as the company announced it would distribute bonus shares as part of a USD445 million capital increase (see below). Air France-KLM shares eased 1.7% to EUR8.77 as the group sold EUR661 million of exchangeable bonds, due Apr-2015.
Aeroflot's shares fell 3.5% as the broad based sell-off on the Russian stock market continues. Russia's benchmark Micex index has fallen more than 24% from its 2009 peak on 01-Jun-2009.
Finnair advanced 2.6% as the carrier stated it would deploy one of its five new 271-seat A330-300 aircraft to operate four times weekly non-stop services from Helsinki to Phuket from Nov-2009 to Apr-2010. Last Winter, a leased A330-200 was used for the corresponding series of leisure flights six days per week.
Elsewhere, British Airways and Lufthansa were quiet after a momentous few days, falling 0.6% and gaining 0.2%, respectively yesterday.
Europe selected airlines daily share price movements (% change): 23-Jun-09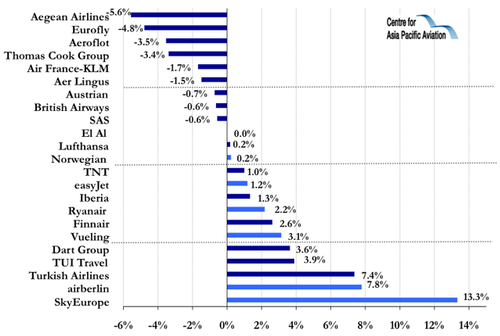 Turkish Airlines' bonus shares filing with the IMKB
The company will raise capital by TRY700mn via a 400% bonus issue. THY will increase capital by 400% from TRY175 million to TRY875 million with a TRY150.9 million portion of the capital raise being funded by 2008 profit and the remaining TRY549.1 million being funded by inflation adjustments.
The bonus issue distribution will commence on 25-Jun-2009.