Turkish Airlines: narrowing the strategic Gulf: Part 1
Analysis
Turkish Airlines' mission statement includes the aims: "To become the preferred leading European air carrier with a global network of coverage,… whilst maintaining its identity as the flag carrier of the Republic of Turkey in the civil air transportation industry." It also has a vision statement with a number of additional aims, including being an air carrier with "a continued growth over industry average" and "unit costs equating with low cost carriers".
Turkish Airlines has the world's second largest network by number of international destinations, but is only eighth by number of international seats and Turkey itself is only the number 15 aviation market globally. Its considerable success in meeting the aims noted above owes much to its strategy of attracting global transfer traffic flows via its Istanbul hub, an approach that both involves competing with, and invites comparison with, the three fast-growing Gulf carriers.
Becoming the preferred leading European air carrier with a global network
As with any mission statement, this goal is very much open to interpretation and the definition of Turkish Airlines' aim to become the "preferred" European carrier is not clear.
However, objectively speaking, Turkish Airlines (THY) is Europe's fifth carrier by seat capacity (and passenger numbers), and is growing faster than any of its nearest competitors.
Top 10 Airlines in Europe ranked by seat capacity: 27-May-2013 to 2-Jun-2013
Rank

Airline

Total Seats

1

2,188,242

2

1,810,054

3

1,454,640

4

1,244,101

5

1,158,903

6

1,029,909

7

793,914

8

728,473

9

634,016

10

601,158
THY has 188 international destinations, according to Innovata (week of 27-May-2013), and is the world's number two carrier by number of international destinations (Lufthansa has 198). This goes some way to fulfilling its aim to have a global network of coverage.
Turkish Airlines destinations (red) and planned destinations (blue) as of Mar-2013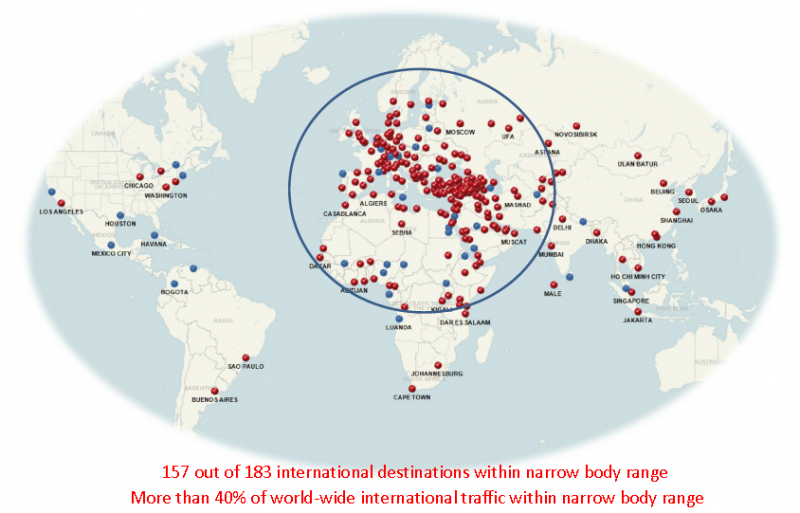 "…maintaining its identity as the flag carrier of the Republic of Turkey"
Turkish Airlines is no longer state-controlled (the government's holding first fell below 50% in 2006) and is listed on the Istanbul Stock Exchange in 2006, but the Republic of Turkey retains a 49% stake in the carrier.
This maintains a strong association with Turkey and the airline is still regarded as the national flag carrier.
"…a continued growth over industry average"
THY has certainly been growing faster than the industry average in recent years, as illustrated in the chart below. It has enjoyed double digit growth in RPKs every year over the past decade, compared with global growth typically in the mid single digits.
Turkish Airlines and world average annual growth in revenue passenger kilometres (%): 2003 to 2013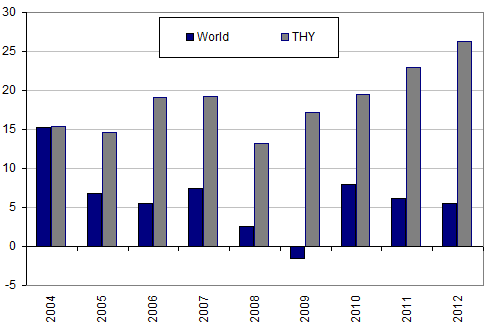 This superior growth is partly due to Turkey's above average economic growth, which has driven growth in passenger numbers above the world average in both the domestic Turkish market and in Turkey's international markets. Nevertheless, THY's growth on international markets has outstripped the total for Turkey's international markets.
Growth in international and domestic passenger numbers for Turkish Airlines and Turkey: 2003-2012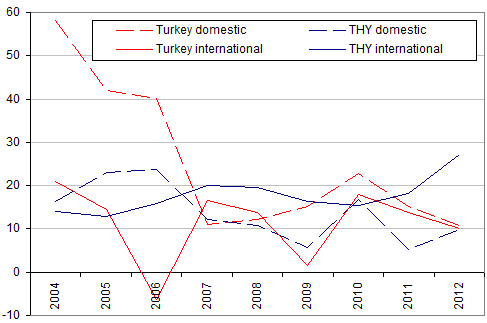 THY's superior growth owes much to its transfer traffic strategy, by which it has used the geographic position of its Istanbul hub to attract passengers on Europe-Middle East, Europe-Far East and Asia, Europe-Africa and America-Middle East routes. In many ways, this puts it in direct competition with the Gulf carriers that are also using their hubs in a similar way.
In part two of this analysis, we will compare in detail THY's network with those of Emirates, Qatar Airways and Etihad.
THY's passenger numbers have tracked those of Emirates, but there are key differences
The largest and longest established of these Gulf carriers is Emirates, whose passenger traffic development THY has tracked over the past decade (see chart below) as both airlines carried 39 million passengers in 2012. However, a clear difference between the two is that THY has a significant domestic market, whereas Emirates has none. On international markets, where they compete with one another, THY had 23 million passengers, 41% fewer than Emirates.
THY is growing faster than Emirates on international markets and the gap has narrowed from 55% in 2007.
Turkish Airlines and Emirates passenger numbers (000): 1997 to 2012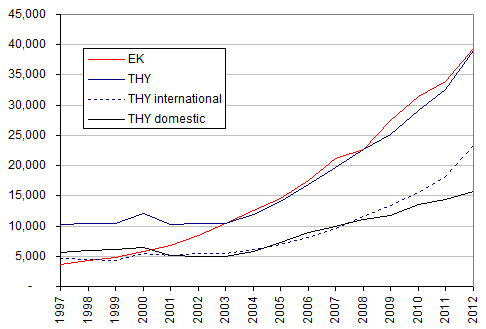 In ASK terms, Emirates was almost two and a half times the size of Turkish Airlines in 2012, in spite of the parity of total passenger numbers, due to Emirates' focus on long-haul routes. Not only does THY have domestic routes, but it also has a large weight of routes into Europe, which are relatively short.
Turkish Airlines and Emirates available seat kms (million): 1997 to 2012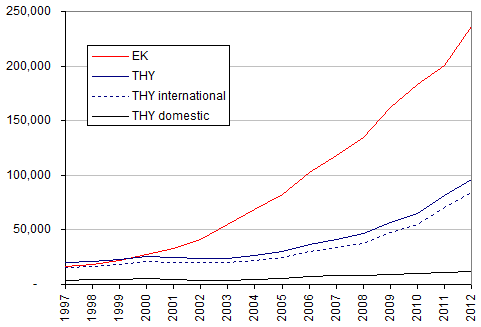 Emirates' average passenger distance flown in 2012 was almost 4,800 km, compared with around 1,900 km for THY. Even when comparing only with THY's international routes, Emirates' network is significantly longer-haul. To a large extent, this reflects geography: THY's Istanbul hub is much closer to the developed markets of Europe, much of North/West Africa and even the western parts of the Middle East than is Emirates' hub at Dubai.
Turkish Airlines and Emirates average passenger distance flown (km): 1997 to 2012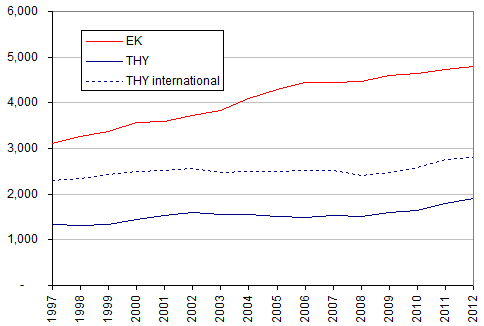 THY's international traffic growth has outpaced domestic and varied by region
After a number of years when THY's split of domestic and international passenger numbers was roughly equal, it has carried more international than domestic passengers every year since 2008. Since then, its international passenger numbers have more than doubled (while domestic passenger numbers are up 43%), raising their share of the total to 59%.
The regions that have seen the fastest growth since 2008 are North America (up more than four times), Africa (almost tripled) and the Far East (more than doubled). Passenger numbers to Europe have grown less rapidly since 2008 (by 72%) and this region has seen its share of THY's international passenger numbers fall, although it remains the biggest international region with 60% in 2012. In the first four months of 2013, Europe's share increased slightly from the same period in 2012, while that of the Far East fell.
Turkish Airlines breakdown of international passenger numbers by region: 2005 to 2013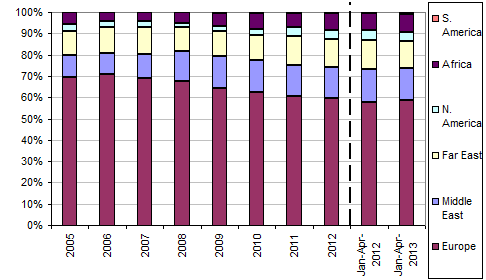 Transfer traffic has been key to international growth
International passenger growth has been most strongly driven by regions other than Europe and also by international to international transfer passengers. These are passengers that do not begin or end their journey in Turkey, but use the Istanbul hub to connect from one international region to another. This is the traffic segment in which THY is competing most directly with the Gulf carriers. International to international transfer accounted for 39% of THY's international passengers in 2012, up from 20% in 2006
Turkish Airlines international to international transfer passengers as percentage of total international passengers: 2006 to 2012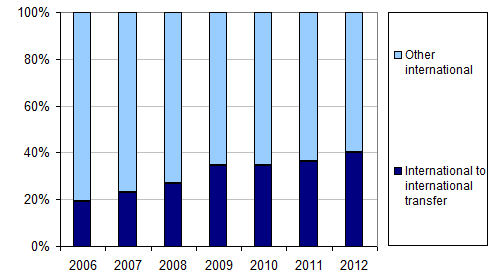 THY's fleet is narrowbody dominated; Gulf carriers have mainly widebodies
Turkish Airlines' fleet stood at 218 aircraft at the end of Apr-2013, with 37 widebodies, 172 narrowbodies and 9 freighters. THY announced an order for up to 117 Airbus narrowbodies in Mar-2013 and an order for 95 Boeing narrowbodies in Apr-2013. These are due to be delivered between 2015 and 2021 and include both the A320 NEO and the Boeing 737 MAX.
Existing orders and planned exits now give Turkish Airlines the capacity to growth the fleet to 423 aircraft in 2021, with slightly higher growth within the narrowbody fleet than the widebodies.
However, there are likely to be further long-haul orders and CEO Temel Kotil has said the airline is considering Boeing 777X and A350-1000 aircraft. The fleet plan should allow Turkish Airlines to continue double digit capacity growth for most of the next decade, particularly if further long-haul orders are placed.
Compared with the three Gulf carriers, THY's fleet is much more narrowbody focused. Almost 80% of its aircraft are single aisle, whereas all of Emirates' fleet are twin aisle, as are the majority of Qatar Airways' and Etihad's aircraft. Not only does THY have a significant domestic market, but it also has a significant international short-haul market and serves these with narrowbodies. THY covers more than 80% of its international destinations with narrowbody aircraft.
Turkish Airlines, Emirates, Qatar Airways and Etihad Airways fleet details at 2-Jun-2013
Aircraft

Turkish
Airlines*

Qatar
Airways

Etihad
Airways

In service total:

218

201

124

76

Narrowbody

172

0

45

19

3

14

67

10

Airbus A319-100

14

2

Airbus A319-100LR

2

28

31

17

Airbus A321-200

36

12

Widebody

37

190

69

48

7

23

16

16

13

10

6

Airbus A340-300

4

Airbus A340-300X

3

5

Airbus A340-500

10

4

Airbus A340-600(HGW)

4

7

33

3

6

10

9

12

13

88

22

15

5

Freighter

9

11

10

9

Airbus A300B4-600R(F)

3

1

Airbus A310-300(F)

3

6

3

3

2

1

1

1

Boeing 777F

8

4

3
Turkish Airlines fleet plan to 2021 (as of Apr-2013)

"…unit costs equating with low cost carriers"
Turkish Airlines' unit costs (cost per ASK, CASK) are very efficient by comparison with other European flag carriers, based on 2012 numbers. They are not quite on a par with LCCs, when average sector length is taken into account, but are lower than any other European carrier and look efficient against Asian carriers.
Analysis of THY's regional revenue and traffic data allows separate estimates to be made of its long-haul and short-haul CASK.
This suggests that it has a lower CASK on long-haul than Emirates, giving it a very competitive positioning.
Unit costs (cost per available seat kilometre, EUR cent) and average sector length for selected European legacy and low-cost carriers: 2012*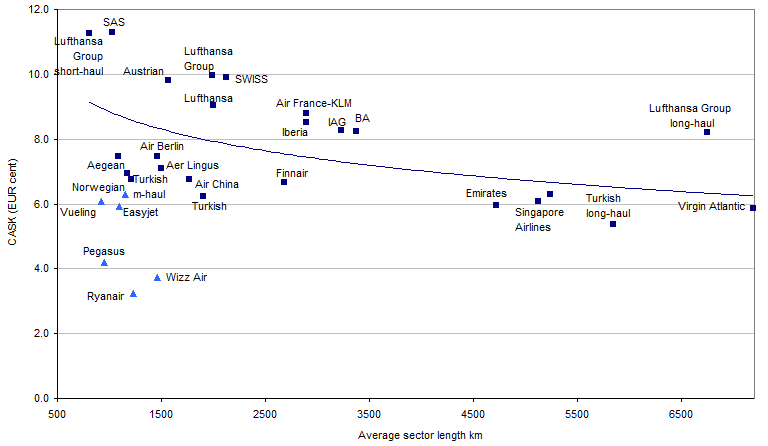 See related reports: