15-Jun-2009 3:20 PM
Turkish Airlines, Air France-KLM up. Norwegian Shuttle and LCCs lose as fuel rises
Turkish Airlines (+2.2% - see below) and Air France-KLM (+1.6%) were the major movers on the upside on Friday, while SkyEurope (+4.6% - see below), hovering amid continuing financial uncertainty, gained the highest percentage.
Norwegian Air Shuttle (-5.0%) lost more heavily against a background of increasing fuel prices, which carried several other LCCs downwards, with easyJet (-1,8%), Ryanair (-1.8%) and Vueling (-1.4%) also down.
For daily updates on American aviation stock prices and a complete wrap of the day's breaking news, sign up now for a complimentary subscription to America Airline Daily.
Europe selected airlines daily share price movements (% change): 12-Jun-09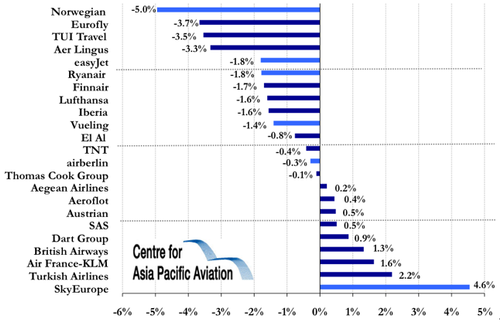 Turkish Airlines - MAS codeshare and May traffic up, load factors down
On Friday, Turkish Airlines announced a new codeshare with Malaysia Airlines, effective 01-Jul-09. The cooperation will apply to services between the respective hubs, Istanbul and Kuala Lumpur, as well as to beyond routes on each carrier's networks. The airlines are also working out an arrangement for a reciprocal frequent flyer program between Malaysia Airlines' Enrich and Turkish Airlines' Miles and Smiles.
On the previous day Turkish released its traffic figures for May-2009. Against a capacity increase (ASKs) of 18.5%, RPKs rose 10.8%, leading to a load factor decrease of 4.7ppts, to 67.5%.
Passenger numbers rose 9.0% for the month. Cargo tonnage was also up, 9.1%, to 84,300 tonnes.
SkyEurope skirts bankruptcy
After a Czech firm, Beyond Interactive, the previous week sought creditors of SkyEurope through paid advertisements in the Slovak media, with a view to filing a joint petition for bankruptcy, SkyEurope refrained from commenting. The company did however indicate that it would watch closely to see if the action was causing financial damage to it.
However, Friday's uptick in the shares showed that there are still investors - or speculators - still prepared to see the slimmed-down carrier as a buy.