Turkish Airlines 1Q revenues grow 28% as losses narrow, but unit costs will be key to FY result
Analysis
Turkish Airlines cut its 1Q2013 operating loss from TRY173 million to TRY23 million (EUR9.7 million), almost breakeven in the traditionally weakest quarter. Revenues grew 28% on capacity up 21%, with particularly strong growth to Africa, Middle East and Europe. The improved result was driven by unit revenue growth (RASK) as unit costs (CASK) were held flat in spite of higher fuel prices. Earlier this year, the carrier said it did not expect a unit revenue increase for FY2013, so this represents a good start to the year, and ex fuel unit costs will need to remain under control over the rest of the year.
Much of Turkish Airlines' success has been built on an efficient workforce and the geographic location of the Istanbul hub, which facilitates a global connecting strategy. Both of these elements were visible in 1Q2013, with labour cost growth slower than capacity and transfer passenger growth outpacing the total. Nevertheless, a strike called on 15-May-2013 (albeit with limited impact) and the relentless competitive presence of the Gulf carriers are reminders that this success cannot be taken for granted.
1Q operating loss narrowed almost to breakeven
Turkish Airlines narrowed its 1Q2013 net loss by TRY7 million (EUR2.9 million) to report a loss of TRY22 million (EUR9.25 million). The 1Q2013 operating loss was cut by TRY150 million to TRY23 million (EUR9.7 million). Comparison of the 1Q net result with last year is distorted by significant movements in foreign exchange rates affecting net finance costs and deferred tax charges and so the operating result provides a more meaningful basis for comparison.
Revenues grew by almost 28%, driven by ASK growth of 21% and unit revenue growth of 5%. Unit costs were almost flat year-on-year (+0.5%).
Turkish Airlines 1Q2013 financial highlights
TRY million
except where stated

1Q2012

1Q2013

Change

Revenue

2,841

3,629

27.7%

Operating profit

-173

-23

150 million

Operating margin %

-6.1

-0.6

5.5 ppts

Net profit

-29

-22

7 million

ASK million

20,613

25,003

21.3%

RPK million

15,017

19,485

29.8%

Load factor

72.9

77.9

5.0 ppts

RASK (TRY Kr)

13.78

14.51

5.3%

CASK (TRY Kr)

14.77

14.85

0.5%

CASK ex fuel (TRY Kr)

9.47

9.34

-1.4%
ASK growth of 21%, load factor up a healthy 5ppts
In 1Q2013, Turkish Airlines added 16% more seats compared with a year earlier, with higher average sector lengths driving ASK growth of 21%. Passenger numbers grew by almost 26% and RPKs by 30%. Load factor increased by 5ppts to 77.9%. International capacity and traffic growth outstripped the growth of domestic operations.
Turkish Airlines 1Q2013 traffic data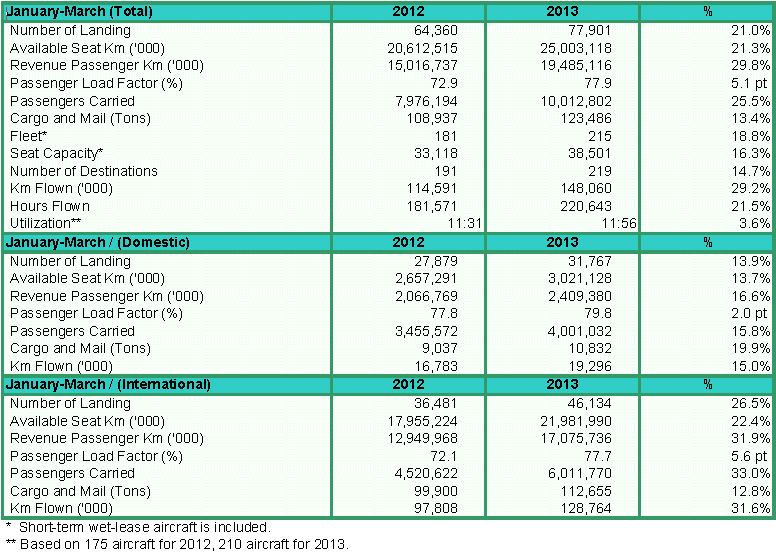 The highest capacity growth, in terms of ASKs, went into Africa, followed by the Middle East, Europe and North America. The highest traffic growth, measured in RPKs, was in South America, which expanded 54% and where load factor increased by a staggering 21ppts to reach 83.6%, the highest of all regions.
Traffic growth was also strong in Africa, Europe, Middle East and North America. All regions saw load factor gains.
Turkish Airlines 1Q2013 passenger traffic data by region: 2012 vs 2013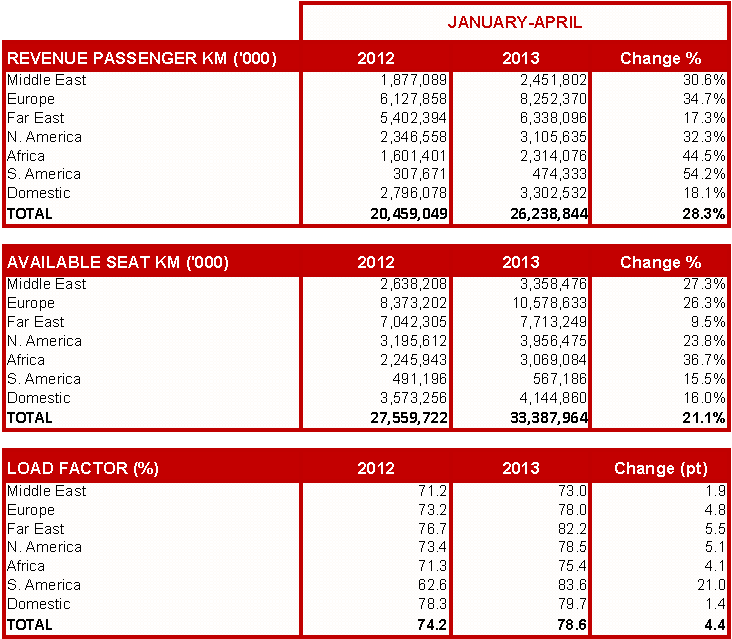 Turkish Airlines 1Q2013 international passenger breakdown by region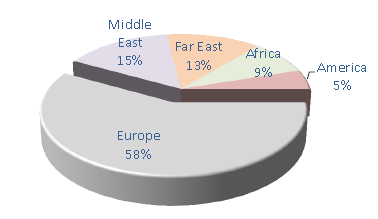 Connecting passengers grow faster than the total
In 1Q2013, international passenger numbers grew by 33%, compared with 16% for domestic passengers and 26% overall. The number connecting between two international flights grew by 38% to increase its share of international passengers from just below 40% to a little more than 41%.
This demonstrates the success of Turkish's policy of using its Istanbul hub to attract transfer passengers.
Turkish Airlines international to international transfer passengers: 2006 to 1Q2013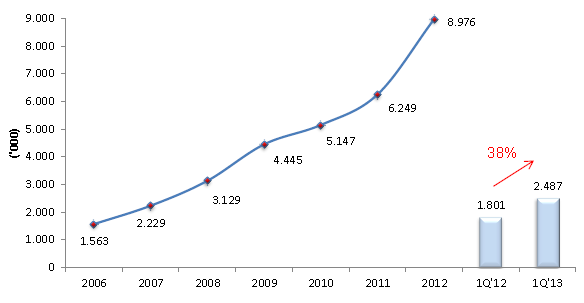 Europe accounts for the largest share of Turkish Airlines' international passengers (58%, split roughly 2:1 in favour of Western Europe versus Eastern/Central Europe) and its network and the geographical position of its Istanbul hub offer European passengers convenient connections to destinations in the Middle East and Africa and less of a detour for connections to much of Asia compared with the Gulf hubs (North Asia in particular).
Istanbul's location also provides Turkish with the opportunity to offer passengers in the Middle East, Africa and Asia connections to the Americas. It does not yet have an extensive range of destinations in either North America or Latin America, but growth into these regions is high, albeit from a low base.
Turkish Airlines route map from Istanbul summer 2013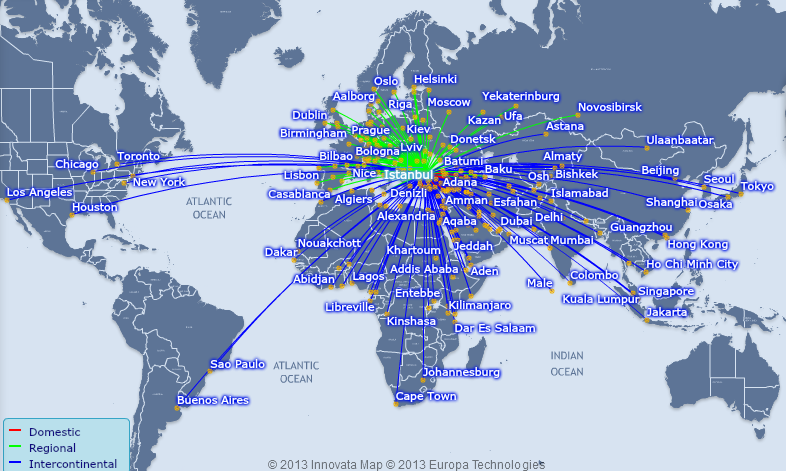 The carrier is also looking to step up its activity in various parts of Asia.
It looks set to benefit from a revised bilateral air services agreement between Japan and Turkey signed on 20-May-2013. Under the agreement, frequencies at Tokyo Narita Airport will double, from seven to 14 times weekly and a seven times weekly service at Nagoya Airport has been approved. Turkish Airlines currently operates seven times weekly Istanbul-Tokyo Narita and seven times weekly Istanbul-Osaka Kansai services, both codesharing with All Nippon Airways (although no Japanese carriers currently operate between the two countries). Passenger numbers between Japan and Turkey increased 28.8% year-on-year to 300,000 in 2012.
Turkish Airlines has also been aggressively seeking to increase its entitlements to India for more than a year from 14 to 56 weekly frequencies. It would like to offer double daily services to Delhi and Mumbai and daily services to Bangalore, Chennai, Hyderabad and Kolkata. Following a relaxation of India's policy on seat entitlements to foreign carriers, it may now have a better chance of achieving this. It also plans to launch a service to Kathmandu, Nepal from 1-Sep-2013.
Turkish Airlines network summary as at 26-May-2013
Region

Number
of destinations

Domestic

37

33

27

Schengen Europe

48

Other Europe

40

2

31

6

Total non-stop passenger destinations

224
1Q2013 revenue growth driven by passenger business
Revenue growth of almost 28% was driven by passenger revenues, which grew by 33% and accounted for 87% of revenues in the quarter. Cargo revenues grew by 16% and were only 9% of the total. Charter revenues have all but disappeared.
Turkish Airlines revenue by activity: 1Q2012 vs 1Q2013
TRY million

1Q2012

1Q2013

Change

% of 2012
revenue

Passenger revenue

2,369

3,153

33.1%

87%

Cargo revenue

272

316

16.1%

9%

Unscheduled flight revenue

11

14

21.6%

0%

Other revenue

189

146

-22.6%

4%

Total Revenue

2,841

3,629

27.7%

100%
Turkish Airlines revenue breakdown by activity: 1Q2013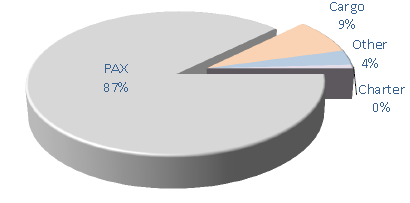 Fastest revenue growth is in Africa and Europe
Looking at scheduled flight revenues by region, Africa saw the fastest year-on-year growth in the quarter at 45%, followed by Europe at 35%, much faster than ASK growth of 37% and 26% respectively. All regions saw revenue growth outstrip capacity growth. Europe and the Far East were the most important regions to Turkish Airlines, both by revenues and by capacity (ASK) as the carrier builds a network connecting east to west via its Istanbul hub in competition with the Gulf carriers.
Turkish Airlines scheduled flight revenue by region: 1Q2012 vs 1Q2013
TRY million

1Q2012

1Q2013

Change

% of 2012
revenue

782

1,058

35.2%

30%

Far East

639

23.2%

23%

383

503

31.4%

15%

America

243

326

34.1%

9%

211

305

44.8%

9%

Total international

2,258

2,980

32.0%

86%

Domestic

383

489

27.7%

14%

Total scheduled flight revenue

2,641

3,469

31.3%

100%
Turkish Airlines revenue* breakdown by region: 1Q2013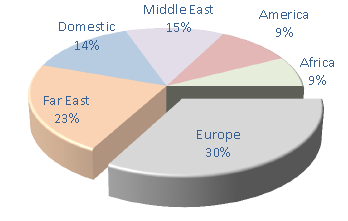 Costs grow more slowly than revenues
Turkish Airlines operating costs: 1Q2012 vs 1Q2012
(TRY million)

1Q'12

% of Total

1Q'13

% of Total

13/'12
change %

Fuel

1,093

36%

1,376

37%

26%

Personnel

601

20%

675

18%

12%

Landing

222

7%

281

8%

26%

Sales and Marketing

203

7%

255

7%

26%

Advertising

25

1%

30

1%

17%

Rents

116

4%

162

4%

40%

Codeshare

55

2%

41

1%

-26%

Depreciation

212

7%

291

8%

38%

Ground handling

190

6%

235

6%

24%

Maintenance

105

3%

99

3%

-6%

Passenger Catering

132

4%

166

4%

26%

Insurance

23

1%

16

0%

-30%

General Administration

17

1%

24

1%

45%

Others

53

2%

61

2%

17%

TOTAL

3,045

100%

3,712

100%

22%
Operating costs grew by 22%, less than the 28% growth in revenues, but just above the 21% growth in ASKs. Fuel costs, the biggest cost item with a 37% share of the total, increased by 26%, driven by higher prices.
Turkish Airlines overall unit costs, which are competitive by comparison with other European 'flag carrier' groups, were held more or less flat, while ex fuel unit costs fell by 1.4%.
An efficient workforce, but some signs of industrial unrest
Personnel costs grew by 12%, faster than the 6% increase in headcount, but slower than capacity growth. ASK per employee increased by 15% and employee costs as a share of the total fell from 20% in 1Q2012 to 18% in 1Q2013. Turkish Airlines ranked sixth out of 19 in CAPA's 2012 ranking of European airline labour productivity, the highest placed national 'flag carrier'.
In spite of this strong showing, however, there have been some recent signs that industrial relations are less than perfect.
See related report: European airline labour productivity: CAPA rankings
The airline is in talks with the Hava-Is union, which represents 14,000 staff, and has asked the union to sign the next collective bargaining agreement by 22-May-2013. A strike was called for 15-May-2015 by the union, which wants Turkish Airlines to rehire 305 staff dismissed after industrial action in 2012, but operations continued, "because Turkish Airlines employees chose not to participate in the strike", according to a statement issued by the company (17-May-2013). Meanwhile, the International Transport Workers' Federation (ITF) called for international aviation authorities to investigate claims that the carrier operated aircraft with insufficient or unqualified crew in order to continue operations during the strike.
If the agreement is not signed by 22-May-2013, the airline will grant a pay increase to all employees, with no changes to working conditions or employee rights, based on the last collective bargaining agreement. During the negotiations, CEO Temel Kotil postponed leave he had requested in order to continue the process with the union. This led to some media speculation that he had been suspended following a disagreement with the airline's chairman, prompting Turkish Airlines to issue a denial on 13-May-2013 of any disagreements within the company's management.
Fleet to be boosted further by large Boeing 737 order
Turkish Airlines' fleet stood at 215 aircraft at the end of 1Q2013, 21% more than a year earlier, with 73 aircraft on operating leases and 142 owned or finance leased. The total had grown by three aircraft (all finance leased) by Apr-2013. After announcing an order in Mar-2013 for up to 117 Airbus narrowbodies, Turkish Airlines announced an order for 95 Boeing narrowbodies in Apr-2013. These are due to be delivered between 2016 and 2021 and comprise 70 firm orders and 20 options. By type, the Boeing order includes 20 737-800, 65 737-8 MAX and 10 737-9 MAX.
Existing orders and planned exits now give Turkish Airlines the capacity to growth the fleet to 423 aircraft in 2021, with slightly higher growth within the narrowbody fleet than the widebodies. However, there are likely to be further long-haul orders and CEO Temel Kotil has said the airline is considering Boeing 777X and A350-1000 aircraft. The fleet plan should allow Turkish Airlines to continue double digit capacity growth for most of the next decade.
Turkish Airlines fleet as of Apr-2013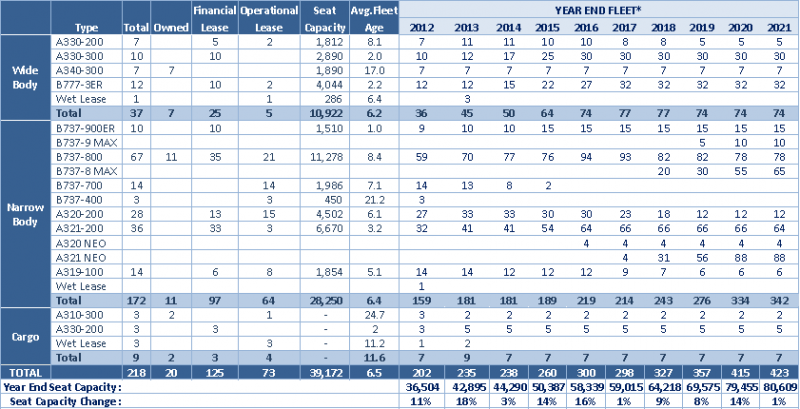 Turkish Airlines fleet delivery schedule as of Apr-2013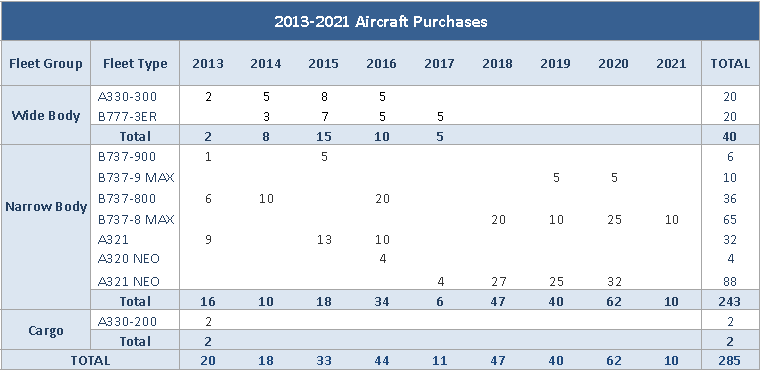 Downward pressure on ex fuel unit costs must continue
As CAPA noted previously, at the time of Turkish Airlines FY2012 results in Mar-2013:
"As the company continues to follow its ambitious fleet expansion programme and to add capacity, it should be well placed to maintain this low unit cost structure. However, as noted above, Turkish generally needs to lower its unit costs in order to increase profits and it also faces a challenge in maintaining a positive RASK trend in times of economic weakness.

Maintaining RASK growth is also challenging when pursuing high growth based on transfer traffic, which tends to be lower yield than point-to-point traffic, particularly when faced with strong competition from transfer carriers based in the Gulf."
Turkish's 1Q2013 results saw an increase in RASK and CASK held flat at last year's level, giving it a good start to the year.
Given planned FY2013 capacity growth of 20%, the RASK trend may be harder to maintain in the more competitive summer season. Although fuel prices have eased a little recently, the company cannot rely on this throughout the year and will need to maintain downward pressure on ex fuel unit costs.
See related reports: