Turbulence at Virgin Australia: Some winners, some changes. Virgin's share register revolving door
Analysis
The past month has been, as the Chinese might say, an interesting time for Virgin Australia. Two major new Chinese shareholders, HNA and Nanshan Group, an aggravated departure by one shareholder and now the announcement of a major restructuring, delivered to an unsuspecting world at 30 minutes' notice, seemingly leaving behind its (previously) largest shareholder, Etihad – this has all occurred in a blur.
A financial restructuring has been in the wind for some time, but there was little to explain the breathless announcement of a one-for-one share issue on 15-Jun-2016. This involves a fully underwritten AUD852 million equity raising; together with a previously announced proposed AUD159 million placement to HNA Innovation, the total amount raised will slightly exceed AUD1 billion.
It sounds like good news for a cash-strapped Virgin Australia, but working out the winners and losers is more challenging as the dust settles.
With the exception of Singapore airlines and the Virgin Group founders, each of the equity shareholders in Virgin Australia came to the share register uninvited. Air New Zealand was the first to force its way into the register in an unwelcome and surprise move in 2010. It is now the first to leave, as the boardroom becomes crowded. Air NZ was followed onto the register by Etihad, then SIA.
All have one thing in common: they want to share in Virgin's Australian passenger traffic. For Virgin Australia, its shareholders bring financial stability in the face of its much bigger domestic competitor Qantas; they also offer virtual access to international markets.
Prior to the 15-Jun-2016 announcement of a one-for-one offer, Virgin Australia Holdings was owned as follows:
Virgin Australia Holdings proposed shareholding structure: May/Jun-2016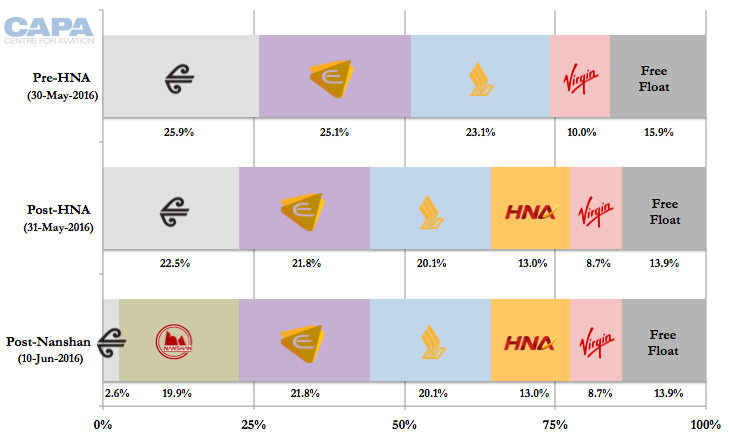 What happens as the share issue unfolds is now uncertain, depending at least on what Etihad does next. But the feeling is that there is another shoe to fall in this saga.
Virgin Australia will raise just over AUD1 billion
The announcement declared a: "Proposed fully underwritten AUD852 million equity raising, in the form of a 1 for 1 non-renounceable pro-rata entitlement offer to shareholders at a price of AUD0.21c per share…Together, the proposed Offer and the previously announced proposed AUD159 million placement to HNA Innovation will raise total gross proceeds of AUD1,011 million in new equity capital to strengthen the Group's balance sheet, improve earnings and cash flow and support new opportunities for growth."
That is definitely good news for Virgin Australia.
First of all it is losing a disenchanted, vociferous and frugal shareholder – Air New Zealand. That is good news. Secondly, it gains two Chinese shareholders, one of them a potentially valuable operating partner, the other a hopefully long term reasonably passive investor.
AUD427 million of the raising will go to repay shareholder loans and the balance to paying down external debt, reducing the debt level "to 15-18%".
Etihad is "still going through its internal processes"
Under Australia's foreign ownership rules any company may own 100% of an Australian domestic airline. In Virgin Australia's case this has been a core issue throughout. Originally funded almost entirely by Sir Richard Branson's Virgin Group, since its IPO in 2003, Virgin has had a succession of owners who have walked its halls, not always with happy outcomes.
While it provides its shareholders with access to around 35% of the domestic market, Virgin has more recently delivered a chain of losses and a significant load of debt. Etihad has a big stake in the Australian market; 16% of its ASKs are operated there. So, whatever the reason, it is a surprise that the UAE's national airline was left off Virgin's list.
The 15-Jun-2016 Virgin Australia announcement stated that "Singapore Airlines, HNA Innovation, Virgin Group, Nanshan Group and Air New Zealand have made binding commitments to take up their pro-rata entitlements. Singapore Airlines, HNA Innovation and Virgin Group have also made binding commitments to contribute to the sub-underwriting of entitlements not taken up by other shareholders".
The elephant not in the room was Etihad, and Virgin Australia CEO John Borghetti explained that Etihad was "still going through its internal processes", that it "did not need to be involved" and he was "not concerned if Etihad participated".
It was still very early morning Abu Dhabi time when Mr Borghetti made the announcement and it appeared that Etihad had been unaware that it was coming, shortly afterwards announcing, "Etihad Airways is a long-term strategic investor and partner to Virgin Australia. We are fully committed to this partnership and to remaining as a shareholder".
"Our comprehensive 10-year commercial agreement is further evidence of our confidence in and support for Virgin Australia, and our commitment to the airline and Australia."
But, seemingly lacking in conviction – or perhaps still just a little shocked – it concluded, "We will continue to review our option to take up the pro-rata entitlement, and will announce our decision at the appropriate time."
Thus it seems that Etihad is not one of the winners in this drama – but it could have been a lot worse. For one thing, Etihad would not be sorry to see Air New Zealand off Virgin's register. Certainly the scenario would have been much less auspicious for Etihad if SIA had succeeded in buying control of Virgin. There is considerable overlap with SIA's European routes.
With these new developments SIA loses out on two counts. First of all, Hainan Airlines offers a serious alternative on many fronts for Virgin's China strategy. Hainan is not one of China's big three, but is still a decent-sized airline (a fleet of 153 and another 65 on order according to the CAPA Fleet Database), with a strong domestic Chinese and a growing international network. SIA remains a partner, but it will not be as valuable to Virgin as it had hoped, given what the Singapore airline wants from the Australian market.
SIA was understood to be moving towards securing a 51% holding in Virgin Australia when it was blindsided by the HNA deal; that no longer seems a realistic option and perhaps puts an end to SIA's longstanding aspirations to own a dominant minority of the Australian market.
SIA has not been particularly successful in its international partnership dealings; its one bold move proved a disaster – buying a 49% share in Virgin Atlantic at well above the odds, then suffering for years before being able to unload the holding to Delta. With a sorry track record of equity investments in foreign airlines, it will now be left languishing with the smallest of the four main shareholdings in Virgin Australia.
Yet SIA is the one airline that most keenly needed to have control of the Australian domestic carrier. Australia is, for all practical purposes, the domestic market for Singapore Airlines. Around a fifth of SIA's revenue comes from Australia – and it would be more if it could only control Virgin Australia. That explains SIA's constant attempts to acquire a substantial stake in an Australian airline. Its first, failed, attempt was when Qantas was in the process of being privatised in the early 1990s. At that time SIA was beaten by British Airways in its attempt to acquire a 25% cornerstone shareholding in Qantas.
Having failed in this attempt, it then missed out twice on acquiring a 50% shareholding in Australia's second airline, Ansett Airlines – first when it was too slow off the mark to acquire the 50% shareholding of News Corporation, and then later when Air New Zealand exercised its right of first refusal to prevent SIA from buying the remaining 50% from TNT.
It was that ambitious move by a small Air New Zealand that provoked the demise of both the buyer and the bought; in the face of intense LCC competition (from Virgin Blue) Ansett collapsed and Air New Zealand had to be renationalised.
SIA, perhaps fortunately on this occasion, was left on the sidelines again.
But today, savaged by a combination of competition from LCCs on short haul and Gulf carriers on long haul, it needed Australia even more. This was one purchase SIA really needed. Instead, it has mostly just participated in Virgin's losses and is now relegated to an also-ran.
Initially Qantas appeared the winner out of Virgin's turbulent times
On closer examination, however, there are other ways of looking at it. For one thing, Virgin is now in a position to achieve a useful financial restructuring. And, from where Mr Borghetti sits, instead of having a board constituted of a fractious and frugal Air New Zealand, along with competing interests from Etihad and SIA and a hardnosed minority share from Virgin Group, he now has a buffer with two apparently more supportive Chinese owners focussed on the long term.
Even though SIA is relatively cashed-up and Etihad has financial strength, neither was willing to give Virgin the underwriting it needed to keep the market happy; Air New Zealand's position on this was very clear too. HNA and Nanshan may have more expansive strategies.
So, while this is not a licence to squander – indeed the wakeup call is there for Virgin to start cutting its unit costs, with Qantas breathing down its neck – there are grounds for comfort in that the pressure on quarterly results should give way to achieving a solid long term outcome.
On balance this is not the best outcome for Qantas; infighting on the Virgin board and an undercapitalised competitor was much more digestible. The smaller carrier should now regain some of the stability in 2013 that concerned Qantas enough to provoke it to seek government subsidy.
Air New Zealand has taken its bat and gone home
After failing to have Mr Borghetti sacked, the hard-nosed Air New Zealand CEO Christopher Luxon is in the process of reassessing the airline's options. Mr Luxon presumably believes Virgin needs Air New Zealand sufficiently that there will continue to be an adequate two way flow, despite the bad blood. Aside from a loss on the sale of its shareholding, the New Zealand flag carrier has also participated in a sequence of losses at Virgin, so a payment to Air NZ shareholders out of the proceeds of the Nanshan sale should help pacify any unhappiness there.
The airline was clearly well across the announcement, making an almost simultaneous statement to its own exchange: "Air New Zealand announced its 19.98% sale to Nanshan Group on 10 June 2016. To the extent that Air New Zealand is a registered shareholder on the record date for the offer (and if Nanshan Group has not received applicable regulatory approvals in relation to its participation in the Offer), Air New Zealand will subscribe for Nanshan Group's entitlements via a sub-underwriting arrangement."
There will necessarily be some bridge building to be done if the operating partnership is to function most effectively, but for the time being nothing obvious will change in the Virgin-Air NZ relationship. Except that, perhaps for the last time, Air NZ has to resile from a more extended presence in the Australian domestic marketplace.
A platform for the future and, for Virgin Australia, a time to rebuild, reduce costs and refocus
Overall Virgin Australia is a winner in this unfolding story. It needs a few wins.
In its transformation from an LCC – Virgin Blue – to Virgin Australia the management undertook a major repositioning in the market, largely funded by debt. The growing debt situation was made worse by a parallel need to engage in a market share battle with Qantas to capture some of Qantas' corporate and business market, as well as maintaining a broad base in the leisure segments. This resulted in much higher unit costs at the same time as a deterioration in yields and heavy losses (much of them borne by the foreign airlines who had migrated to Virgin's board).
Meanwhile, with this spike in competition, Qantas had been improving product and reducing unit cost; the cost gap between the two full service airlines has narrowed significantly, while Qantas' yield advantage was maintained. The Qantas group also had Jetstar, with a cost base now well below Virgin Australia's, to help at the lower end of the market.
Virgin has since brought its own LCC, Tigerair, fully under its wing to help compete at the bottom end, but Tigerair only has a 6% market share and much narrower route network, against Jetstar's 19%.
Australia domestic airline market shares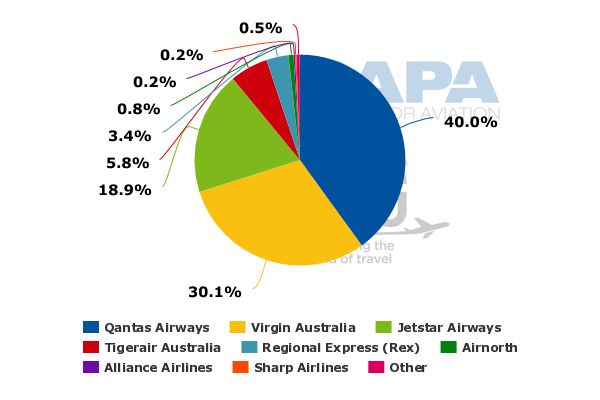 The big task for Mr Borghetti is now to use the breathing space provided by the recapitalisation to have an onslaught on costs. Although Virgin is back in profit, mostly thanks to lower fuel prices, the margins are thin and Qantas dominates on all sides. Restoring a lower cost base will be essential to regaining a competitive position. Partly – and this can only be one part – this will be achieved by reducing Virgin's current Noah's Ark fleet from nine types to six – still a handful, but a step in the right direction. As the CEO says, "a lot of the cost structure is driven by fleet complexity".
Mr Borghetti was cagey about staff reductions during the "realignment", but "there will be redundancies over time".
The best way of improving efficiencies is of course to grow - profitably. Realignment of the airline's international routes can help here.
Internationally, the addition of Hainan as a partner alongside SIA will promote Virgin to a potentially much stronger position in the fast-growing Chinese tourism market; here greater use of the long haul A330-200s, now underused in the post-mining domestic arena, will complement the airline's 777s. Tigerair too has upside on short haul international routes, although little is being disclosed about those plans.
As for Mr Borghetti, he says he is "definitely sticking around". Now, with a more sound financial footing and the ownership revolving door stabilising (almost), he has a job to do in getting Virgin Australia into fighting shape again. With his biggest detractor now off the board, there will be no excuses.