01-Dec-2010 2:46 PM
Traffic increase between Shanghai and Hong Kong; Hochtief to advise on ACS takeover
Shanghai Airport Authority (-2.8%) stated there has been noticeable increases in travel from Shanghai to Hong Kong since mid-Nov-2010, with outbound travel from Shanghai Pudong Airport and Shanghai Hongqiao Airport to Hong Kong increasing 34.7% year-on-year to 21,100 between 15-Nov-2010 and 29-Nov-2010.
The increase is reportedly due to the soaring price of commodities in mainland China, prompting people to travel to Hong Kong for shopping.
Hochtief (+2%) stated it will examine the takeover offer from Actividades de Construccion y Servicios SA's (ACS) after its publication, and has advised Hochtief shareholders not to take a decision before Hochtief comments on the offer, according to Dow Jones.
The company stated it will explain the advantages or disadvantages of the ACS offer in detail and provide a recommendation to shareholders once the offer has been published, which is expected this week.
Selected airport operators/investors daily share price movements (% change): 30-Nov-2010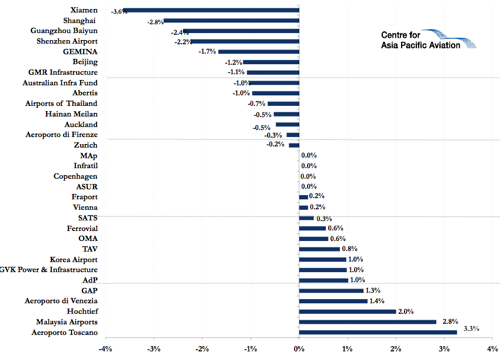 Airport suppliers shares mostly fell on Tuesday (30-Nov-2010) with Stefanel (-3%), Autogrill (-2.2%), Dufry (-1.9%) and JCDecaux (-1.9%) down while GateGroup (+0.7%).
Selected airport suppliers daily share price movements (% change): 30-Nov-2010