Traffic continues to drop at Mexico's airports
Analysis
Mexico's three main airport groups continue to report monthly traffic declines and have not yet fully recovered from one of the country's main carriers suspending operations six months ago. ASUR, GAP and OMA have all reported year-on-year declines in traffic for Mar-2011 and 1Q2011. Several Mexican airports have still not fully recovered from the suspension of operations at Grupo Mexicana in Aug-2010, although overall traffic levels in the domestic market have already fully recovered.
See related latest Latin American traffic reports:
The timing of the Easter holiday week, one of the busiest travel periods for Mexico, also had an impact on the March reports because in 2010 some of the holiday period fell in late March while this year the entire holiday period falls in April.
Mexico's largest airport group, GAP, recorded a 5% drop in passenger traffic for Mar-11 to 1.786 million passengers. This included a 6% drop in domestic figures to 1.055 million and a 4% drop in international to 731,000.
Of the 12 airports in western Mexico operated by GAP, only three smaller airports saw their traffic increase in March – Aguascalientes, Manzanillo and Mexicali. At GAP's flagship airport, Guadalajara, traffic was down 5% drop to 564,000 passengers. Guadalajara's international traffic was down 4% and domestic traffic was down 6%.
GAP passenger numbers by airports: Mar-2011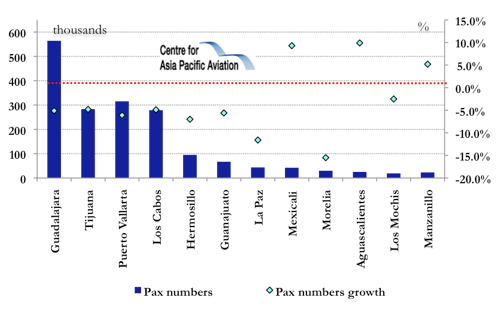 For 1Q2011, passenger traffic at GAP was down 3% to 5.087 million, including a 4% drop at Guadalajara to 1.606 million.
Mexico's second largest airport group, Cancun-based ASUR, reported a 2% decrease in traffic for Mar-11 to 1.69 million passengers. Domestic traffic was down 7% to 539,000 passengers while international traffic was flat at 1.15 million.
Of the nine airports in ASUR's portfolio, only Villahermosa and Cozumel recorded increases. At ASUR's main airport, Cancun, traffic was down 2% to 1.298 million passengers. Domestic traffic was down 7% at Cancun while international traffic was flat.
ASUR passenger numbers by airports: Mar-2011
ASUR.png" alt="" />
For the entire first quarter, total ASUR traffic was down only 1% to 4.621 million passengers.
OMA, which owns and operates 13 airports in central and northern Mexico, saw total traffic drop 7% in Mar-11 to 979,000 passengers. This included a 5% drop in its domestic figures to 797,000 passengers and a 17% drop in international figures to 181,000 passengers.
Four of OMA's smaller airports saw increases driven by new domestic routes – San Louis Potosi, Tampico, Torreón and Zihuatenejo. Acupulco and Zacatecaas had the biggest drops, driven primarily by cuts to international routes.
At Monterrey, which is by far OMA's largest airport, accounting for about 45% of the groups' total traffic, passenger figures were down 1% in March to 440,000. This included a 1% drop in domestic and a 2% drop in international traffic.
OMA passenger numbers at airports: Mar-2011
OMA.png" alt="" width="489" height="302" />
For the first quarter, traffic at OMA was down 4% to 2.692 million passengers. But traffic at Monterrey was up 3% to 1.204 million.
Although the March and first quarter figures are down across all three of Mexico's publicly traded airport groups, other data show a recovery in the market. Based on the latest available data from Mexico's DGAC, total domestic traffic was up 0.5% in February while international traffic was only down by 0.4%. This represents an improvement from the last four months of 2010, when both domestic and particularly international traffic was down in the immediate aftermath of Mexicana's shutdown.
DGAC data from Feb-2011 shows four of Mexico's top 10 airports had higher passenger totals than the previous year - Cancun, Monterrey, Tijuana and Merida. The six airports in Mexico's top 10 recording drops in traffic for February were Mexico City, Guadalajara, Puerto Vallarta, San Jose del Cabo, Toluca and Hermosillo.
Mexico City, which is operated by government-owned AICM, recorded a 3% drop in traffic in Feb-11 to 820.4 million passengers. Mexico City is by far Mexico's largest airport and was most impacted by the Grupo Mexicana shutdown as it was the main hub for Mexicana and low-cost unit Click. For the first couple of months after Mexicana's shut down Mexico City was significantly impacted as it took time for other carriers – primarily low-cost operators Interjet, VivaAerobus and Volaris – to secure slots and start filling some of the void left by Mexicana.
Mexico City alternative airport Toluca is also government-owned and the only other airport in Mexico's top 10 that is not part of the portfolios of ASUR, GAP or OMA. Toluca, which was significantly impacted in the fourth quarter of 2010 as Volaris temporarily shifted capacity to Mexico City, saw its traffic drop in Feb-2011 by 7% to 120.6 million passengers.
GAP, ASUR and OMA passenger numbers: Mar-2010 to Mar-2011
Mexico.png" alt="" />