The 'Southwest effect' hits New York downtown amid downturn
Southwest's Senior VP Operations, Greg Wells, stated the carrier is celebrating a "truly momentous occasion" with the LaGuardia launch, adding, "finally New York travelers can experience our unmatched record in Customer Service and our phenomenally low fares at an airport close to where they work and play. Additionally, Customers in both Chicago and the DC area now have a new low fare choice when planning trips into LaGuardia."
Southwest Airlines is now serving LaGuardia with five daily non-stops to Chicago Midway and three daily non-stops to Baltimore/Washington. US Airways holds a 22.6% share of capacity at La Guardia, followed by Delta (20.5%) and American Airlines (19.4%), in what is a very fragmented market.
This will suit Southwest, particularly as its rivals pare back capacity to stem losses. Cutbacks have helped to reduce delays at the congested New York area airports, which should help Southwest achieve reasonable reliability and turnarounds in the crucial initial stages.
New York Laguardia Airport carrier capacity share (%)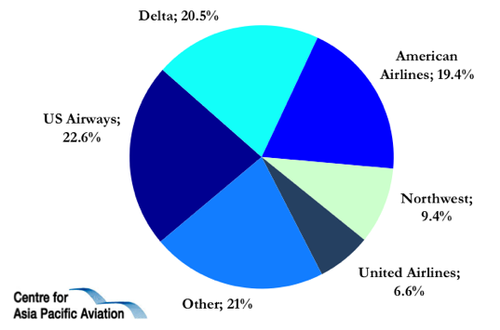 Hitting New York in an economic downturn is a sensible strategy, as travellers are looking for value and a reliable service. But Southwest has few alternatives as its cost structure has risen, causing it to jettison its original strategy of targeting secondary city airports.
According to data tracked by Peanuts! Weekly, Southwest now enjoys less than a 10% cost advantage to United Airlines (in 1Q2009), with the other US majors close behind United. Southwest has by far the highest LCC costs – some 11% above New York JFK-based JetBlue and 40% above Allegiant.
Select US carriers' unit costs* (US cents per ASM – left scale) and year-on-year growth (% change year-on-year – right scale): 1Q2009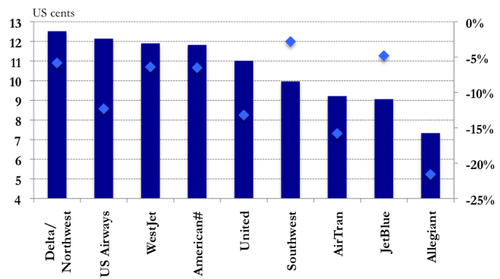 The reality is, Southwest cannot afford to remain a bit player in New York (or Boston or Minneapolis/St Paul) for long, shaking up the competitive environment in just a handful of markets. It must ramp up capacity and destinations quickly to garner a meaningful share of the corporate travel markets – or what's left of them – in each of these cities.
The failure to replicate its Philadelphia/Denver success in New York, Boston and the twin cities is simply not an option for Southwest. It has a window of opportunity, while the economy is down and its rivals are hurting, to crash through to the next level. Or crash.
Follow Southwest's progress in America Airline Daily.