Technology-enabled game-changing airline business models: Nawal Taneja writes for Airline Leader
Analysis
In the latest issue of Airline Leader, the high-end monthly magazine for aviation executives, industry strategist and author Nawal Taneja argues that in order to succeed in the coming decade, airlines will need to start implementing IT more effectively to meet increasing customer expectations. But these initiatives must be supported by "transformational" and "unconventional" thinking from managements and boards.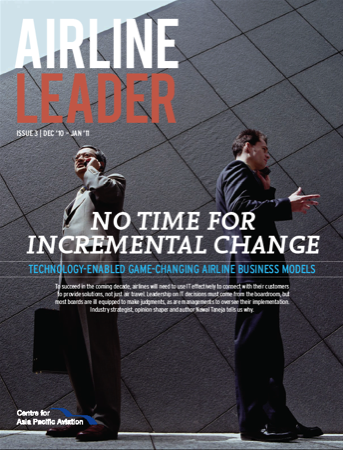 According to Mr Taneja, "incremental changes to the business model are no longer sufficient" to deal with the challenges facing the global airline industry; rather in order to "survive and thrive" airlines need to radically transform their business models through the deployment of "game-changing" technology, from new generation aircraft to advanced shopping engines to mobile and digital communications.
If used properly, game-changing technology can enable airlines to work closely with actual or potential customers at every point of the shopping experience, providing highly personalised solutions that reflect a specific passenger's needs.
"The new game-changing technology promises to change the way passengers search for, buy and experience air travel and the way airlines produce and market their products/services," writes Mr Taneja.
But most managements lack the will to oversee such visionary strategies and build a business case for a technology investment: "It is remarkable how quickly executives make a business case to buy another aircraft costing hundreds of millions of dollars – but struggle to justify expenditure on technology that is just a fraction of the cost of a new aircraft."
A full version of the report is available for free download from the Airline Leader website.
---------------
Airline Leader also features an exclusive interview with Air New Zealand CEO Rob Fyfe, who was recently awarded CAPA's aviation executive of the year for his innovation and customer orientation.
In the interview, Mr Fyfe discusses Air New Zealand's revolutionary economy class seating programmes, how he motivates employees and the challenges of running a small carrier in an end-of-line market.
According to Mr Fyfe, a key ingredient of the company's success is its ability to be nimble and creative: "When we look at our competitors, I see we have developed a much higher appetite for risks and can make mistakes - but we've been able to do so without compromising the operational side. Being small, we are able to be relatively agile, we can adapt at speed."
But even as a small airline, Air New Zealand has around 11,000 staff, with different skills and motivations. Getting them aligned and passionate is something that can only come from the top, not from consultant reports or management handbooks.
"Ultimately, running an airline is much more about being around people rather than planes. Galvanising people is much more important for a CEO than any technical skills," says Mr Fyfe.
The full interview can be downloaded from the Airline Leader website.
Note to editors:
Nawal Taneja is an airline business strategist with more than 40 years of wide-ranging experience in the aviation industry, academia and public policy. Encouraged by industry executives, he has written six books for practitioners in the global airline industry, including FASTEN YOUR SEAT BELT: The Passenger is Flying the Airplane; Flying Ahead of the Airplane and Looking Beyond the Runway: Airlines Innovating with Best Practices while Facing Realities. He is currently working on the next book in the series: how game-changing technology can enable different airlines to transform their business models to adapt to the fundamental and structural transformation of the global airline industry.
---------------
Airline Leader is a new high quality, full colour, 64-page monthly magazine that covers global aviation management issues. It provides cutting-edge feature stories and analysis, the latest financial and traffic reports, regional wraps, exclusive contributions from industry thought leaders and interviews with leading CEOs.
The hard copy of the magazine is distributed to more than 2,000 C-level executives from airlines, airports, aviation suppliers, government bodies and industry associations and is viewed online by an estimated 25,000 more industry leaders at www.airlineleader.com