Swedish traffic showing no sign of thawing
Analysis
Sweden's deep air traffic recession is showing no signs of abating, with airport operator, LFV Group reporting total passenger numbers across its airports fell 10% last month to 2.1 million, including a 9% fall at Stockholm-Arlanda Airport to 1.4 million.
At LFV Group's airports, overall international volumes are progressing better than domestic, but were still down 8% last month to 1.5 million. Domestic volumes were down 13% to 613,755 last month – an improvement on the 20%+ reductions in Jan-2009, Feb-2009 and Apr-2009 – but there is still a long way to go.
LFV total passenger number growth, domestic and international passenger number growth: Aug-08 to Jul-09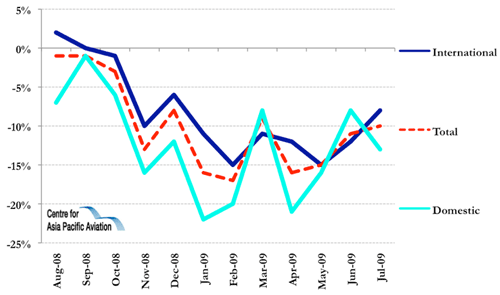 Outlook: More cold weather
Qatar Airways is boosting frequency from Doha to five per week from 25-Oct-2009, while Turkish Airlines and Estonian Air are adding services from Antalya and Tartu, respectively. Other than that, the outlook for Stockholm looks fairly chilly.
Incheon Airport new/expanded routes: Jul-2009 to Jan-2010
Airline

Origin

Destination

Weekly frequency

Effective

New

Total

Stockholm

4

4

24-Aug-09

Doha

Stockholm

1

5

25-Oct-09

Stockholm

2

2

2-Oct-09