Spirit of Jamaica?
Analysis
Fort Lauderdale-based ultra low cost carrier, Spirit Airlines, has reportedly acquired Air Jamaica, according to the Jamaica Gleaner newspaper, citing unnamed sources, following government efforts to privatise the loss-making Jamaican carrier. The report stated the airline would be renamed 'Spirit of Jamaica'.
However, another report in the Jamaica Observer stated no agreement had been signed. The report has not been confirmed by the privately owned Spirit Airlines.
Air Jamaica reportedly incurred losses of USD141 million last year.
The report – if correct – would fit Spirit's recent expansion in Latin America and the Caribbean and provide valuable access rights to continue its expansion in the region.
Spirit launched three times weekly non-stop service between its Fort Lauderdale base and Santiago (Dominican Republic) on 23-Jun-2009. Daily frequency will commence on 01-Sep-2009. The carrier now offers service to 24 destinations throughout Latin America and the Caribbean, including Santo Domingo and Punta Cana in the Dominican Republic.
San Juan is the carrier's second biggest route (in terms of share of total weekly seats across its system), according to OAG, after Fort Lauderdale-New York.
Spirit Airlines Top 10 city pairs by capacity and frequency share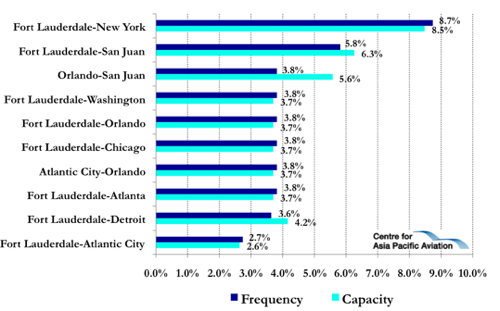 International push amid tough domestic market
Non-US destinations account for 19% of Spirit's total weekly seats, led by Puerto Rico (6.5% of the total) and the Dominican Republic (2.1%).
Spirit Airlines top 10 markets by capacity share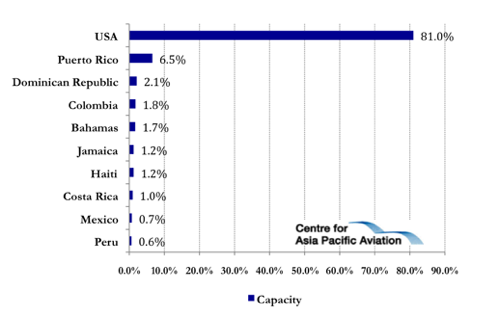 The increases in international capacity comes as the airline prepares to cut domestic US capacity by around 10% after the peak Summer season, by reducing aircraft utilisation rates and cutting frequencies, particularly on longer sectors.
Spirit earned a USD17 million profit in 1Q2009, following a USD16 million full-year loss is 2008, as it transported 6.8 million passengers. The carrier operates 28 A320 family aircraft, while four new A320s (to be leased from AerCap) are scheduled for delivery in 2010.
CEO, Ben Baldanza, recently told USA Today, "we're the Wal-Mart or the McDonald's — not the Nordstrom's — of the airline industry. No one walks into McDonald's and gets disappointed when they don't see filet mignon on the menu…Survival means focusing on a niche and going for it like a pit bull after a T-bone - that's what they're doing - it's good business".