SpiceJet shares jump amid sudden rise in trading activity, Virgin expects to benefit from downturn
SpiceJet's shares gained 7.2% yesterday, for a gain of 23.8% in the past week and 54.5% in the past month. The carrier's share price, at the close of markets yesterday, reached the highest level since 11-Jul-2008.
The carrier witnessed a sudden rise in trading activity on Thursday, with three major deals, involving over 21.8 million shares changing hands. As part of this, Citigroup Global Markets Mauritius acquired 3.7 million shares in the carrier, equating to approximately a 1.5% stake.
Speculation of reduced AFT prices in India
Jet Airways and Kingfisher also gained strongly on Thursday, up 18.1% and 12.4%, respectively, amid speculation that the Indian Government may include aviation turbine fuel (ATF) under the purview of GST, which is to be imposed from 01-Apr-2010. Such a move would bring the tax on AFT to a uniform 12%, which would subsequently be reduced to 8%.
Indian Oil Corp, the nation's largest fuel retailer, also reduced jet fuel prices by 3.2% this week, after three consecutive fortnights of gains.
Asia Pacific selected airlines daily share price movements (% change): 17-Sep-09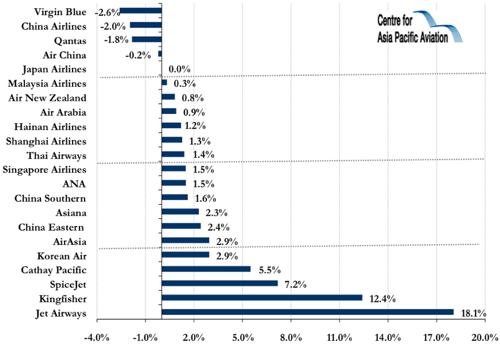 Virgin Blue to benefit from global financial downturn
In the South Pacific, Virgin Blue's shares were down 2.6%. CEO, Bretty Godfrey, stated the global financial downturn has proved advantageous for well-positioned carriers, including Virgin Blue. According to Mr Godfrey, "you should never let a good crisis go to waste. They challenge and they test us, but more often than not they actually bring out the best in us. I go better and I say that I'm a staunch believer that through a combination of design and default. Virgin Blue is actually positioning itself for just this time of the market to take advantage of it."
The carrier also forecasts its subsidiary, V Australia, will be more profitable than Virgin Blue sometime in the next five years and will break even in 2010.

Cathay Pacific jumps on decision to boost cash reserves/reduce gearing ratio
Cathay Pacific's shares gained 5.5% yesterday, the largest gain in two months, as the carrier entered two separate agreements to improve its cash position as the economic downturn drags on.
Following the move, Citigroup upgraded the carrier from "sell" to "hold" and raised its target price from HKD10 to HKD14 per share. According to Citgroup, the agreements will reduce the airline's gearing ratio to 80%.