SpiceJet, Hainan Airlines and Cathay see improvement ahead; China to defer B787s?
SpiceJet's shares jumped 6.4% yesterday, as the carrier's CEO, Sanjay Aggarwal, stated airline fares could increase by as much as 20-25% by mid-Sep-2009.
SpiceJet expects demand will pick-up in four to six weeks, as India's aviation industry moves into the peak season. According to Mr Aggarwal, the airline industry is currently offering fares below cost, with average load factors near 70%. Mr Aggarwal also warned that the current quarter will be "bad compared to the previous one". He added, "if the current situation continues, we may not break even this quarter".
Asia Pacific selected airlines daily share price movements (% change): 07-Sep-09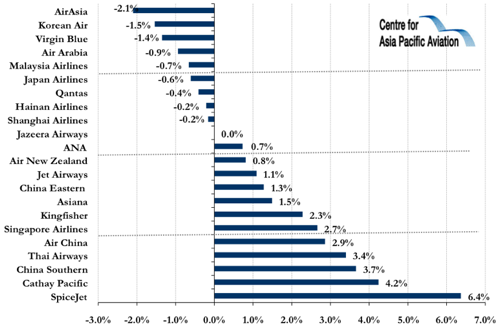 In China, Hainan Airlines reported a 47% jump in passenger numbers last month to 1.8 million, with load factor also improving, up 4.0 ppts to 78.3%. The carrier, which is the first Mainland carrier to report Aug-2009 traffic results, also experienced a notable 40% improvement in cargo volume in the month.
Cathay Pacific (+4.2% yesterday) stated it is seeing signs of improvement in Business class demand, although a recovery is expected to be "slow and steady". The improvement follows "very bad" demand levels earlier in the year.
China Eastern Airlines stated international passenger traffic has shown signs of a rebound, although a cargo traffic recovery will lag behind passenger traffic improvements. The carrier added that domestic passenger numbers have also increased, but is not due to reveal its Aug-2009 traffic until next week.
China Eastern shareholders approve share sale
China Eastern gained shareholder support for a CNY7 billion (USD1 billion) share sale (covering A and H shares), as part of the carrier's plans to reduce debt levels ahead of the planned takeover of Shanghai Airlines. The share sale will reduce China Eastern's debt-to-asset ratio to 96.5% from 105% as of 31-Mar-2009. The carrier plans to complete the merger with Shanghai Airlines by the end of 2009.
China Eastern rose 1.3% in Hong Kong yesterday, although its shares were suspended from trading in Shanghai due to the shareholder meeting. Shanghai Airlines' shares were down 0.2% yesterday.
Chinese carriers seeking to delay B787s
In other China news, Boeing stated it is in negotiations with Chinese airlines, including China Southern Airlines, to further delay taking delivery of B787 orders. Boeing stated, "we could have aircraft for them by the end of next year, but it's too early for them. Actually they are supposed to get some of the early positions, but they would rather have some of the later positions now". Chinese carriers have ordered nearly 50 B787 aircraft.