SpiceJet and Korean Air report net profits in Dec-2009 quarter; Tiger Airways listed in Singapore
Korean Air posted a USD133.7 million operating profit and a USD106 million net profit in the fourth quarter, for the third consecutive quarterly net profit after six consecutive losses (and rebounding from a net loss of USD559 million in the previous corresponding period).
The profitable result for the carrier can be attributed to "surging" cargo growth (and improved cargo yields), lower fuel costs (down 22.2%, with operating costs down 9.9% in the quarter) and a stronger South Korean won (which gained 17% against the USD in the quarter).
Passenger yields, however, remained weak in the quarter, with domestic yield down 9.0% year-on-year, and international passenger yields slumping 15.2%.
Shares in Korean Air, which released earnings results during Friday afternoon trading, fell 2.2% on Friday. The airline's stock price rose 44.5% in 2009.
SpiceJet sees better times
SpiceJet's shares jumped 9.9% on Friday (after gaining as much as 14% in intra-day trade), the most in more than a month in Mumbai, after reporting a USD23.8 million net profit in the three months ended 31-Dec-2009, a turnaround from a USD3.9 million net loss in the previous corresponding period. The carrier's profit before tax was also USD23.8 million.
The carrier added that it expects passenger traffic to grow as much as 18% in the current quarter, with CEO, Sanjay Aggarwal, adding that the company may be able to post a "favourable" annual result, on improved prospects for the aviation industry.
Tiger Airways becomes first Asian carrier to be listed in five years
Shares in Singapore-based LCC, Tiger Airways, rose 5.3% in its debut on the Singapore Stock Exchange, to close at SGD1.58 (compared to its IPO price of SGD1.50), after gaining as much as 7.3% above the IPO price. The carrier, which was one of the most actively traded counters on Friday, is the first Asian carrier to be listed in five years.
Tiger Airways offered 165.2 million shares in the IPO to raise SGD233 million (USD166 million), with the IPO some 5.7-times oversubscribed. The carrier stated funds raised would go mainly towards financing the carrier's expansion plans in Asia (including the acquisition of new aircraft and the establishment of a new operating base).
Shares in soon-to-be-delisted JAL jumped 50% on Friday.
Asia Pacific selected airlines daily share price movements (% change): 22-Jan-2010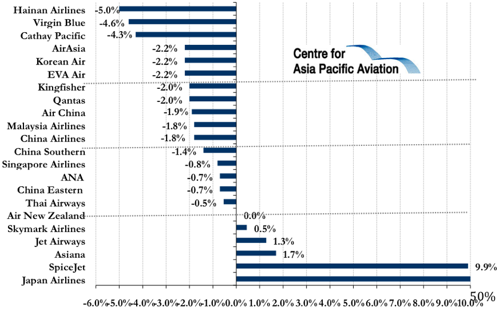 For in depth coverage of today's Asia Pacific aviation developments, see Asia Pacific Airline Daily.