Southwest profitability continues amid economic pessimism
Analysis
Southwest reported net income of USD161 million for 2Q2011, bettering Wall Street expectations. The profit was a 43.8% jump from 2Q2010 on a 30.6% increase in operating revenues of USD4.1 billion. However, operating expenses rose faster at a 41.1% clip to USD3.9 billion in the quarter. Operating income was down significantly for the quarter from USD363 million posted a year ago to USD207 million in 2Q2011.
Fighting off growing economic pessimism
CEO Gary Kelly clarified the press release during Southwest's earnings call stating he was not expecting a double-dip recession. He said, based on bookings and revenue trends thus far, the company expects 3Q2011 unit revenues to improve from 3Q2010's combined unit revenue performance of 12.13 cents. Based on current cost trends, the company expects its third quarter unit costs, excluding fuel and special items, to increase slightly from 3Q2010's combined unit costs, excluding fuel and special items, of 7.27 cents.
The statement was in response to a question from analysts noting that its 6.8% operating margin for the quarter was the carrier's worst performance in two decades and worse than either United or Continental. Mr Kelly said he was confident the company can manage the rising oil, noting the company was where it said it would be in its first quarter guidance, except for fuel costs.
"We are consistent with the industry and other businesses in that we have been able to grow revenues aggressively post recession but the rate of growth slowing," he explained. "It began in the second quarter and it is continuing into the third quarter. I don't expect a weak or soft revenue environment, just the rate of improvement is slowing."
He also pointed to the strategic initiatives the company has underway which could be worth about USD1 billion. Recession risk aside, he said it was all about the fuel price and because of that Southwest is making capacity adjustments. It is also attacking costs to compensate for the fact that rising revenues are not covering fuel. Because of that, its five-year focus on improving the customer experience to drive more revenue may take a back seat to optimising the cost structure.
Southwest's earnings comes at the tail end of the season and airline peers faced a lot of economic uncertainty, but not as much turmoil as what describes the economy now. Problems included the now-solved FAA partial shutdown which ended in the Senate caving in to the House bill that approved cutting 13 cities from the EAS programme. However, the Transportation Secretary can over-ride those cuts.
But it was after the Southwest call that the US economy began to tank. The Dow dropped more than 500 points on Thursday, a rate not seen since the beginning of the recession in 2008, signaling the US may be going into recessionary dip despite the fact GDP was still in positive, although very, very weak territory. The Dow has dropped 1200 points just since 21-July-2011 and all markets were down 10% just yesterday.
Economists indicated that the technicalities about GDP do not matter in the face of the fact that consumers are feeling and acting as if the recession were returning. Analysts indicate concerns about the interdependence of the global economy, the worries about the sovereign debt crisis in Europe and the fight over US debt ceiling have conspired to make everyone nervous. Indeed, they suggested, given Washington's inability to work, there is intense doubt it could come to the economy's rescue this time simply because it just doesn't have any more arrows in its quiver to use to provide any kind of boost.
The economy is facing a collision of two factors. The first is the realisation there is no magic bullet. History shows that the period of de-leveraging that has been underway goes on for a long time and that has collided with concerns over the European debt crisis spreading into Spain and Italy. Indeed, concerns over Europe kick-started Thursday's dramatic sell off.
In addition, there were expectations the third quarter would record a re-acceleration of the recovery after a pretty long soft patch but economic numbers - and, of course, the airline results - show that is not going to happen. There is also a growing realisation that Washington can do nothing to prevent another dip. Monetary policy has been tried and further action is now running up against the deficit/budget problems. In addition, there are fears that if the Fed does another quantitative easing it would cause inflationary problems in the future.
This dismal outlook is also colliding with a strong earnings quarter for corporate America with earnings up 15% which has been coupled with the growing strength of balance sheets. But it is the confidence factor that is the real culprit. They see little but economic turmoil driving a very conservative spending approach, just like consumers, because they remember the dramatic events of 2008.
Some of this should be good news for airlines since the price of oil dropped 6% but that is also a signal for a further global slowdown.
Release sowed seed of pessimism
Southwest's release sounded as if it was the first indication that industry executives may think the US economy is headed for a double-dip recession as has been discussed by economists in the past two weeks. Southwest cited the pessimistic economic environment for it changing the winter schedule loaded only last week. The downward revision calls for 2012 capacity to be equal to or less than the combined Southwest/AirTran capacity in 2011.
"Common sense tells us the economic problems will impact business travel but the majority of our passengers fly for personal reasons and they are very price sensitive," Mr Kelly told analysts. "We have been aggressive on fares and clearly that creates an image we are not bullish on demand and we have to aggressively address capacity."
Monthly capacity (ASM) growth for Southwest, AirTran, JetBlue and Allegiant, Jan-2008 to Jun-2011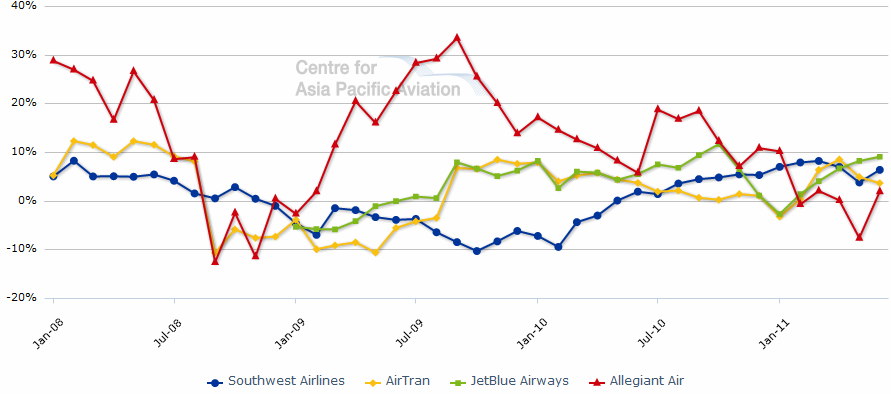 Compounding that was Mr Kelly's notation that while it had planned for USD90 per barrel at the beginning of the year, the prices was now around USD120 which conspired to increase fuel costs by 72% as even record revenue and yields in the quarter failed to keep pace. It was clear from its special items that the AirTran integration expenses were taking their toll.
Southwest incurred USD75 million in acquisition and integration costs this year, USD58 million of which were in the second quarter. Total integration costs will be about USD500 million but would bring net annual pre-tax synergies of more than USD400 million by 2013.
In a conversation about fleet and route changes at AirTran, Mr Kelly confirmed the hassle factor of flying has generally decimated short-haul flying. Thus the reason regionals and low-cost carrier routes are growing in stage length. He noted short-haul markets never rebounded after 2001, prompting it to diversify its route structure and facilitate more connecting opportunities. He noted that its short-haul markets remain strong and are profitable.
Disappointment in Boeing
Mr Kelly expressed disappointed with Boeing that it did not decide on the 737 re-engine programme long ago, something Southwest has been advocating for some time. He expressed frustration that it took so long because delaying the decision - set to be confirmed by the Boeing board this month - delayed service entry and getting solutions the industry so desperately needs.
He also expressed scepticism of an all-new-aircraft timetable originally set for 2019/20.
"I'm pleased with the decision and am anxious to sit down and understand the re-engined aircraft and what it will do. Boeing remains our primary focus and if it works out to our satisfaction we will work with Boeing. If not we will consider other options."
2Q results
Operating unit revenues increased 5.7% compared with the second quarter 2010. On a combined basis - Southwest and AirTran - operating unit revenues increased 7.4% year on year.
Total operating expenses were USD3.9 billion, compared with USD2.8 billion in 2Q2010. Excluding special items, 2Q2011 unit costs increased 13.5% year on year, largely on a 38.4% increase in fuel costs per gallon.
Ex fuel and special items in both the 2011 and 2010 second quarter, 2Q-2011 unit costs increased 1.4% year on year. On a combined basis, non-fuel unit costs, excluding special items, increased 3.1%.
On a combined basis, second quarter 2011 operating income, excluding special items, was USD295 million, compared with USD488 million in 2Q2010.
Southwest was the last US domestic carrier to report and its yield at 14.67 cents was bettered only by Delta at 15.67. Its 12.32-cent PRASM was beaten by US Airways at 13.66, the highest in the industry during the quarter. On ancillary revenues Southwest's 88.2% increase in ancillary revenues topped the 87.2% jump at Spirit.
JetBlue's CASM bested Southwest's 12.49 cents at 11.28, although Allegiant posted the lowest CASM at 11.40 cents. Spirit posted the lowest CASM ex fuel at 5.41 cents followed by Allegiant at 5.92 cents, JetBlue at 6.62 and Southwest and 7.63.
Comparative statistics
2Q 2011 vs 2101

ALK

AMR

DAL

HA

JBLU

LUV

UAL

LCC

ALGT

Frontr

Profit

USD

28.8M

down

50.9%

(286M)

vs

(11M)

198M

down

58%

(50M)

vs

(49M)

25M

vs

31M

161M

up

43.8%

538M

down

11.9%

92M

vs

279M

11.9M

down 32%

NA

16.9M

vs

10M

Operating revenues

USD

1.1B

up

13.7%

6.114B

up

7.8%

9.1B

up

5%

395M

vs

315M

1.1B

up

22.4%

4.1B

up

30.6%

9.8B

up

10.3%

3.5B

up

10.5%

200.4M

up 19.1%

461.8m

up

11.2%

275.8

up

55.6%

Operating expenses

USD

1B

up

21.5%

6.192B

up

13%

8.6B

up

19%

465.1M

vs

291.8M

1B

up

26%

3.9B

up

40.1%

9.1B

up

12.1%

3.3B

up

18.8%

179.3M

up

28.1%

NA

240.9

up

37.2%

ASMs

7.4B

up

7.2%

39.2B

up

2.1%

60.1B

up

2.5%

2.9B

up

21.2%

9.4B

up

8.7%

31.4B

up

23.5%

56.4B

up

1.1%

19.1B

up

3.3%

1.5B

down

1.5%

3.8b

down

0.2%

2B

up

27.3%

Load factor

84.3%

up

2.4 pts

83.6%

down

0.3 pts

83.7

down

1.3 pts

83.9%

down

1.7 pts

81.5%

down

0.5 pts

82.3%

up

3.3 pts

84%

down

0.9 pts

83.8%

up

0.9 pts

88.9

up

0.3 pts

87.4%

up

1.5 pts

85.9%

up

6.1 pts

Yield

cents

14.39

up

3.9%

13.90

up

4.6%

15.67

up

11.5%

14.12

up

7.2%

13.60

up

13.9%

14.67

up

0.3%

14.46

up

10.3%

16.30

up

6.5%

10.8

up

27.3%

NA

NA

PRASM

cents

13.58

up

6.8%

11.62

up

4.9%

13.12

up

9.9%

11.85

up

5.1%

11.08

up

13.2%

12.32

up

4.1%

12.15

up

9.1%

13.66

up

7.6%

12.71

up

20.9%

11.47

up

10.4%

11.37

up

22.1%

CASM

cents

NA

14.52

up

9..8%

14.42

up

15.7%

15.59

up

31.6%

11.28

up 16%

12.49

up

13.4%

12.97

up

10.7%

14.59

up

15%

11.40

up

30.1%

TCASM

12.69

up

17.6%

9.70

up

7.8%

CASM ex fuel/

cents

8.46

down

3.1%

9.36

up

1.4%

8.46

up

4.8%

11.05

up

27.6%

6.62

up

1.7%

7.63

up

3.8%

8.17

up

3%

9.14

up

0.9%

5.92

up

21.6%

7.56

up

4.6%

5.41

down

10.3%

Ancillary/other

revenues

USD

66.9M

up

7.4%

659M

up

5.5%

998M

up

50%

41.6M

vs

38.1M

105M

up

17%

224M

up

88.2%

780M

up

0.9%

345M

up

3.9%

54.2M

up

7.2%

21.6M

up

13.1%

95.4M

up

55.6%
Liquidity
Net cash provided by operations for second quarter was USD237 million and capital expenditures were USD215 million. The acquisition of AirTran was funded with USD518 million of cash on hand, and 44 million shares of common stock. After considering the cash balances acquired from AirTran, the net cash outlay was USD35 million.
The company's USD600 million bank credit facility, which was due to expire in Oct- 2012, was replaced during the second quarter with a new, five-year, USD800 million unsecured revolving credit line. As of June 30, 2011, Southwest had USD4.4 billion in unrestricted cash and short-term investments.
Southwest financial highlights, 2Q2011 vs 1Q2011