Southwest managing yield storm better than JetBlue?
Southwest Airlines has reported smaller reductions in PRASM than JetBlue in the past two months, reflecting a better performance in matching capacity to weak demand levels. Southwest estimates its passenger revenue per ASM (PRASM) to have decreased in the "nine to ten percent range" year-on-year in Jun-2009, while JetBlue's preliminary PRASM decreased 12%.
By contrast, Continental's consolidated PRASM for Jun-2009 (including international operations) is estimated to have decreased by 19.5-20.5% year-on-year.
Southwest vs JetBlue vs Continental* PRASM growth (% change year-on-year): Jan-2009 to Jun-2009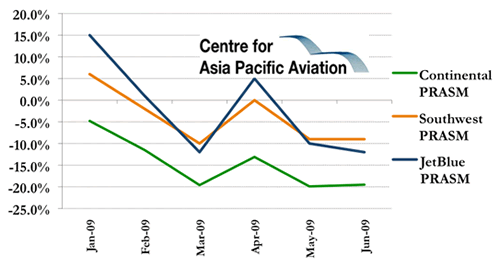 Southwest Airlines flew 6.7 billion revenue passenger miles (RPMs) in Jun-2009, down 2.1% year-on-year, while capacity (ASMs) decreased 3.8% to 8.5 billion. As a result, Southwest's load factor for the month was 79.5%, up 1.3 ppts
JetBlue's Jun-2009 RPMs decreased 3.3%, on a capacity decrease of just 0.1%, leading to a 2.8 ppts reduction in load factor to 80.3%.
For JetBlue, the current downturn has seen its unit revenue growth rates slashed from levels approaching 30% last year to double-digit declines in three of the past four months.
JetBlue PRASM growth (% change year-on-year): May-2007 to Jun-2009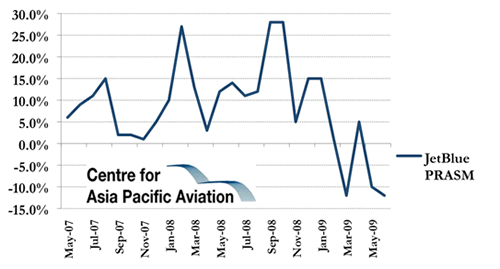 But JetBlue's yields remain above 2007 levels and fuel costs are broadly similar. 2008 was an aberration, with strong economic growth (fuelled by the credit bubble) spiking yields, though the gains were cancelled out by record fuel prices.
Outlook: Post-Summer peak could be challenging
Underlying 2009 conditions are much more benign than 2008, though air traffic levels are soggy due to cautious businesses and consumers. Airlines are responding with lower capacity levels, which is helping to contain the worst effects of the recession, but there are probably several more difficult months ahead.
The first major post-Summer fare sale hit the market yesterday. Southwest announced what is says is one of the biggest fare sales in the company's history yesterday, offering one-way tickets for USD30, USD60, or USD90, based on length of travel for travel between 09-Sep-2009 and 18-Nov-2009. A company spokesman stated, "Southwest realises customers are looking for great travel deals during this difficult economic time. We wanted to provide customers affordable airfares, so they can punch this economy in the nose and travel for business or leisure this fall".