Southwest down as it submits offer to acquire Frontier; Allegiant headed for turbulent times ahead?
Analysis
Southwest yesterday confirmed that it had submitted its binding cash offer of more than USD170 million to acquire Frontier Airlines, which will be sold at auction as part of Frontier's bankruptcy case.
Southwest's offer contemplates that Southwest acquires approximately 80% of Frontier's existing Airbus fleet (approximately 40 aircraft), plus all of Lynx. Southwest anticipates that Frontier would then transition to Southwest's B737s over a period of approximately 24 months. Southwest intends to maintain all existing markets, as well as adding new routes from Denver that are not served by either Southwest or Frontier currently. The auction is expected to commence on 13-Aug-09. Southwest's shares fell 2.6% yesterday.
Allegiant's shares meanwhile slumped 5.7%, on reports the carrier's share price may be headed for a decline after reporting spectacular gains from USD18/share in Dec-2006 to peak at USD57/share in Apr-2009 and USD40.36/share currently. According to Barron's Business Weekly Magazine, "a fair number of investors have bet Allegiant's lucky streak will run out", with the company stating that approximately 6 million shares in the carrier were sold short as of last month, amounting to approximately 40% of the free-trading float and approximately 14 days of trading volume. Barron's also expressed concern that fuel prices will start to go against the carrier, which will be unable to increase fares.
Allegiant share price growth: Jan-2009 to Aug-2009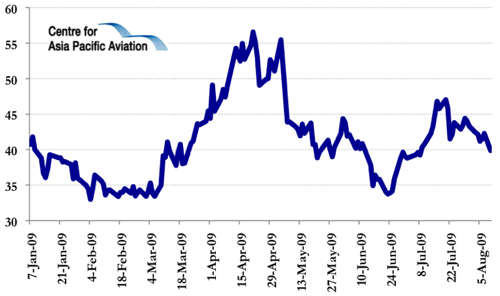 Leading the LCC gainers on Monday was Norwegian Air Shuttle, soaring 7.2%, following Friday's 2.2% gain. The LCC reported improved yields in Jul-2009, of 4% year-on-year, with unit revenue also improving 6%, as the carrier increased its load factors by 1 ppts to 88% and passenger numbers by 16%. Vueling shares were also much stronger yesterday, up 6.0%, while easyJet and Ryanair were down 0.3% and 1.4%, respectively.
Selected LCCs daily share price movements (% change): 10-Aug-09