Southwest Airlines continues work to drive network strength in the US market
Analysis
By YE2014 Southwest Airlines aims to complete many major milestones, including the completion of AirTran, a project that will have taken roughly four years to complete. As the AirTran name and brand retire, Southwest is also instituting what it believes are several key network changes as it works to leverage the benefits both of a refined combined Southwest-AirTran network and the long-awaited repeal of the Wright Amendment that prohibits longer-haul flights from Dallas Love Field.

Even as the lifting of the Wright Amendment allows Southwest to operate direct flights to key business destinations from Dallas, it faces new competition in its home market from Virgin America. At the same time the airline is utilising slots at Washington National to enlarge its presence in the Washington DC metro area and adding new service from Washington Dulles.
Southwest adds numerous destinations from Love in market filled with new dynamics
Southwest officially begins life post-Wright in Oct-2014 when it introduces the first tranche of direct flights from its Love Field headquarters. That service features flights to Baltimore-Washington International airport, Denver, Chicago Midway, Las Vegas and Orlando. As previously reported by CAPA, those are all top airports for Southwest based on daily departures, and all of those markets are served from DFW by other airlines. American and ultra low-cost carrier Spirit offer flights on all of those routes (in Chicago to O'Hare) from DFW. United and Frontier offer service from DFW to Denver and United operates flights from DFW to its hub at O'Hare.

See related report: Southwest Airlines wins Love – but also new competitive forces with repeal of Wright Amendment

Following those route launches, Southwest in Nov-2014 is introducing service from Love Field to Atlanta, Fort Lauderdale, Los Angeles, Nashville, New York LaGuardia, San Diego, Orange County, Tampa and Washington National. American serves all of those destinations from DFW, and Spirit offers service to all those markets from DFW with the exception of Nashville and Washington National. American and Delta operate service from DFW to Atlanta and New York LaGuardia and United offers service from DFW to Los Angeles.

The dynamics in the Dallas market have definitely changed since Southwest in 2006 achieved success with its campaign to gradually lift the Love Field restrictions fully by YE2014. Spirit has rapidly grown in Dallas/Fort Worth during the last few years with its ultra low-cost offering to many large metropolitan markets targeting a passenger segment it feels could be priced out of air travel.
Southwest's seat share drops at Love as it rejigs flights and Virgin America moves in
Beginning in Oct-2014 Virgin America adds another layer of competitive dynamics in Dallas when it launches service from Love Field to Los Angeles, New York, San Francisco and Washington. It is transferring service from DFW to New York and Los Angeles to Love and adding new flights to San Francisco and Washington National in late 2014 and Chicago O'Hare in 2015 to capture more O&D traffic rather than battle with American for connecting passengers at DFW.

See related report: Virgin America vies to inject competition at Dallas Love Field as Southwest, Delta, Spirit line up
With Virgin America's push from Dallas, the market stands in a unique position of having a solid presence from a fully-fledged network airline (American), a hybrid (Virgin America), an ultra low-cost airline (Spirit) and Southwest – which is indefinable in the new order emerging in the US.

Even as Southwest makes a push from Love Field into strategic markets, its overall seat share at the airport is dropping since it has to make adjustments elsewhere in its network to support new service from Love. As part of the deal negotiated by Southwest in 2006 to lift the Wright restrictions, Love Field gates were capped from 32 to 20. Southwest presently operates from 16 gates at the airport, United has two gates and Virgin America will operate from two gates divested by American as part of the carrier's approval for its merger with US Airways.

Based on schedules in CAPA and OAG, Southwest's seat share at Dallas Love Field is falling from roughly 97% for the week of 2-Jun-2014 to 8-Jun-2014 to approximately 88% as Virgin America by that time will represent a nearly 7% share at Dallas Love Field.
When the deal was negotiated to gradually phase out the restrictions eight years ago, Virgin America was not yet airborne and Spirit was preparing to make its transition to an ultra low-cost carrier. Even with the negotiated cap on gates at Love Field, Southwest was likely betting that it could still enlarge its presence at the airport, but US consolidation resulted in more carriers vying for access to the airport, including Delta, who lost out in its quest to grow at Love Field.
Dallas Love Field capacity by carrier (% of seats): 2-Jun-2014 to 8-Jun-2014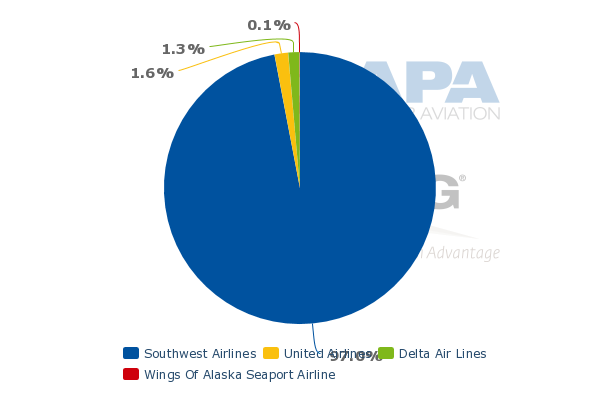 Dallas Love Field capacity by carrier (% of seats): 10-Nov-2014 to 16-Nov-2014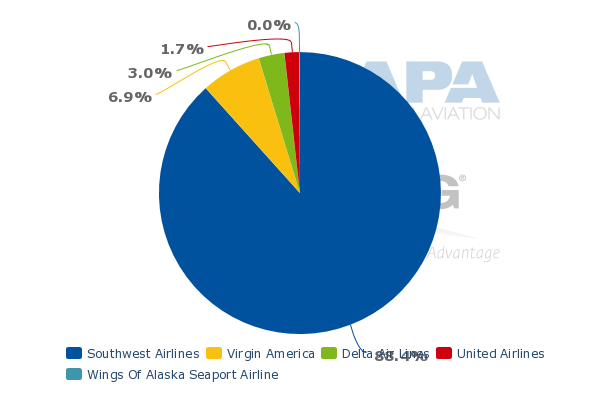 Southwest ups in profile in the Washington metro area through additions at DCA and IAD
As Southwest shuffles around flights at Love Field, it is capitalising on 27 slot pairs it gained at Washington National (along with AirTran's existing slots), which will lift its profile at the airport.

Starting in Aug-2014 and continuing through Nov-2014 Southwest is introducing flights from National to Chicago Midway, Nashville, New Orleans, Tampa, Akron-Canton, Dallas Love Field and Indianapolis. Either American or US Airways serve all of those markets (American serves Dallas from DFW), United operates service to O'Hare and JetBlue offers flights to Tampa.

See related report: Has Southwest Airlines lost its market disruption powers as it quietly enters Washington National?

Once all the new service ramps up, Southwest by 10-Nov-2014 will comprise 15% of the seats deployed from Washington National, compared with a stand-alone share of 1.6% for 2-Jun-2014 and a combined 4.5% share for Southwest and AirTran for that same time period.
Washington Ronald Reagan National Airport capacity by carrier (% of seats): 2-Jun-2014 to 8-Jun-2014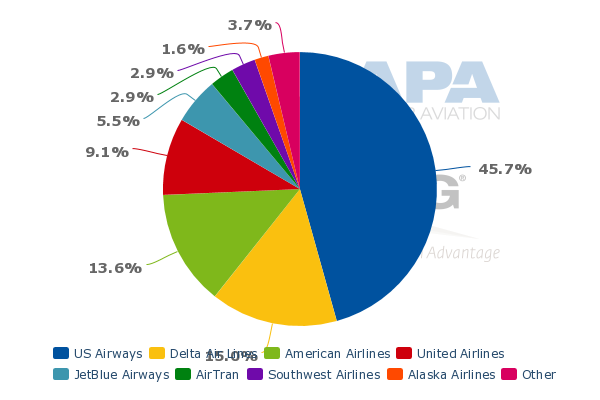 Washington Ronald Reagan National Airport capacity by carrier (% of seats): 10-Nov-2014 to 16-Nov-2014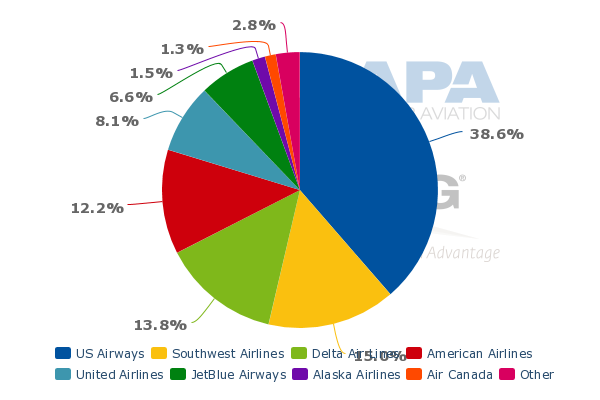 Additionally, Southwest is introducing new service from Washington Dulles to San Diego and re-launching flights from Dulles to Las Vegas. Presently Dulles-Las Vegas is a route where United (Dulles' largest carrier) holds a monopoly, but by YE2014 both Southwest and Frontier will launch service on the pairing. Las Vegas is part of a raft of new routes Frontier is launching from Dulles. Other service additions include Atlanta, Charlotte, Chicago O' Hare, Cincinnati, Detroit, Fort Lauderdale, Fort Myers, Las Vegas, Memphis, Minneapolis, Orlando, St Augustine and St Louis.

See related report: Frontier Airlines will offer a more refined ultra low-cost (ULCC) product offering than rival Spirit
Southwest will also break United's monopoly on flights from Dulles to San Diego, creating new pressure for the major carrier at its Dulles hub. Presently Southwest serves Chicago Midway and Denver from Dulles, so adding two leisure destinations rounds-out Southwest's Washington portfolio, which includes BWI, where Southwest holds a 69% seat share. Baltimore is Southwest's third largest airport by departures.
Southwest completes the integration of AirTran amid changing market conditions
By YE2014 Southwest will officially complete the integration with AirTran, which has included a network overhaul of AirTran that features the eventual elimination of all the Boeing 717s (and the small and largely unprofitable markets where those jets operated), the de-hubbing of Atlanta and Southwest making its international market debut by taking over AirTran's transborder routes.

Southwest's network moves in Dallas Love Field and elsewhere are part of its evolution in the US market place. It is the largest airline between the global network airlines – American, Delta and United – and the smaller players – Alaska, Hawaiian, JetBlue, Spirit, Frontier and Allegiant.
At one point it may have seemed as if repealing the Wright Amendment was the largest challenge Southwest needed to overcome. But ensuring its business model reflects the new realities of the US market place could prove to be an even greater obstacle.

See related report: Southwest Airlines' paradox – strong fundamentals confronted by a challenged business model