SkyEurope with SAPO may have a new lease on life - perhaps as a luxury LCC
There appear still to be a few untied loops in the investment story.

But it appears that an ad hoc JV partnership has been established between SAPO International, a Greek company specialising in high end travel, such as luxury yachting holidays and private resort island holidays and Longstock, a Portuguese investment group which has previously bought Air Luxor, as that airline was about to go under in 2006. The JV is reportedly based in Gibraltar for tax reasons.

The partners reportedly plan to acquire a controlling interest in the LCC and to seek approval to restructure it under Austrian law. Apart from its AOC, reportedly the main reason for Longstock buying into Air Luxor, the carrier still has ambitious growth targets, with plans to operate a 28-aircraft fleet by 2012, up from its current 14 B737-700 aircraft.

But SkyEurope's net loss deepened in the 12 months ended 30-Sep-08 (FY08) to EUR59.4 million, from a net loss of EUR24.1 million in the previous corresponding period. This resulted in a -22.8% net loss margin.

The carrier's base consolidation and operational restructuring plans are showing some, albeit limited, signs of progress, but surging fuel costs, weakened economic conditions and problems with the carrier's credit card acquirer, resulting in a concerning low cash balance are hampering the airline's turnaround and future. SkyEurope is yet to report a profit since it commenced operations in 2002.
Cash balance was looking precarious
SkyEurope's cash balance, of just EUR1.3 million as at Sep-08, represents an 88.4% year-on-year reduction, and a fall from the EUR2.7 million available at Jun-08. The carrier has, however, now secured a new credit card acquirer, and is currently reaching an agreement covering the approximately EUR13 million in cash held by the previous company, E-Clear.

During the last 12-month period, SkyEurope's revenue increased 10.5% year-on-year, although this was more than offset by a 25.0% year-on-year increase in operating costs.

The carrier reported an EBITDAR loss of EUR22.2 million, compared to an EBITDAR loss of EUR9.7 million in FY07, resulting in 9-8.5% EBITDAR margin, while the carrier's EBIT loss of EUR56.1 million (compared to an EUR20.9 million EBIT loss in FY07) resulted in a -21.5% EBIT margin.

It is unclear whether York Global Finance, which holds 29.9%, remains interested in acquiring the remaining shares.
Unit revenues hit hard, but on the improve
During FY08, revenue per ASK fell 12.3% year-on-year, predominantly due to a higher proportion of new routes, and a lower load factor. Capacity increased 26% year-on-year.

As SkyEurope's new routes begin to show signs of maturity, the per seat revenue shortfall has eased from a shortfall of 14.3% in 1Q08, 19.2% in 2Q08, 9.5% in 3Q08 and 4.3% in 4Q08.

The trend is expected to enter positive territory in FY09, as the carrier begins to realise the benefits of route maturity and slowed capacity growth. The carrier also stated forward bookings for Winter 2009 as showing "strong" year-on-year improvements.
SkyEurope EBIT and net loss margins: FY05 to FY08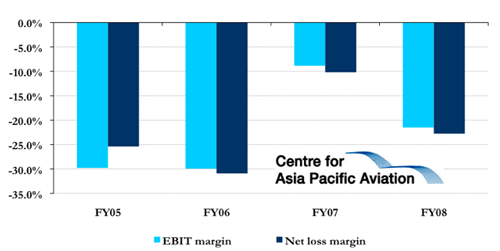 SkyEurope also recently entered negotiations with Flyholding, the parent of Italian LCC, myair.com, to explore a potential strategic alliance promoting operating synergies and economies of scale.

Operating synergies would include potential cross-utilisation of aircraft capacity, cross-ticket sales, facilities sharing and resource pooling at airports where both SkyEurope and myair.com have a presence.

Certain commercial and operational initiatives have already been undertaken and have "proven to be beneficial". SkyEurope and Flyholding will also explore cross-equity shareholdings, subject to shareholder approval and regulatory clearance.
Recent events
| Date | Event |
| --- | --- |
| 24-Oct-08 | SkyEurope terminated co-operation with its existing credit card acquirer, E-Clear UK, due to "contractual reasons". At the date of termination, E-Clear held approximately EUR 3 million of cash relating to flight reservations paid by credit card. The two companies are currently "working together to reach an out of court agreement". |
| 07-Nov-08 | SkyEurope cancelled the planned Extraordinary Shareholders' Meeting convened for 10-Nov-08, to "allow for more time for the evaluation of further financing and restructuring options". |
| 21-Nov-08 | York Global Finance elected to change the maturity date in the two term loans provided to SkyEurope (a EUR15 million loan granted in Dec-07 and a EUR10 million loan grnated in Sep-08) during the fiscal year. Both loans are now due and repayable on 15-Dec-08. Both loan had previously been payable in Nov-08. |
| 24-Nov-08 | SkyEurope received a default notice from GECAS, the Company's primary aircraft lessor, as a result of late lease payments. SkyEurope is currently "working with GECAS to remedy the default". |
| 24-Nov-08 | SkyEurope's inactive subsidiary, SkyEurope Airlines Hungary Kft, was sold to a third party for net proceeds of EUR1.4 million. |
On a more positive note, SkyEurope's restructure has been timely, with the carrier expected to benefit from the investments made in 2008 to the re-setting the carrier's business model in 2009. The LCC's network is now less seasonal and price-sensitive, enabling SkyEurope to benefit from higher aircraft and utilisation.
In light of the benefits from its restructure, SkyEurope has stated it is "cautiousy optimistic" for 2009, with the carrier expecting "strong revenue" growth, despite capacity reductions over the European Winter, resulting from network maturity (In 2009, the carrier's average route age will be 32.4 months compared to 19.6 months in 2008, which the carrier expects will lead to improved load factors and average revenue per passenger).

News of an interested investor potentially completes the most important missing piece of the jigsaw. And not a moment too soon.

But the carrier may be at a very useful stage in its development. It is sure to come cheaply, given its precarious position. And, assuming the restructuring proposal has some relationship to the luxury side of the JV, SAPO International, there could be some unusual refocusing of this essentially useful airline.