SkyEurope files for bankruptcy/ceases operations; Southwest faces maintenance woes
Embattled Slovakia-based LCC, SkyEurope, which has been struggling to restructure its debts, has filed for bankruptcy and suspended operations.
SkyEurope suspends operations: 31-Aug-09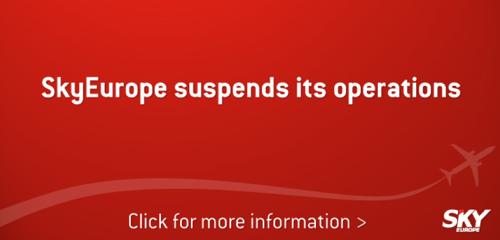 SkyEurope suspends operations
According to a filing on the Vienna Stock Exchange by SkyEurope's Slovak court-appointed restructuring trustee, the trustee filed for the opening of bankruptcy proceedings, "due to the lack of sufficient interim funding to finance ongoing operations".
The airline, which launched services in Feb-2002, was granted three-month creditor protection in Jun-2009, and has since been trying to restructure and pay its outstanding debt. Earlier on Monday, the carrier temporarily cancelled on services from Bratislava, facing a suspension in services from Prague International Airport, due to outstanding debts. Vienna Airport halted the carrier's services in mid-Aug-2009 for the same reason.
SkyEurope suspends operations: 31-Aug-09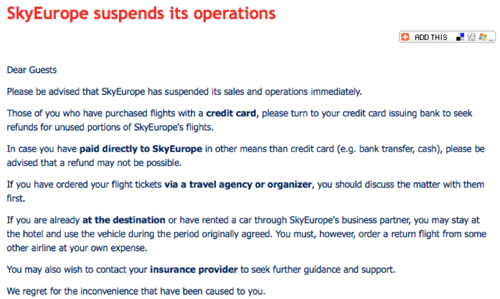 Air Berlin faces union troubles
Also in Europe, Air Berlin's shares were down 1.6%, as the carrier was forced to cancel several German domestic services and an LTU long haul service, due to a one day strike by some of its pilots. The Cockpit Pilots Union is seeking an 11.7% pay rise, significantly higher than the 3% increase offered by the LCC.
NB: DAILY LCC SECTOR strategic updates from around the world are NOW AVAILABLE! Sign up today for your free trial subscription to Peanuts! Daily.
JetBlue and Lufthansa confirm codeshare partnership
In the Americas, JetBlue's shares gained 1.0% as the carrier confirmed it will operate a codeshare arrangement with Lufthansa covering US and Puerto Rico services (with services to Buffalo, Syracuse, Rochester, Pittsburgh, Raleigh-Durham, Austin, New Orleans, Tampa, Fort Lauderdale, Fort Myers, West Palm Beach and San Juan).
Southwest aircraft maintenance woes continue
Southwest Airlines' shares fell 3.9% yesterday, before the 01-Sep-09 deadline for the carrier to settle a dispute with the FAA over the use of unapproved parts on more than 80 aircraft. Southwest stated it has replaced the unapproved parts in more than 25 aircraft, but needs more time to find parts for the remaining aircraft. Without an extension, FAA could force the airline to ground the affected aircraft.
Selected LCCs daily share price movements (% change): 31-Aug-09