SkyEurope - EUR25 million in loans become due and payable in Nov-08
SkyEurope stated the EUR15 million loan granted in Dec-07 by York Global Finance II becomes due and payable on 22-Nov-08, providing the carrier with a much-needed injections of funds. The separate EUR10 million bridge loan facility, which was granted by York Global in Sep-08, also becomes due and payable this month (on or before 05-Nov-08. This maturity date may be extended at the lender's discretion according to the bridge loan agreement). The latest loan facililty was granted to support ongoing working capital and cash flow requirements over the Winter Schedule.
York Global Finance II, SkyEurope's major shareholder, has become increasingly central to financially-troubled SkyEurope's survival in the past 12 months.
Also recently, York Global Finance II offered to acquire 100% of SkyEurope Airlines. Under the plan, York would assume SkyEurope Airlines' liabilities and certain liabilities of parent, SkyEurope Holdings. Once completed, the transaction would be followed by a significant capital injection by York to satisfy SkyEurope's liquidity needs.
SkyEurope has entered into negotiations with York on the basis of its proposal, but still remains open to other concrete proposals for the company which "might ascribe a higher value to the company's airline business".
SkyEurope appointed Rothschild on 18-Sep-08 to assist the carrier to "find a proper structure", with a preference for an "equity solution", rather than engage in a "wind down" of the carrier. The focus of Rothschild's work has been, and continues to be, to search for an investor or purchaser for the airline, to secure its long-term future and success. Rothschild has received several preliminary expressions of interest to date, although York Global Finance II's proposal is the only concrete proposal.
Discussions with Flyholding regarding potential strategic alliance
SkyEurope, meanwhile, entered negotiations with Flyholding, the parent of Italian LCC, myair.com, to explore a potential strategic alliance promoting operating synergies and economies of scale.
Operating synergies will include potential cross-utilisation of aircraft capacity, cross-ticket sales, facilities sharing and resource pooling at airports where both SkyEurope and myair.com have a presence. SkyEurope and Flyholding will also explore cross-equity shareholdings, subject to shareholder approval and regulatory clearance.
SkyEurope currently operates to eight Italian destinations, including Milan, Pisa, Venice, Trieste, Rome, Naples, Bari and Catania.
SkyEurope destination map: Nov-08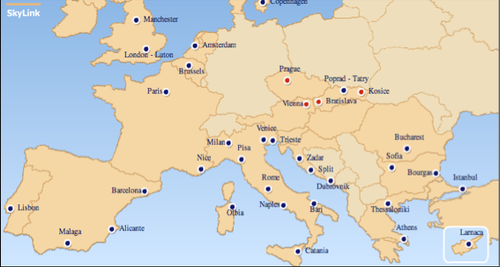 Continues focus on business-oriented products and routes
SkyEurope is increasingly focusing on high demand business and leisure routes, concentrating on frequency rather than breadth of operations, to create a network that is "less seasonal, [less] price sensitive and better able to cope with high prices and the results of a slower global economy."
As part of this focus, the carrier has closed its bases at Budapest and Krakow, concentrating operations at the higher yielding cities of Bratislava, Prague and Vienna, and its new satellite base in Kosice, which opened in Jul-08. The carrier is currently the largest airline operating from both Bratislava and Kosice and the second largest carrier operating from Prague.
Selected European airport capacity breakdown by carrier (seats per week as % of total): Week commencing 03-Nov-08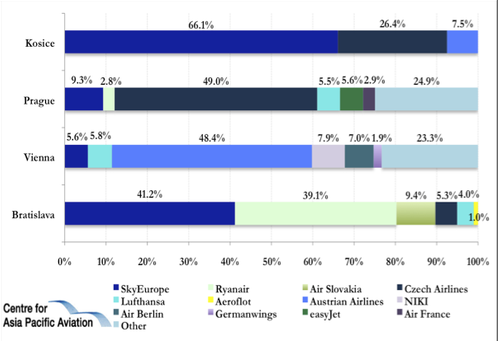 The carrier also continues to enhance its business-oriented product, most recently with the introduction of priority check-in services in Vienna and Paris and the introduction of a new loyalty programme (SkySaver) and a new flexible fare product (Flexi-fare) in Sep-08. According to CCO, Steven Greenway, the launch of these products are "only the start" of a range of new "business friendly" solutions that will be added over the coming months.
In other SkyEurope news, the LCC launched a daily 'Happy Hour' promotion from 06-Oct-08, available every weekday between noon and 1 pm Central European Time. In the first week of the promotion, several thousands tickets were booked during the Happy Hour period.
Background Information:
Commenced operations in 2002 as the first LCC in Central Europe;
Operates 76 routes to 41 destinations across 19 countries from bases in Bratislava, Vienna, and Prague;
Ambitious growth targets, with plans to operate a 28-aircraft fleet by 2012, up from the current 15 B737-700 aircraft;
Transported more than 3.5 million passengers in the 12 months to 31-Dec-07, with an average load factor of 80%;
Is yet to report a profit since it commenced operations;
Targets revenue growth of above 25% in 2008, a doubling of EBITDAR, in excess of EUR20 million, and cost per seat improvement of between 5 and 10% for 2008.