Singapore Airlines reports dreadful traffic figures for May-2009
Analysis
Singapore Airlines' passenger load factor plunged 7.8 ppts to just 66.9% last month as a 22.8% decline in passenger traffic (RPKs) significantly outstripped a 13.9% decrease in capacity (ASKs). As the global economic downturn becomes protracted and swine flu spreads, Singapore Airlines will have to address its capacity levels again.
Singapore Airlines RPK and ASK growth: Jun-08 to May-09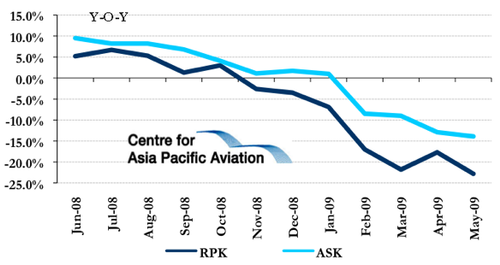 Airlines around the world, including Singapore Airlines, are offering too many premium seats and IATA is noting excess capacity is emerging in several markets. SIA noted the uncertainty over the spread of swine flu would "impinge on demand for air travel" and the carrier will "continue to monitor traffic movements and make appropriate adjustments where necessary to match capacity to forward demand".
SIA report the number of passengers carried decreased 23.7% in May-2009 year-on-year, to 1.21 million. The carrier does not provide a breakdown of the mix of travelers between premium and economy classes.
Singapore Airlines passenger numbers and Passenger load factor: Jun-08 to May-09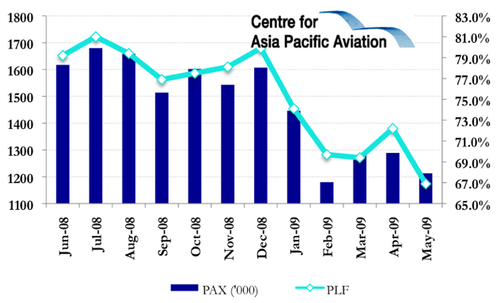 The airline noted year-on-year reduction in capacity followed the planned reduction in frequencies and termination of services to Los Angeles (via Taipei), Osaka (via Bangkok), Amritsar and Vancouver (via Incheon).
Traffic demand continues to be impacted by the global economic slowdown. As a result, all route regions registered lower passenger load factors compared to last year.
Singapore Airlines PLF growth by region in May-09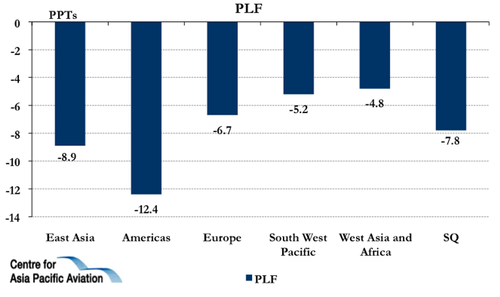 Cargo volumes find new floor?
Overall cargo traffic (measured in freight tonne kilometres) fell by 20.7%, slightly less than the reduction in systemwide cargo capacity of 21.4%. As a result, cargo load factor (CLF) improved by 0.5 ppts. SIA noted, "this is mainly due to better capacity management". South West Pacific, Americas and East Asia registered improvements in CLF.
Singapore Airlines FTK and AFTK growth: Jun-08 to May-08
Outlook: Tough road ahead
Singapore Airlines faces some difficult decisions in the months ahead. Its own traffic attests to the ongoing severe weakness in the global economy. A further reduction in capacity will mean a sacrifice of market power of the Changi hub (as Dubai continues its ascent) and potential further job losses for SIA staff. The alternative - deep losses for the national carrier - is equally unpalatable.