Singapore Airlines report worst ever February traffic declines, as load factors slump
Singapore Airlines today reported its worst ever decline in passenger traffic. Revenue Passenger Kilometres were down 17.0% and passenger numbers fell by 20.2%.
And, despite the fact that SIA had reduced capacity over the month (Available Seat Kilometres) by 8.5%, this meant that system load factors fell by a whopping 7.1%, from 76.8%, to 69.7%.
Cargo Freight Tonne Kilometres fell 15.2%, with freight carried down 16.9% by weight and cargo load factors fell 5.5%.
(Statistical note: these figures are compared with Feb-08. That month included one more day, as it was a Leap Year; the month of Feb-08 also included the Lunar New Year holiday, whereas this year it occurred in January.
The effects are to magnify the passenger downturn, by between 5-10%. The effect for freight is slightly different; like passenger numbers, volumes are reduced by the shorter month, but are normally negatively affected by the New Year holiday - ie freight falls are probably slightly understated.)
Singapore Airlines passenger numbers growth and cargo volume growth: Mar-08 to Feb-09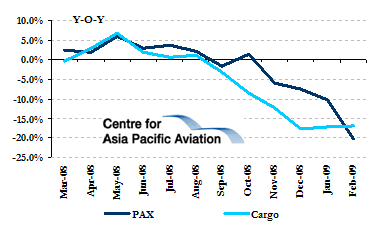 The worst declines in load factor occurred on European routes (-10.2%) - unsurprisingly, long haul is worst affected (although SIA did not report ASK changes for route groups, so that it is not clear where capacity was reduced - or not).
The Americas were also badly affected, with an 8.3% LF fall. But SW Pacific (Australia and New Zealand) routes were least affected, with a fall of only 4.4%. reflecting to some extent reduced capacity.
Cargo also performed worst on European routes (-9.3%), but actually showed a small (+1.9%) but unique increase on Australia-New Zealand routes.
Singapore Airlines passenger load factor and cargo load factor in Feb-09: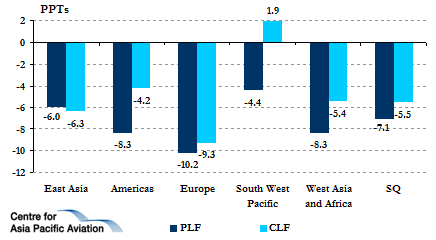 The Americas markets are becoming a severe burden for Singapore Airlines, after high hopes with longhaul all-business services, which have all suffered as the US economy tanked in the second half of 2008.
Following a peak passenger load factor in the North American 2008 Summer season, of over 86%, the (lower season) Feb-09 shows a massive drop, to 63.9%.
This comes despite the introduction of the smaller B777-300ER on the San Francisco service via Hong Kong and the termination of Los Angeles (via Taipei) service.
Singapore Airlines passenger load factor by region: Mar-08 to Feb-09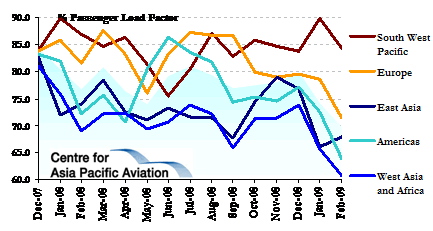 SIA is rapidly dropping capacity, by reducing service on higher frequency routes, attempting not to cut routes altogether. From capacity growth levels nudging 10% in mid-08, capacity is now down significantly (although, as noted above, the 8.5% decline needs to be adjusted).
Further capacity cuts will be necessary, and SIA: "will continue to monitor traffic movement and make appropriate adjustments to its route network where necessary to match capacity to demand."
Singapore Airlines passenger capacity growth (ASKs): Jan-08 to Feb-09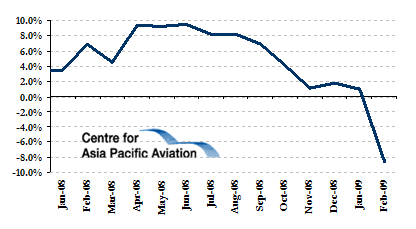 And, as is graphically illustrated in the following chart, a worrying feature is the growing depth of the load factor declines - despite significant reductions in capacity.
Singapore Airlines passenger load factor for rolling 12 months. Year to Feb-09 vs year to Feb-08: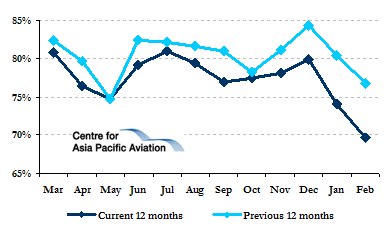 Changes of this magnitude automatically flow through to the bottom line, as discounting seeks to generate higher loads.
But, despite this, it is clear that the carrier has been unable to match prices and capacity reductions with slower demand: "The prevailing global economic crisis has significantly dampened travel demand, translating to weaker uplifts."
These impacts will appear when SIA reports its financial results - and the outlook appears to be worsening rapidly. However, to gain a clearer picture (in view of the statistical differences year on year), the March and March Quarter figures will be more revealing and reliable.