Singapore Airlines' passenger traffic remains very soft, pressure on yields
Passenger demand at Singapore Airlines (SIA) remained very week last month, although the carrier brought capacity levels closer to traffic declines, leading to a better load factor performance than previous months. But yields remain under pressure according to SIA, as a result of "aggressive competition in all route regions and increased promotional fare activities in recent months".
In Jun-2009, SIA's systemwide passenger traffic (RPKs) fell 18.2% year-on-year, which outpaced the reduction in capacity (ASKs) of 14.4%. The year-on-year reduction in capacity followed the planned reduction in frequencies and termination of services to Los Angeles (via Taipei), Osaka (via Bangkok), Amritsar, and Vancouver (via Incheon), as well as the transfer of Hyderabad operations to SilkAir.
Singapore Airlines RPK growth and ASK growth: Jul-08 to Jun-09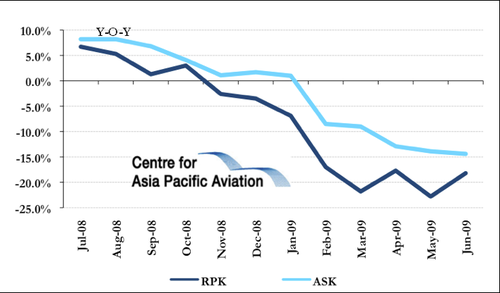 Passenger load factor (PLF) declined 3.5 ppts to 75.7%, while the total number of passengers carried decreased 19.2% to 1.3 million.
Singapore Airlines passenger number growth (% change year-on-year) and PLF growth (ppts change year-on-year): Jul-08 to Jun-09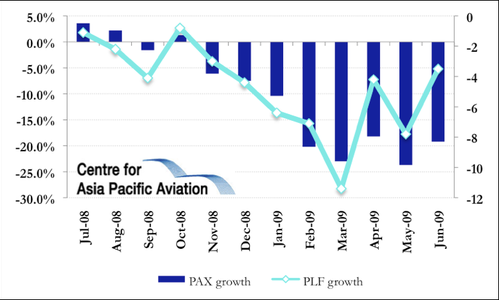 SIA stated "traffic demand continues to be soft, impacted by the global economic slowdown and uncertainty over the spread of InfluenzaA (H1N1)". With the exception of West Asia and Africa, all route regions registered lower PLFs compared to last year.
Singapore Airlines PLF growth (ppts change year-on-year) by region: Jun-09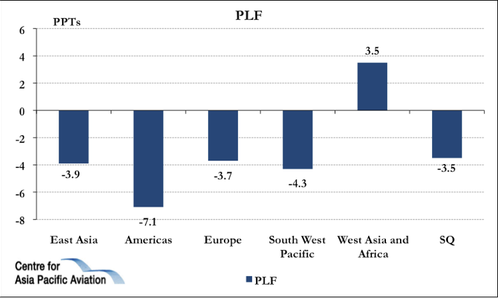 Cargo bottoms out?
Overall cargo traffic (measured in freight tonne kilometres) fell by 20.8% and has essentially moved sideways since Apr-2009. Cargo load factor (CLF) registered an improvement of 1.3 ppts as a result of better capacity management (AFTKs fell 22.3% in Jun-2009).
Singapore Airlines FTK growth and AFTK growth: Jul-08 to Jun-09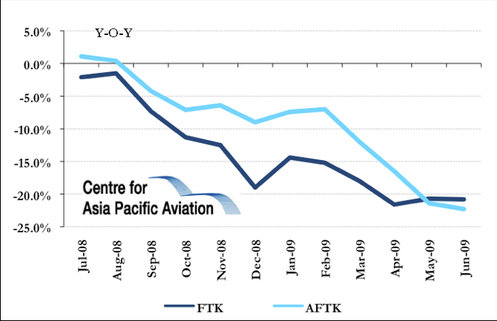 Cargo load factors were better in most regions, except the crucial East Asian region.
Singapore Airlines cargo load factor growth by region in Jun-09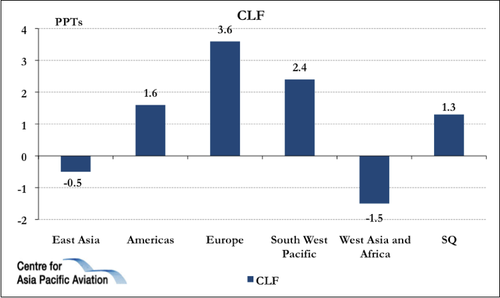 Challenging outlook
The outlook remains extremely challenging for SIA in both the cargo and passenger segments. If a global economic recovery is truly under way, passenger numbers and load factors should stay relatively robust after the Summer peak, while a pre-Christmas cargo build-up should show up from around October.