Singapore Airlines names budget long-haul carrier 'Scoot'
Analysis
Singapore Airlines (SIA) has confirmed its wholly-owned low-cost medium-long-haul carrier will be named "Scoot" and operate Boeing 777-200s in a two-class configuration with economy seating 3-4-3, as CAPA reported in September. Scoot is preparing to launch services around mid-2012 on medium and long-haul routes from its Singapore base. It plans to pursue a relatively high growth in its first four years, with its fleet slated to reach 16 aircraft in mid-2016.
Update: our full analysis of Scoot's launch can be found here
"We chose the name 'Scoot' for many reasons, not least because it's different. Rather than the tried and tired 'airlines' this, 'airways' that or 'air' yawn, it's short, sharp and snappy. It stands out. It's geographically independent, and can be a verb or a noun. Besides difference, it conveys spontaneity, movement, informality and a touch of quirkiness—all attributes we intend this Company to be known for," said Scoot CEO Campbell Wilson in a statement.
Scoot was trademarked earlier this year by New Aviation, the working name of the airline. Mr Wilson is a 15-year veteran of SIA.
"The light, bright logo conveys warmth, energy and informality, while the tilted 't' of the name Scoot hints that this airline is not cut from the same conformist mould of others," Scoot said in a statement. "The aircraft livery, with its waves and colour, likewise gives a sense of motion, happiness, lightheartedness and youth, reflecting a casual, leisure-oriented vibe that should capture and enhance the mood of those travelling."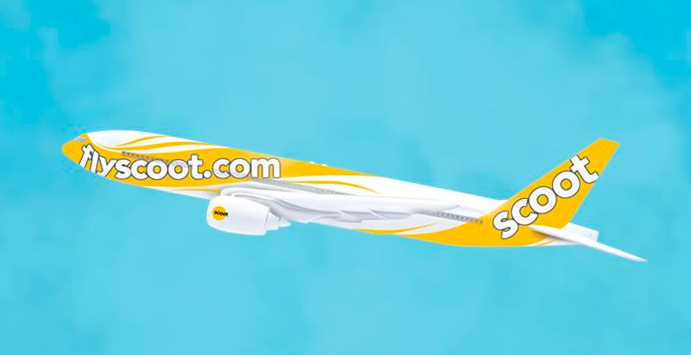 Mr Campbell added: "These attributes will be personified in a unique spirit that encapsulates our values and style, and that should be apparent to guests whenever they interact with us. An airline with a different attitude. People with a different attitude. Scootitude."
The branding was created by Singapore agency Sparkfury and sister agency Tangoshark.
Scoot says the public will be invited to make a tagline for the carrier.
Engineering retrofit and certification of Scoot's first B777-200, a former Singapore Airlines aircraft, is scheduled for April-June-2012. Ticket sales will commence next year on initial routes to Asia and Australasia. Scoot is targeting routes over four hours and expects to eventually also serve points in Europe - including the UK - the Middle East and Africa. Only Southeast Asia is ruled out as flights to points in that region are under four hours.
Scoot had been interested in wireless streaming in-flight entertainment, in-flight connectivity and pay-as-you-go power supply, as we reported in September. But Scott says no decision on those features have been made. "Specific seats, cabin features and offerings are currently being evaluated."
Scoot will operate from Singapore Changi's terminal two, as opposed to the low-cost carrier terminal, which would be stretched to accommodate B777s.
You can read our analysis from September here. CAPA will have a new analysis piece later this evening with the full details of the carrier's launch.