Singapore Airlines limits passenger load factor decline in October, but cargo continues to fall
Analysis
Singapore Airlines (SIA) recorded a 3.0% year-on-year growth in systemwide passenger carriage (measured in revenue passenger kilometres) in October, while capacity (measured in available seat kilometres) grew by 4.1%. As a result, the passenger load factor (PLF) declined by 0.8 percentage point to 77.5% - a narrowing of the year-on-year gap the airline has experienced in recent months.
But the quality of the demand is of concern. In early Nov-08, SIA's CEO, Chew Choon Seng, stated that while long-haul premium demand is still holding firm, the carrier is "seeing more trading down" for shorter-haul travel within the region. He added, "executives are persuaded to travel coach in the short-haul services, but for the long-haul, they know there's the comfort of business class".
Singapore Airlines passenger load factor for rolling 12 months (%): Nov-08 to Oct-08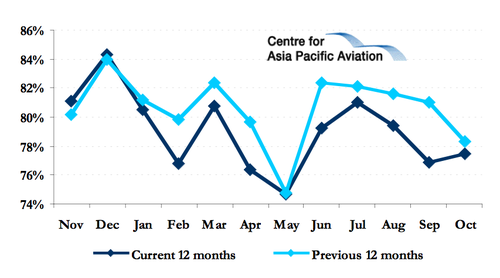 All route regions, except for the South West Pacific, recorded declines in PLF, attributable to the slowdown in traffic growth as a result of the prevailing global economic slowdown.
Singapore Airlines passenger load factor by region (%): Nov-08 to Oct-08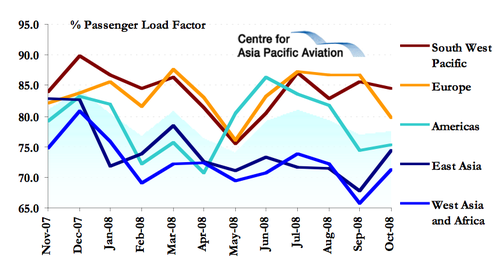 Singapore Airlines passenger load factor and cargo load factor growth by region (%): Nov-08 to Oct-08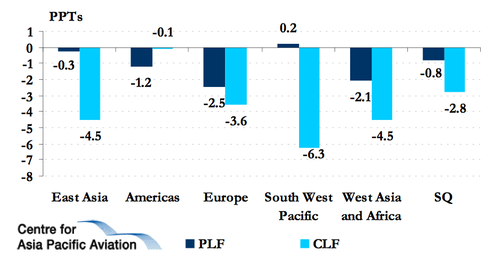 The number of passengers carried increased 1.3% over the same month last year, to 1.6 million, while cargo traffic (measured in freight tonne kilometres) fell by a worrying 11.3%. Systemwide cargo capacity contracted by 7.1%, resulting in a cargo load factor (CLF) decrease of 2.8 percentage points.
SIA stated cargo load factors also declined in all regions, "mainly attributed to weaker economic conditions and a reduction in demand for goods to be moved by air freight".
Singapore Airlines passenger numbers vs cargo volume growth (% change year-on-year): Nov-08 to Oct-08