18-Feb-2009 11:21 AM
Singapore Airlines falls to five-year low, Qantas 13-year low - share wrap
Singapore Airlines shares slumped to their lowest since May-2003 as the airline reported passenger traffic in Jan-09 fell the most in more than five years. Shares fell 4.5% to SGD9.97, extending losses this year to 11%.
Passenger traffic (RPKs) dropped 6.9% last month, while passenger numbers dropped 10% to 1.4 million. The carrier yesterday said it will cut capacity by 11% and take 17 passenger aircraft out of its fleet from Apr-09, due to weak forward bookings.
Singapore Airlines passenger numbers growth and cargo volume growth: Fe-08 to Jan-09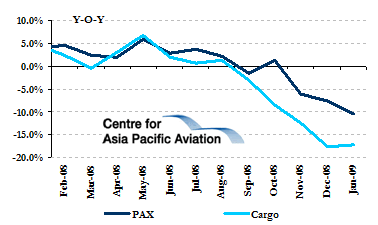 Shares in Qantas fell 5.1% to a 13-year low of AUD1.765, as the airline announced plans to inject Jetstar into the New Zealand domestic market, triggering a fare war. Air New Zealand shares eased 1.1% and Virgin Blue dropped 3.9%.
Asia Pacific selected airlines daily share price movements (% change): 17-Feb-09