Singapore Airlines' demand-supply mismatch worsens. Load factors fall again
Analysis
Singapore Airlines' problems with declining load factors worsened last month as passenger demand (RPKs) fell 3.6% while supply (capacity, measured in ASKs) rose by 6.4%. As a result, average passenger load factor slumped by 7.6 ppts to 73.2%. The number of passengers carried decreased 1.9% over the same month last year to 1.38 million.
The airline's load factors started falling year-on-year in Aug-2010, although they remain above GFC levels of 2009.
Singapore Airlines system passenger load factor (%): Jan-2009 to Mar-2011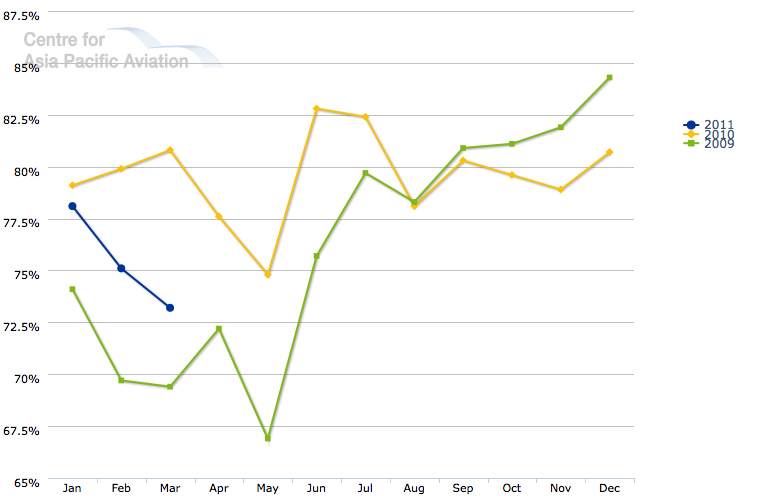 Load factors to Europe slumped 11 ppts to 73%, Southwest Pacific dropped 9.2 ppts to 71.5% and Americas fell 8.9 ppts to 73.3%. NB: CAPA Members can view on-demand traffic graphics for SIA's load factors by region and much more. Click here.
SIA stated that passenger load factors on Japan routes declined in the wake of the 11-Mar-2011 earthquake, and the airline has initiated capacity adjustments where required. Declines for the other regions were "partly due to a smaller volume of low fare group and promotional traffic this year".
Capacity was added to several destinations, including Manchester (via Munich), Houston (via Moscow), Tokyo, Osaka and Seoul. The new Northern Summer season, which commenced on 27-Mar-2011 also saw the launch of three times weekly service to Sao Paulo via Barcelona and frequency increases to Taipei, Hong Kong, Male and Guangzhou.
See related report: Rising jet fuel price spells more challenges for ultra long-haul flights
SIA stated that overall cargo traffic (measured in freight tonne kilometres) improved by 0.9% while cargo capacity increased by 6.9%. This led to a drop in cargo load factor (CLF) of 3.9 ppts. Cargo load factor dropped for all regions as cargo traffic did not keep pace with capacity increases.
Singapore Airlines system cargo volume (FTKs, mill): Jan-2009 to Mar-2011
SIA%20cargo%20Mar.png" alt="" width="571" height="374" />