SIA short-term outlook bleak as profits drop further to two-year low
Singapore Airlines (SIA) has recorded a further reduction in profits due to high fuel prices and weak load factors. The SIA group on 28-Jul-2011 reported a net profit for the three months ended 30-Jun-2011 (first quarter of FY2011/12) of SGD45 million (USD37 million), an 82% drop compared to the same period last year and its smallest quarterly profit in nearly two years. The airline itself also fell into the red for the first time in seven quarters, incurring an operating loss of SGD38 million.
SIA was only able to increase group revenues in 1QFY2011/12 by 3% to SGD3.578 billion. Costs, however, increased by a much faster clip of 11% to SGD3.567 billion, driven by a 38% increase in fuel costs excluding a SGD12 million hedging gain. As a result, the group's operating profit dropped from SGD251 million in 1QFY2010/11 to only SGD11 million in 1QFY2011/12.
SIA Group financial highlights, 1QFY2011/12 vs 1QFY2010/11

The last time SIA Group had a worse financial result was the second quarter of FY2009/10, when it incurred a net loss of SGD182 million. After incurring big losses in the first half of FY2009/10 due to the global economic crisis, SIA recovered with a SGD404 million net profit in the third quarter of FY2009/10. But it has since not been able to again exceed the SGD400 quarterly profit level – a level it routinely exceeded in FY2006/07 and FY2007/08.
SIA instead has seen its profitability steadily drop over the last four quarters. In FY2010/11 the group turned a net profit of SGD380 million in the second quarter, followed by net profits of SGD288 million and SGD171 in the third and fourth quarter respectively.
SIA Group net profit per quarter, Q1FY2007/8 to Q1FY2011/12
SIA.png" alt="" />
SIA's parent airline company and SIA Cargo both recorded losses for 1QFY2011/12 while regional airline subsidiary SilkAir and MRO subsidiary SIA Engineering remained profitable.
The mainline carrier was unable to increase its revenues to keep up with higher oil prices and increased capacity. As a result it incurred an operating loss of SGD36 million in 1QFY2011/12, compared to an operating profit of SGD136 million in 1QFY2010/11.
RPKs at the airline increased by 3.5% in 1QFY2010/11 but capacity (ASKs) increased by 7.2%. As a result, SIA's load factor slipped 2.8ppt from 78.4% to 75.6%. Its passenger yield improved only slightly from 11.7cents/pkm to 11.8cents/pkm, indicating SIA was unable to pass on higher fuel costs to passengers.
SIA's monthly load factor (mainline only), Jan-2009 to Jun-2011

The operating loss at the parent airline company breaks a string of six consecutive profitable quarters. The mainline carrier was last in the red in 2QFY2009/10, which is also the last time SIA Group incurred a net loss. But this time SilkAir remained in the black, ensuring continued profits at the group level.
SIA parent airline company operating performance, 1QFY2009/10 to 1QFY2011/12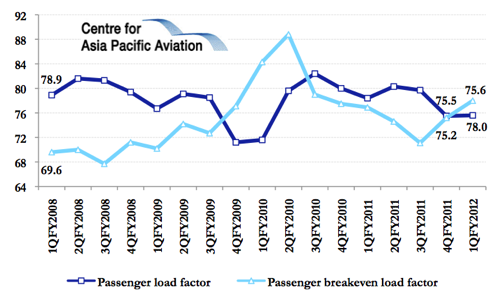 SilkAir recorded an operating profit of SGD21 million in 1QFY2011/12, a 29% improvement over the SGD15 million operating profit in 1QFY2010/11. SilkAir saw its load factor improve in the quarter from 76.1% to 76.3% and also recorded a significantly higher improvement in yield compared to SIA mainline.
SIA Cargo posted an operating loss of SGD14 million in 1QFY2011/12, compared to an operating profit of SGD60 million in 1FY2010/11. Cargo load factor improved slightly from 64.7% to 65% but the cargo yield dropped 8%, showing an inability to pass on higher fuel prices to cargo customers. SIA Engineering recorded an operating profit of SGD35 million, a very slight decrease compared to the SGD36 million operating profit from the same period last year.
SIA ended the quarter with 106 mainline aircraft, including 66 B777s, 19 A330s, 12 A380s, five A340s and four B747-400s. It started the quarter with 108 aircraft as three B747-400s were decommissioned during 1QFY2011/12 while one A380 was added.
SIA expects to increase passenger capacity in FY2011-12 by 5%. This is being achieved despite a decrease in the total size of the fleet as average aircraft utilisation is being increased. SIA significantly reduced average utilisation during the global economic downturn and is now starting to return utilisation rates closer to pre-crisis levels.
But while the higher utilisation rates help improve the carrier's efficiency and result in lower ex-fuel unit costs, the extra capacity it generates is coming at a difficult time. SIA is already finding it challenging to fill its existing seats, particularly in economy class where demand is weak on long-haul routes and where there is more resistance to increases in fares or fuel surcharges.
Outlook bleak as fuel prices remain high and advance bookings are flat
As a result, profits at SIA are likely to continue to remain at low levels for the remainder of this year. SIA says continued high fuel costs, which are currently tracking about 50% higher than one year ago, remains "the biggest challenge for the group in the coming months".
The second biggest challenge is likely to be low load factors, which are unlikely to improve as SIA increases capacity despite no improvement in demand. SIA warns "advance bookings for travel in the next few months are almost flat compared to the same period last year. With the current economic uncertainties, significant challenges remain in the key markets of Europe and the United States."
As demand on long-haul routes to Europe and North America remain weak, SIA and other full-service carriers in the region are likely to be outperformed financially by the region's low-cost carriers. The region's LCCs have not seen any weakening in demand or load factors as they operate almost entirely within Asia, where economic conditions are more favourable and there is strong growth particularly at the lower end of the market. SilkAir's improvement in profitability over the last several months as SIA mainline has gone in the opposite direction provides further evidence of the relative strength of the intra-Asia market excluding Japan.
Japan is not served by SilkAir and has a very low LCC penetration rate. As a result LCCs have not been significantly impacted by the Mar-2011 earthquake which struck Japan. However, continued weakness in the Japanese market, in particular in economy class cabins, are driving down overall load factors and revenues at SIA and other Asian full-service carriers which have large operations to Japan. A full recovery in the Japanese market was originally anticipated later this year but is now likely not to occur until 2012, further darkening SIA's outlook for the remainder of 2011.
SIA's long-haul LCC may help reverse the current trend but it will take time for it to have an impact
The anticipated increase in LCC activity in 2012 in Japan and other northern Asia markets, including China, could also have an impact on Asia's full-service carriers over the medium term. SIA Group's decision to launch its own long-haul low-cost carrier in 2012 should mitigate some of this risk and ensure a slower rate of market share reduction for the group. But as it will take a couple of years for the new low-cost carrier to build up a significant operation and become profitable, the short-term outlook for SIA is rather bleak.
Total capacity at SIA's Singapore Changi hub is growing at a double-digit clip this year, driven primarily by rapid growth of Asia's three major low-cost carrier groups – AirAsia, Jetstar and Tiger. Each group already has about a 7% share of the Singapore market and will see their shares at Changi increase as growth at SIA, which now has about a 35% share at Changi, is significantly slower.
This will likely be a year SIA will want to forget as market share is lost and as profits margins drop, potentially even slipping below the profit margin of LCC competitors. But in terms of strategy this could go down as the year SIA begins a new chapter that, if its bet on the long-haul low-cost model proves correct, ensures a future of higher growth and profitability.
Background Information
SIA, SilkAir and SIA Cargo operating performance, 1QFY2011/12 vs 1QFY2010/11
SIA and SilkAir operating performance, Jun-2011 vs Jun-2010