SIA reschedules A380s, Japan Airlines' traffic weakness continues
Analysis
Singapore Airlines' shares were up slightly (0.2%) on Thursday. The carrier, which reported its first quarterly loss in six years in 2Q2009, today announced an agreement with Airbus for a revised delivery schedule for eight A380 aircraft on firm order.
Announcing the deferrals, the carrier stated the move is "another measure that will help us better match capacity to demand during a downturn". Under the new schedule, deliveries will take place between six months and 12 months later than originally planned, for the carrier's 12th A380 through to the 19th. The revised schedule will see the 12th aircraft delivered in Oct-2010, rather than Apr-2010, while the 19th aircraft will be delivered in Jan-2012, rather than Jan-2011.
Japan Airlines' shares were down 0.6% yesterday, upon the release of the carrier's Jul-2009 traffic results. The carrier experienced an 8.2% reduction in domestic passenger numbers and a 9.7% reduction in international passengers in the month.
JAL's domestic load factors remained weak 60.1%, a 3.2 ppt reduction), while international load factors improved by 1.3 ppts to 71.4%. The carrier also reportedly plans to significantly reduce its holding in subsidiary, Hokkaido Air System Co, from the current 51%, as part of efforts to restore profitability. JAL reportedly plans to sell its shares to the Hokkaido Prefectural Government, which owns a 49% stake.
Asia Pacific selected airlines daily share price movements (% change): 03-Sep-09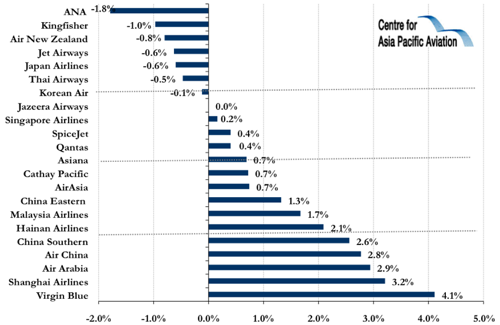 Positive Pacific news for V Australia
Virgin Blue's shares, meanwhile, gained 4.1% on Thursday, as the carrier received preliminary approval from the US Department of Transportation (DoT) to codeshare on trans-Pacific services with Delta Air Lines. The approval currently only covers Virgin Blue, but the group plans to apply for Pacific Blue and V Australia approval following an FAA audit. The DoT and the Australian Competition & Consumer Commission (ACCC) are yet to approve the carriers' wider JV.
The approval came as the Virgin Group released its Jul-2009 traffic results, which revealed a 2.5% decline in passenger numbers to 1.5 million in the month (8.4% decline in domestic passengers and a 52.5% increase in international passengers). The carrier stated yields for the month were "broadly in line with the previous year," although no specific details were provided.
Load factors were down by 3.7 ppts in the month to fall below 80% at 78.5%. This was driven by a 3.2 ppts reduction for domestic operations to 79.9% (Jul-2008 load factors were positively affected by World Youth Day traffic and industrial unrest at Qantas), although international load factor declines moderated further in Jul-2009, down 0.8 ppts to 75.8%, after contractions of 3.3 ppts in Jun-2009 and 8.4 ppts in May-2009.