"Shocking" cargo traffic, as Asia Pacific airlines brace for another difficult year - AAPA
Merrill Lynch stated it expects Air China to return to profitability in 2009, as the government pumps in more cash, while AirAsia is also expected to be profitable as more travelers seek cheaper fares. But the others are expected to struggle.
Full service carriers report traffic falls in 2008
The Association of Asia Pacific Airlines (AAPA) has released preliminary traffic figures for the full year 2008 showing member airlines carried 141.5 million international passengers in 2008, 1.8% fewer than the record levels achieved in 2007. Passenger traffic measured in revenue passenger kilometres (RPK) terms was down by 1.0%. Capacity growth for the year was 1.7%, while the average passenger load factor fell two percentage points to 75.1%.
AAPA international air cargo traffic for 2008, expressed in freight tonne kilometres (FTKs), suffered a more significant decline, falling 6.1% below the record set in the previous year. Member airlines reduced cargo capacity accordingly, but the average cargo load factor for the year still fell by one percentage point to 65.6%.
Asia Pacific international passenger numbers growth and passenger load factor: Jan-08 to Dec-08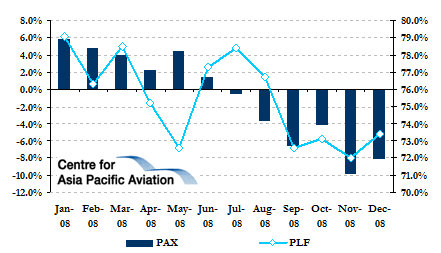 Director General, Andrew Herdman, stated, "in what proved to be a particularly challenging year, airlines were battered by skyrocketing oil prices followed by rapidly weakening demand as the effects of the global economic downturn ricocheted around the world. AAPA passenger traffic held up reasonably well for the first nine months of the year, before growth tapered off".
Shocking last quarter
The full year figures hide a damaging final quarter, which has set the tone for 2009. In 4Q08, AAPA international passenger numbers were 7% down on the previous year.
Asia Pacific international passenger traffic growth and passenger capacity growth: Jan-08 to Dec-08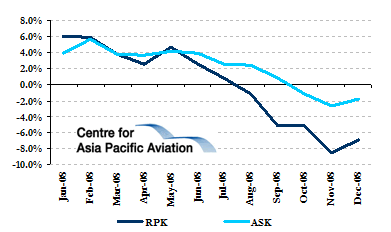 Mr Herdman stated the situation in the air cargo market was "even more dire", as demand for air cargo collapsed in the second half of the year, registering increasingly steep monthly declines. December volumes were down by a "shocking" -24% compared to the same month a year ago, according to AAPA.
Asia Pacific international cargo traffic growth and cargo capacity growth: Jan-08 to Dec-08
Mr Herdman concluded, "with no sign of any respite amidst the global economic downturn, Asia Pacific airlines are braced for another extremely difficult year ahead".