Shenzhen Airlines plans ambitious narrowbody fleet expansion, new international routes
Analysis
Shenzhen Airlines is planning to grow its fleet to over 170 aircraft by the end of 2015 as it taps into rapid growth in its home market as well six other regional bases across China. Over the same time period Shenzhen Airlines plans to expand its fledgling international network to over 20 routes.
In a 06-Jul-2011 presentation to international media prior to its announcement as a future member of the Star Alliance, Shenzhen Airlines outlined its ambitious five-year fleet plan. The plan only includes two additional aircraft in 2H2011 but calls for at least 14 additional aircraft per year from 2012 to 2015.
Shenzhen Airlines currently operates a fleet of 102 aircraft consisting of 54 B737s and 48 A320s. This will grow to 104 aircraft by the end of 2011, 118 aircraft in 2012, 135 aircraft in 2013, 154 aircraft in 2014 and 171 aircraft in 2015. The airline says these are "conservative" figures and its fleet expansion could be accelerated to grow to over 180 aircraft by the end of 2015.
Shenzhen Airlines' fleet plan: 2011 to 2015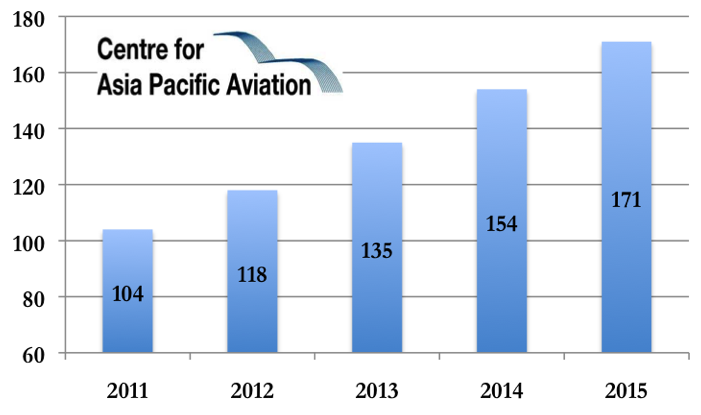 Shenzhen Airlines executives say they have considered adding widebody aircraft but for now they have decided to focus only on growing the two existing types - the B737 and A320 families. Air China, which owns 51% of Shenzhen Airlines, already operates widebodies into Shenzhen and could potentially focus on denser or longer-haul routes from the fast-growing city while Shenzhen Airlines sticks to narrowbodies.
For example Air China is now using A330s and B777s between Beijing and Shenzhen. Hainan Airlines also operates A330s and A340s on the Beijing-Shenzhen route. Showing the potential for long-haul routes at Shenzhen, Hainan Airlines in Jan-2011 launched Shenzhen-Sydney service with A330s.
Hainan Airlines is also planning to launch services from Shenzhen to India in Sept-2011 as part of the next phase of its international expansion plan for Shenzhen, which also envisions services to Thailand, Indonesia and Sri Lanka. Shenzhen Airlines says for now it is not interested in a long-haul operation and prefers to focus on growing its existing narrowbody fleet to ensure it maintains the highest level of safety.
As part of its five-year plan, Shenzhen Airlines already expects to grow its narrowbody fleet by at least 64% between 2012 and 2015. Adding another type while rapidly growing the existing fleet would be challenging and could raise concerns at the CAAC, which in the past has been wary at allowing Chinese carriers to pursue very rapid growth.
Shenzhen Airlines is already one of the fastest growing airlines in China, having recorded average annual traffic growth of 22% over the last five years. Shenzhen Airlines transported 15.9 million passengers in 2010, compared to 14.8 million in 2009 and only 7.1 million in 2006.
Shenzhen Airlines' traffic (pax, mill): 2006 to 2010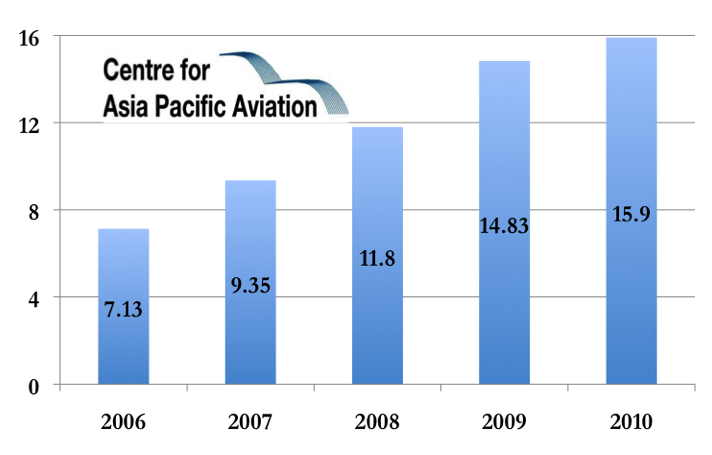 Over the same time period revenues have been growing at an average annual clip of 29%.
In 2010 Shenzhen Airlines generated USD2.53 billion in revenues, compared to USD1.846 billion in 2009 and only USD923 million in 2006. Shenzhen Airlines is currently the fifth largest airline in China (it is smaller than Air China, China Eastern, China Southern and Hainan Airlines).
Shenzhen Airlines' revenues (USD, mill): 2006 to 2010
In addition to its main hub in Shenzhen the carrier has a second hub in nearby Guangzhou and six regional bases – Chongqing, Nanjing, Nanning, Shenyang, Xian and Wuxi.
The airline says 52% of its fleet are based at Shenzhen while 25% of its fleet is based at Guangzhou. Of the regional bases, Nanning is the largest with 8% of the fleet, followed by 4% at Wuxi and 3% at Nanjing. The Shenyang, Chongqing and Xian bases each currently only account for 2% of the fleet.
Shenzhen Airlines says its five-year plan does not envision at this point opening any new bases. The carrier believes there is demand in all its bases for expansion and plans to grow each base and hub by roughly equal amounts over the next five years.
That means the fleet at Shenzhen Airport will grow from 53 aircraft currently to at least 88 aircraft by the end of 2015. Shenzhen Airlines says it currently has 53 routes from Shenzhen and accounts for 32% of the airport's capacity, making it the largest operator at the fast-growing airport.
Shenzhen Airport capacity (seats per week, to/from) by carrier (04-Jul-2011 to 10-Jul-2011)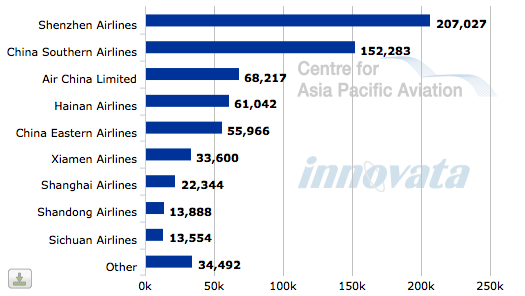 Shenzhen Airport, which last year accommodated 26 million passengers, is now the fifth largest airport in China. Over the last five years the airport has been growing at an average annual rate of 10%.
Shenzhen Airlines has been facing growth constraints at its home airport but these should soon be lifted as a second runway and third terminal are opened. Airline executives say the second runway is expected to partially open within the next couple of weeks. There will be a trial period until the end of this year, when the runway will become fully operational. Shenzhen Airlines says the third terminal is now under construction and is slated to open at the end of 2012.
Shenzhen Airlines says annual capacity at Shenzhen Airport will grow to 45 million passengers once the new runway and terminal projects are completed. But it warns airspace constraints have not been solved. Currently there are discussions involving officials from Shenzhen, Guangdong province and the Chinese air force, which controls all of China's airspace, to open up more airspace in the Shenzhen area to civil aircraft. Shenzhen Airlines is hopeful of a solution, which is needed for the extra capacity made possible by the second runway to be utilised.
Shenzhen Airlines sees huge potential in its home market as Shenzhen is rapidly growing both from a population and economic perspective. In 2010 Shenzhen's annual GDP was USD144.5 billion, making it the fourth largest city in China. It also has a high propensity of air travel compared to the rest of China because Shenzhen is relatively wealthy and a large portion of workers are from other parts of China and take flights to return home for visits.
Seven international routes from Shenzhen by 2015
While Shenzhen Airlines expects most of its expansion at Shenzhen will be domestic its five-year network plan envisions operating seven international routes from the hub by the end of 2015. These include Bangkok, Ho Chi Minh City, Kuala Lumpur, Manila, Osaka, Seoul and Singapore.
Currently Shenzhen Airlines only serves one destination outside greater China from Shenzhen - Seoul - but previously served Ho Chi Minh, Kuala Lumpur and Singapore. The carrier says it decided to earlier drop its Southeast Asian services as domestic services are generally more profitable and Southeast Asian routes require more crew resources. Shenzhen Airlines has been grappling with a shortage of pilots and the carrier explains the Southeast Asian routes required overnight stops for its crews, resulting in extra strain on its resources. The carrier is now addressing the pilot shortage by working with universities to recruit more local pilots and hiring foreign pilots.
In addition to Shenzhen-Seoul, Shenzhen Airlines operates scheduled services to Taipei from Shenzhen and Shenyang and to Osaka in Japan from Wuxi and Fuzhou. According to the Innovata database, those are the only scheduled international routes currently operated by Shenzhen Airlines.
In addition to the six new international routes from the main Shenzhen hub, Shenzhen Airlines' five-year network plan includes new international routes from Shenyang to Seoul and Osaka as well as from Nanjing to Seoul and Osaka. It does not currently have plans to launch international services from Guangzhou, where the carrier has 25 domestic destinations.
Network expansion planned for Kunming Airlines subsidiary
Shenzhen Airlines says it also plans to grow the international network at Kunming, through its Kunming Airlines subsidiary. Kunming Airlines is expected to operate seven international routes by the end of 2015 – Bangkok, Dhaka, Kuala Lumpur, Osaka, Seoul, Singapore and Vientiane in Laos.
Kunming Airlines currently operates only three B737-800s, according to Ascend data. Shenzhen Airlines says fleet expansion is planned at Kunming Airlines but declined to elaborate and says Kunming's fleet is not included in the Shenzhen Airlines' five-year fleet plan.
Shenzhen Airlines owns an 80% stake in Kunming Airlines. Shenzhen Airlines also has a 51% stake in Henan Airlines, which has been grounded since Aug-2010, when one of its five E190s crashed. Shenzhen Airlines says Henan Airlines is in the process of reorganisation but there is no specific plan yet for resuming services.