Shanghai mega carrier would better suit SIA
Analysis
China Eastern's President, Cao Jianxiong, was quoted by Dow Jones at the weekend stating, "both [deals], with Shanghai Airlines and Singapore Airlines, are possible, but for sure the merger with Shanghai Airlines will take place before a possible stake sale with Singapore Airlines".
China Eastern is controlled by State-owned Assets Supervision and Administration (SASAC), while Shanghai Airlines is controlled by the Shanghai branch of SASAC. A merger of the two airlines has been discussed for several years, although it is becoming critical now as losses continue to mount at both.
Shanghai Airlines' operating loss in 1H08 worsened to USD11.2 million, although it reported a USD3.4 million net profit in the period thanks to a USD6.1 million government subsidy. It had also been one of the few loss-making airlines in China last year. The situation is much more dire at China Eastern, which sank to an operating loss of USD157.5 million in the first half - equivalent to losses of almost USD1 million per day.
According to China Eastern's Mr Cao, the government plans to first inject capital into China Eastern and then facilitate its merger with Star Alliance member, Shanghai Airlines. The combined companies would then consider a potential stake sale to SIA, with whom talks would be revived soon.
A recapitalised and merged China Eastern-Shanghai Airlines could be more palatable to SIA, which stated early last month that it would explore "other means of developing the relationships", and that it "continues to be optimistic about the prospects for China's airline industry".
One positive outcome of such a move is that a combination of the two Shanghai airlines could help strengthen their fragmented presence at Shanghai's two airports.
China Eastern has a 33.5% market share (domestic and international) at Shanghai's two airports, followed by Shanghai Airlines with just under 13%. Shanghai Airlines' Star Alliance partner, Air China, has a 9.1% share and is seeking to boost its position the leading Chinese commercial hub.
Total Shanghai capacity* share (Pudong & Hongqiao airports) by airline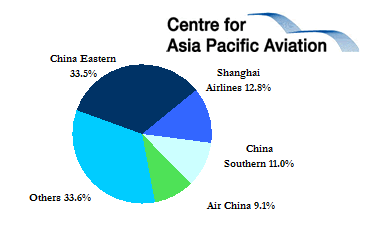 China Eastern has a 37.6% share of total domestic capacity at both Shanghai Airports, followed by Shanghai Airlines with just under 17%. The Shanghai international market is fragmented, with China Eastern holding a 26.6% capacity share. Singapore Airlines is the next biggest carrier, with a surprisingly significant 8% share, followed by Shanghai Airlines (5.7%) and Japan Airlines (5.6%).
Shanghai Airlines has a stronger presence at the older Hongqiao Airport, while China Eastern has a slightly bigger share of total capacity at Hongqiao than Pudong.
Shanghai Airlines and China Eastern Airlines total capacity* share at Shanghai Hongqiao and Shanghai Pudong airports: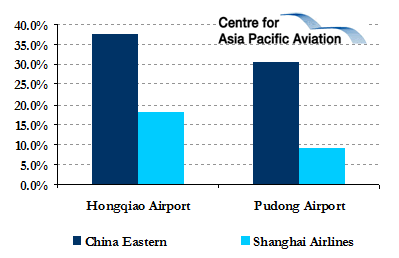 The double hub system in Shanghai does not help either carrier in terms of costs. If SIA is to be tempted back to the negotiating table, the Singapore carrier will need to see a plan that rationalises competition and network overlap in the Shanghai market, along with concrete cost reduction plans.
Such a combination, if it emerges in Shanghai, is likely to attract interest from more carriers than just SIA. Air China, for one, will not stand by passively. Other foreign airlines, such as Lufthansa and Air France-KLM, could also be interested.
Whatever the outcome, China Eastern must move quickly. It has little time left.