Scandinavian Airlines fall back to earth; British Airways rises again on Iberia/American hopes.
Analysis
As anticipated, SAS shares (-20.0%) slipped back yesterday, once Friday's rush to take a piece of the carrier's fourteen-for-one issue subsided (although not quite as badly as the airline's own website suggested, with an 80% fall).
British Airways (+6.5%) was the biggest riser on the day, mergers look more likely - with Iberia and as the oneworld carriers responded to the US Department of Transportation request for more information on the proposed AA-BA merger, along with the prospect of an easier passage with union negotiations.
For daily updates on American aviation stock prices and a complete wrap of the day's breaking news, sign up now for a complimentary subscription to America Airline Daily.
European selected airlines daily share price movements (% change): 16-Mar-09
Reflecting the imminent diluted equity in the carrier as a result of the issue, SAS' precipitous share price slide looks even less desirable today. Each share held on 18-Mar-09 entitles the holder to subscribe for 14 new shares. The SAS share is, from and including 16-Mar-09, traded exclusive of the right to participate in the right issue.
SAS airlines share price: 02-Jan-09 to 16-Mar-09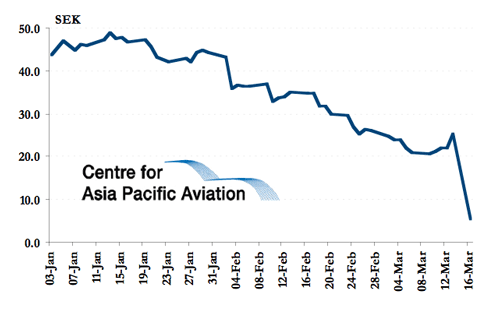 Despite a weak traffic report for February, Austrian Airlines (+6.0%), now getting closer to being clutched to Lufthansa's protective breast, showed a strong rise too. Passenger numbers were down 14.8%, and the system load factor fell 3.8 ppts to 67.1%.
Steeply reduced capacity (-24.9% ASK) on Asian routes in particular helped restrain load factor declines. Following the cancellation of the Chicago and Mumbai routes and seasonal reductions, passenger volume also fell 28.9%. As a result, the passenger load factor remained relatively stable at 77.5%, 1.1 ppts down year on year. As these are the sort of routes which Lufthansa will be taking care of in future, the positive side of the Austrian sale is illustrated here.
Short haul and medium haul traffic showed a 15.3% fall in passenger numbers for the month. On these routes, load factor fell 3.4 ppts, to a miserly 61.0%. OS is going to need some help here too.