SAUDI ARABIA AVIATION: Saudia transforms and the market grows
Airline Leader
Saudi Arabia's aviation market has entered a new phase of rapid growth, facilitated by liberalisation. Saudi Arabia recorded 8% passenger growth in 2017 and the rate of growth could reach the double digits over the next several years.
Five airlines now serve the domestic market, compared to only two airlines two years ago. Intensifying competition has led to lower fares, stimulating demand and leading to faster growth, although overcapacity is a potential concern.
The international market is expanding rapidly and has an even brighter outlook, driven primarily by rising inbound demand as Saudi Arabia focuses on tourism as part of a diversification strategy. Aviation is also a major priority for the government, leading to an ambitious expansion plan at the flag carrier Saudia and the opening of a massive new terminal at Jeddah Airport.
Summary
Passenger traffic at Saudi Arabia airports increased by 8% in 2017 to 92 million and could reach 100 million in 2018;
Competition has intensified in the domestic market, pressuring yields, as three new airlines have launched services for a total of five competitors;
Saudia, previously known as Saudi Arabian Airlines, is the market leader, and as a group now accounts for more than 70% of domestic capacity, when its new LCC subsidiary flyadeal is included;
Saudia plans further rapid international expansion as it grows its fleet and moves into a new terminal at Jeddah, but competition in the international market is also intensifying;
Saudi Arabia recorded 8% passenger growth in 2017

Saudi Arabian airports handled 91.8 million passengers in 2017, an increase of 8% compared to 2016, according to data from Saudi Arabia's General Authority of Civil Aviation (GACA).
There are 26 airports in Saudi Arabia with commercial services. Jeddah, Riyadh, Dammam and Madinah are the only airports that handled more than five million passengers in 2017.
Madinah is the smallest among the top four. Turkey based TAV Airports, which has operated Madinah Airport since 2012, reported 19% traffic growth for Madinah in 2017 to 7.8 million.
The other airports do not regularly disclose traffic. However, Jeddah Airport reportedly handled 34 million passengers in 2017, an increase of 9% compared to 2016.
Riyadh is the largest city in Saudi Arabia but has approximately 20% less traffic than Jeddah. Dammam is much smaller and has approximately one third the traffic of Jeddah.
Local market now consists of five airlines
Saudia is based in Jeddah but has two major hubs, with almost as much capacity in Riyadh. Saudi Arabia's largest private airline, flynas, is based in Riyadh and has almost as much capacity in Jeddah.
Saudia and flynas enjoyed a duopoly in Saudi Arabia until Oct-2016, when Nesma Airlines and SaudiGulf Airlines launched operations. SaudiGulf is based in Dammam but has more capacity at Riyadh, where it operates its only international route.
Nesma is based in the small city of Ha'il, where it operates 12 routes, primarily with ATR 72 turboprops under a regional model.
However, it also competes on the Riyadh-Jeddah route with A320s and has limited international services from Riyadh.
Saudia's LCC subsidiary flyadeal became the fifth domestic airline in Saudi Arabia when it launched services in Sep-2017. Like its parent, flyadeal is based in Jeddah but has almost as much capacity in Riyadh.
Saudi Arabia market poised for rapid LCC and FSC growth
flyadeal and flynas – which launched as an LCC in 2007 but has evolved to become more of a hybrid airline – are now competing at the bottom end of the market. Both airlines have ambitious expansion plans, as outlined in an earlier CAPA analysis report.
Saudia and SaudiGulf also have ambitious expansion plans and expect rapid growth at the top end of the Saudi Arabia market.
Saudi Arabia overall is expecting rapid aviation growth over the next several years, driven by surging visitor numbers as its tourism sector opens up and increasing outbound demand. Business travel to Saudi Arabia is also on the rise as Saudi Arabia works to diversify its economy under the government's Vision 2030 reform plan.
Aviation and tourism are two of the main components of the reform plan as Saudi Arabia aims to liberalise, internationalise and diversify its economy away from oil. Airlines of all models (LCCs, hybrids and FSCs) and types (local and foreign) will likely benefit as the Saudi Arabian aviation market opens up and grows rapidly.
"It's an exciting time for Saudi Arabia as a country," Saudia director general Saleh bin Nasser Al-Jasser told CAPA on the sidelines of the 05-Jun-2018 IATA AGM in Sydney. "The whole country is transforming and exploring opportunities for growth and getting to its potential. Saudia is going through a major transformation programme where we are building on the strength of our market. There are very clear growth objectives for the years to come supported by a strong fleet expansion programme."
Saudia renews and grows fleet
Saudia plans to grow its fleet to 200 aircraft by the end of 2020. The government owned airline currently operates a fleet of close to 150 aircraft.
The airline has already gone through a major fleet renewal exercise, which has resulted in significant improvements to Saudia's inflight product. Saudia took delivery of 28 aircraft in 2016 and 33 aircraft in 2017 – both of which were a record number of deliveries for the airline. "We will continue to get more deliveries in 2018 and we believe that 2018 will be also another strong year for Saudia", Mr Al Jasser says.
Saudia has commitments for eight Boeing 787-10s and 35 A320neo family aircraft. Deliveries of both new types are slated to begin in 2019 and will help the airline achieve a targeted 45 million passengers in 2020.
Saudia uses its new LCC subsidiary to grow domestic market share
Saudia's traffic increased by 8% to 35.5 million passengers (including charters) in 2017. The figure matched the overall 8% growth for Saudi Arabia's airports. Saudia's ambitious expansion strategy should enable the main brand to continue growing at a rate similar to that of the overall Saudi Arabian market.
Saudia's domestic growth in 2017 and 2018 is much slower than the overall market. Its domestic traffic increased by 3% in 2017 and its international traffic grew by 14%. Saudia is expecting similar domestic, international and overall growth for 2018. For 1H2018
Saudia reported 4% domestic passenger growth and 12% international passenger growth.
However, Saudia as a group has been growing at a double digit rate domestically, when flyadeal is included. With flyadeal, Saudia is essentially responding to intensifying domestic competition and making sure it maintains a very strong share of the domestic market.
flyadeal recently carried its one millionth passenger, reaching the milestone only 10 months after launching operations. flyadeal has already captured almost a 10% share of domestic seat capacity in Saudi Arabia, according to CAPA and OAG data. Saudia has nearly a 63% share, giving the group close to a 73% share.
flynas accounts for nearly 22%, while Nesma and SaudiGulf each have less than 3%.
The domestic market accounts for approximately one third of total seat capacity in Saudi Arabia. However, the domestic portion of the 91.8 million passengers reported by GACA for 2017 is much higher, as this is a figure for all the airports combined and therefore counts each domestic passenger twice. Currently there are approximately 640,000 domestic weekly seats in Saudi Arabia and 1.4 million scheduled international seats, according CAPA and OAG data.
Saudi Arabia Domestic Capacity Share (% Of Seats) By Airline*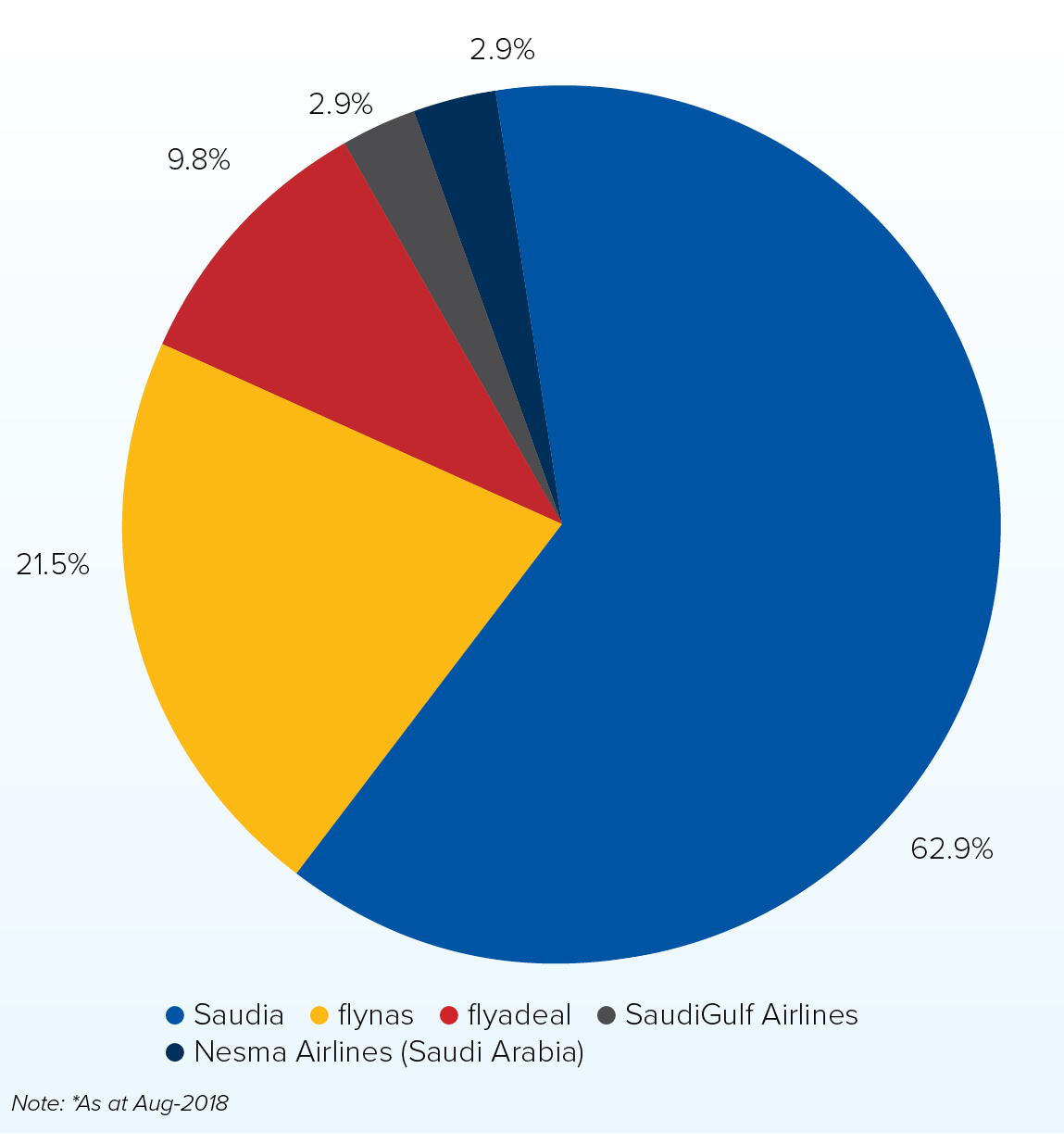 Saudia's international market share is also growing
In the international market, Saudia currently has a 36% share of seat capacity. flynas is the second largest airline in Saudi Arabia's international market but is much smaller, with a 7% share. Saudia currently has 79 international passenger destinations and flynas has 22 international destinations (based on OAG schedule data for the week commencing 06-Aug-2018).
Nesma and Saudi Gulf each have less than a 1% share of international seat capacity. flyadeal has not yet launched international services, although it plans to by the end of the year, which will further improve the Saudia Group's position in the international market.
Foreign airlines have a slightly more than 50% share of scheduled international seat capacity. EgyptAir is the largest foreign airline in Saudi Arabia but Emirates and its sister airline flydubai combined have more capacity. Emirates and flydubai combined have a 9% share of international seat capacity in Saudi Arabia, making it larger than flynas.
Saudia Director General Saleh bin Nasser Al-Jasser discusses the airline's transformation
Rapid growth for Hajj and Umrah segment
International capacity figures are a bit misleading as a large proportion of the Saudi Arabia international market consists of religious charters. Saudia alone carried over three million passengers on Hajj and Umrah charter services in 2017. Scheduled services also attract significant Umrah traffic; Umrah is virtually all year, whereas Hajj is condensed into a few weeks.
Hajj and Umrah make a fast growing market segment for Saudia as the government works to attract more pilgrim traffic by liberalising visa policies and investing in infrastructure. Saudi Arabia aims to grow Hajj and Umrah traffic to 30 million passengers p/a by 2030, compared to less than seven million in 2017.
Saudia is planning to add capacity to Indonesia and other Muslim markets in Asia as Hajj/Umrah demand continues to grow. Mr Al-Jasser said the eight 787-10s are mainly intended for Indonesia and other Asian markets and will be used to add frequencies rather than replace existing services.
Saudia focuses on international growth
Saudia is also expecting to benefit from rapid growth in other segments, including business traffic, transit traffic and non-religious visitor traffic. Sixth freedom traffic is not a primary focus but is considered an important "filler", particularly during off peak periods and as Saudia continues to add international capacity at a rapid rate.
Foreign airlines have been losing market share and will likely experience further market share declines as Saudia expands rapidly in the international market. The international market will drive most of the parent airline's growth over the next three years as overall traffic increases from 35 to 45 million.
The domestic market still accounted for a slight majority (52%) of Saudia's traffic in 2017. However, the domestic ratio has been on the decline and international will soon be the largest component of traffic for the main brand.
Saudia's international network expansion strategy includes a combination of additional frequencies to existing destinations as well as new destinations. Mr Al-Jasser pointed out that Saudia has added 10 international destinations over the past two years and launched four seasonal destinations in summer 2018.
New Jeddah terminal opens up opportunities
Saudia operates multiple hubs but will focus more in Jeddah over the next several years, utilising the capacity and improved service levels at Jeddah Airport's new terminal. Jeddah Airport has been capacity constrained for several years but is in the process of opening a new terminal that will increase capacity to 80 million passengers p/a.
The new terminal had a soft opening in May-2018. Mr Al-Jasser said it will take a year to ramp up operations at the new airport and fully implement its new hub model and design. "The new Jeddah terminal is a gamechanger for us," he said. "It will provide us not only with a better experience but with better connectivity and capacity that is necessary for the growth plans that we have in place. We have been restricted with growth due to infrastructure limitations".
Saudia will continue to have a major operation at Riyadh, which is a stronger business market. However, Jeddah will emerge as the main hub and smaller secondary hubs (such as Dammam and Madinah) could experience reductions.
Saudi Arabia International Capacity Share (% Of Seats) By Airline*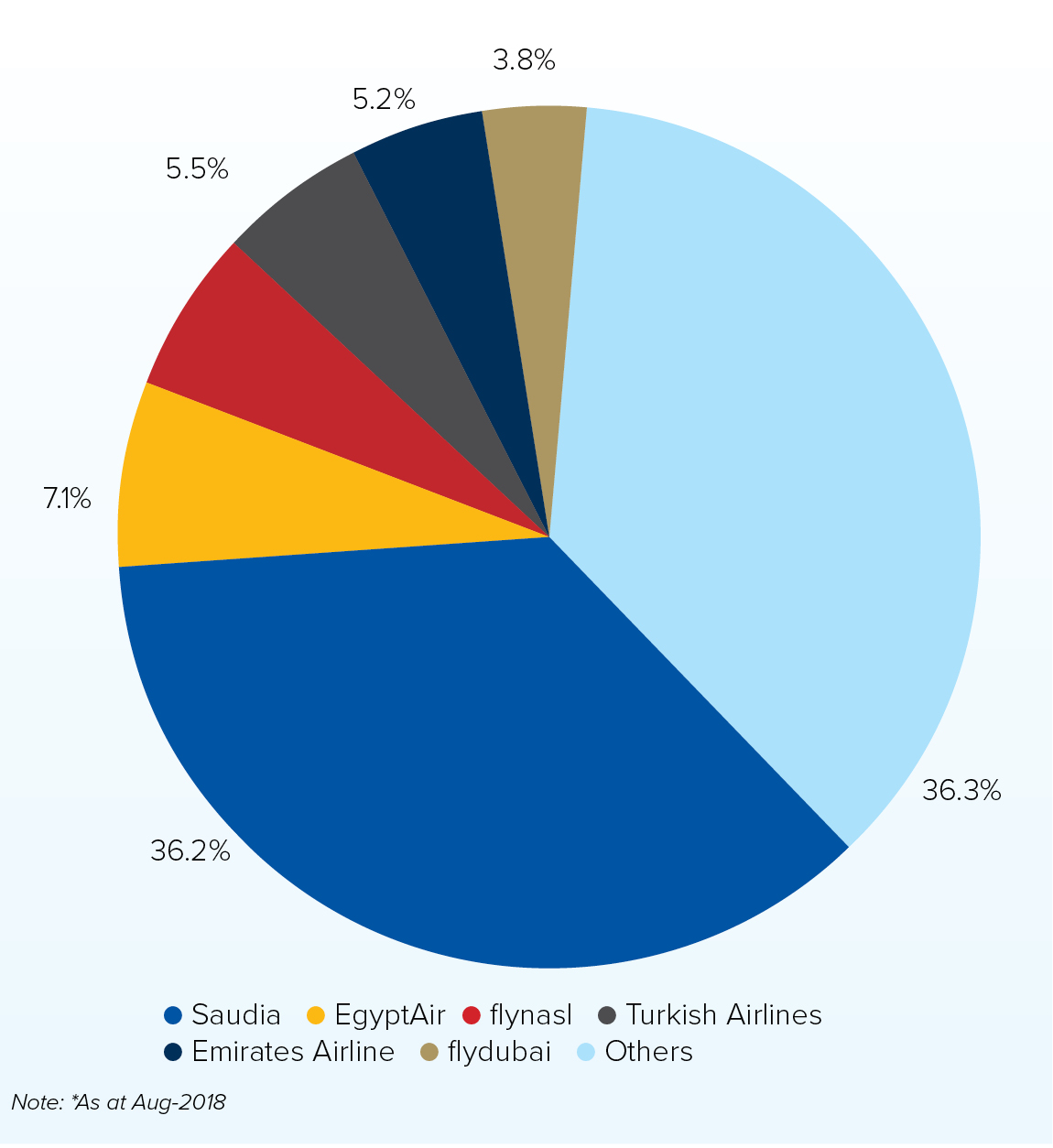 Overcapacity is a concern
The new Jeddah terminal also opens up opportunities for other airlines in Saudi Arabia as well as foreign airlines. Competition is naturally intensifying as demand increases and as the market liberalises.
However, rapid expansion of both the Saudia Group and private airlines could lead to overcapacity. All five local airlines have ambitious expansion plans which, if implemented, will result in the total fleet doubling by the middle of next decade.
SaudiGulf CEO Samer Majali told CAPA that yields in the domestic market were already under pressure and that consolidation was likely. "When we first applied for the license we expected to be carrier number three in Saudi Arabia. It took considerable time to get our AOC and in the meantime two more got licenses. We feel five is a little bit too many and that has had a negative effect on our yields – all of us, not just SaudiGulf. But obviously it has impacted us the most because we are a full service carrier.
"We hope there will be some kind of consolidation or rationalisation in the future."
Mr Al-Jasser would not say whether Saudia also expects consolidation. "We are more focused on improving our services and improving our cost structure and our product – and also expanding our low cost carrier," he said.
SaudiGulf also plans rapid expansion
Subsidiary flyadeal is currently evaluating offers from Airbus and Boeing for 30 firm narrowbody aircraft and 20 options. flyadeal aims to have a fleet of 20 aircraft by the end of 2019 and is already considering a potential widebody acquisition. It currently operates eight A320ceos.
flynas has 80 A320neos on order, the first of which is slated to be delivered later in 2018 and is also considering widebody aircraft. It currently operates 28 A320ceo family aircraft, according to the CAPA Fleet Database.
SaudiGulf is the smallest of the five airlines in Saudi Arabia, operating only four A320ceos. However, it plans to accelerate expansion in 2019 as it begins to take delivery of A320neos/A321neos.
SaudiGulf is planning to take delivery of six to eight A320neos/A321neos in 2019 and a similar number of aircraft in 2020 and 2021. It was initially hoping to begin A320neo/A321neo deliveries in 2018 but has been impacted by Pratt & Whitney engine delays to the A320neo programme. It intends to wet lease aircraft in 2H2018 to provide interim capacity as it waits for deliveries to begin in 2019.
There are plans to operate a fleet of 35 narrowbody aircraft eventually and also begin operating widebody aircraft in 2022. The widebody fleet is intended for thicker regional routes to slot constrained airports, rather than long haul services. "There are a lot of slot issues in our part of the world – in the Riyadh and Jeddah airports in particular but also other points in the Middle East," Mr Majali said.
Saudi Arabia should be large enough to support multiple airlines and models
SaudiGulf currently operates only six domestic routes and one international route. It plans to continue domestic expansion despite the intense competition and also has big aspirations for the international market.
SaudiGulf still believes there is room for a full service boutique airline, offering a premium service with two cabins in the domestic and regional international markets. "The idea was to inject high quality service within the Saudi Arabian market. We believe there is demand for high quality service provided by airlines and we have had an effect since the airline started operating on improving the travel experience itself in Saudi Arabia both on Saudi Gulf and on the other Saudi Arabian carriers."
Mr Majali, a veteran of the Middle East airline industry after his previous stints as CEO at Royal Jordanian and Gulf Air, is struck by the huge opportunities the Saudi Arabian aviation market now offers.
"We are very optimistic the Saudi Arabian market, which is already large and is the largest domestic market in the Middle East, will actually expand and there will be more requirement to travel.
"This plus the Kingdom opening up – they plan to increase the Umrah and Hajj traffic three and four times the size of what it is today – will encourage a lot of people to come in and out of Saudi Arabia. The country is opening up in terms of other types of tourism. We are very optimistic. This market is large and continues to grow quite rapidly".
Clearly the Saudi Arabian market is on the cusp of a major growth phase. There should be room for multiple airlines with multiple models.
However, as is almost always the case, there will both winners and losers.