SAS union negotiations collapse, Norwegian's yields fall, Air France-KLM and Lufthansa rise
Shares in beleaguered Scandinavian carrier, SAS, fell a further 2.6% yesterday as negotiations with its 39 (yes, 39) trade unions collapsed (see below). Another carrier with union problems, British Airways, fell back 1.3% yesterday, while Lufthansa and Air France-KLM each rose 2.2% ahead of Air France-KLM's traffic report for Jun-2009.
Norwegian led the declines in Europe yesterday as it revealed its load factor eased 1% in Jun-2009 to 79%, while yield slipped 2%.
Europe selected airlines daily share price movements (% change): 06-Jul-09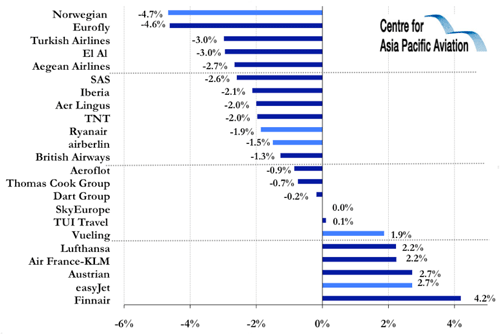 SAS negotiations with unions collapse – edited press release
The negotiations between the SAS Group management and the SAS trade unions have ended without conclusion. The negotiations had been initiated with a "short deadline set before the Summer, considering the extensive crisis that the airline industry is currently in."
The carrier stated that despite certain progress, no agreement was achieved with the Group's 39 trade unions. Group management and the SAS board will now concentrate on identifying other means and actions to reduce costs for SAS.
President and CEO of SAS Group. Mats Jansson, stated, "we have not been able to reach an agreement that provide long-term or substantial cost reductions, without the agreements being linked to impossible conditions or met with counter demands. This unfortunately means that we have not reached the necessary cost savings. Group management will now together with the board immediately focus on finding other means and actions to lower our costs".