San Francisco Airport's cargo traffic continues to deteriorate in Apr-2009
Analysis
San Francisco International Airport's (SFO) latest traffic figures revealed a continued deterioration in cargo traffic in Apr-2009, with declines exceeding 30%, as has been the case for the majority of 2009 (domestic cargo fell 27.4% and international cargo was down 34.4% in Apr-2009).
San Francisco International Airport passenger number growth and cargo volume:
May-2008 to Apr-2009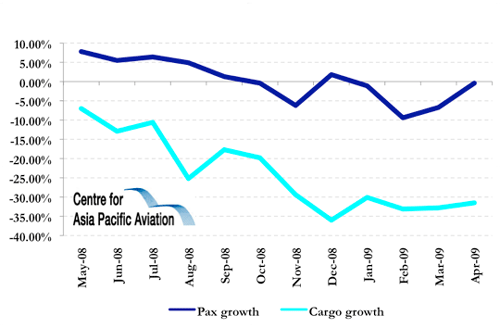 SFO's cargo traffic fell sharply in all markets, except to Mexico/Caribbean/Central America, with severe reductions of 55.7% to Canada and 37.7% to Europe in Apr-2009. Cargo and mail reductions to Asia/Middle East, the airport's largest market with a 75% share of total cargo traffic, was down 31.7% in the month, and by 25.4% in the first four months of 2009, reflecting continued weak exports from Asia.
San Francisco International Airport international cargo and mail traffic: Apr-2009
| International cargo and mail (metric tons) | Apr-2009 | Year-on-year change |
| --- | --- | --- |
| | 3,459 | -37.7% |
| Asia/Middle East | 12,751 | -31.7% |
| Australia/Oceania | 745 | -34.6% |
| | 66 | +15.8% |
| | 78 | -55.7% |
| Total | 17,099 | -33.2% |
Passenger declines slow thanks to Easter

Passenger traffic declines at SFO slowed in the month, although this is attributable to Easter falling in April this year (compared to March in 2008), with a decline of 0.4% year-on-year, the lowest reduction since the beginning of 2009.
San Francisco International Airport traffic: Apr-2009
| SFO | | |
| --- | --- | --- |
| Passenger traffic (mill) | 3.0 | -0.4% |
| Domestic (mill) | 2.3 | +1.7% |
| International (mill) | 687,775 | -4.7% |
| Cargo volume (tonnes) | 26,471 | -31.5% |
| Aircraft movements | 30,530 | -4.8% |
Enplanements to Canada and Asia the most affected

Passenger traffic has fallen to all regions in the year-to-date, with enplanements/deplanements to/from Canada down the most (-10%), followed by a 8.8% reduction of traffic to Australia/Oceania and an 8.5% reduction to its largest market, Asia/Middle East, which comprises approximately a 46% share of enplanements/deplanements.

The airport's largest international route (by seats per week) is London Heathrow, with a 10.7% capacity share, followed by Tokyo Narita and Hong Kong, with 9.5% and 9.3% capacity shares, respectively.
Top 5 international routes by capacity share (% of total) to/from San Francisco
Domestically, the top routes for the airport are Los Angeles, Las Vegas McCarran and New York JFK.
Top 5 domestic routes by capacity share (% of total) to/from San Francisco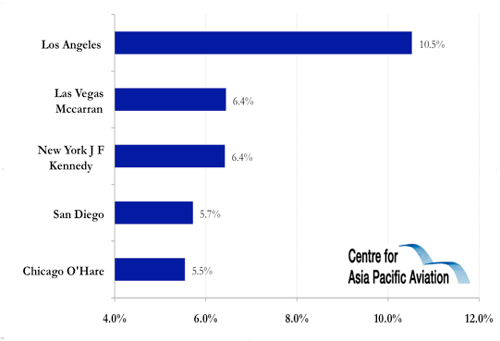 Declines reflect capacity and traffic reductions by major carrier, United Airlines

United Airlines, which has requested bids from Airbus and Boeing for an order for up to 150 aircraft to replace its entire widebody and B757 fleets, controls approximately 50% of capacity at San Francisco, with San Francisco-based Virgin America holding a 6.6% share, behind Southwest (8.8%) and American (7.4%).
San Francisco International Airport capacity and frequency share: Top 10 airlines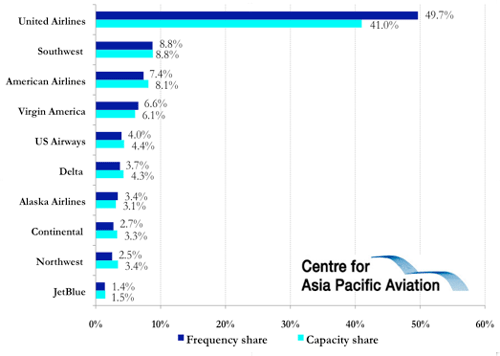 May traffic could be worse

United Airlines has reported strong declines in cargo traffic, of 28.1% in Apr-2009 and -27.1% in May-2009, with cargo traffic and revenues negatively affected by the carrier's exposure to Asian export markets. SFO's May-2008 cargo traffic could well show declines of this magnitude.
According to United, industry cargo demand was down approximately 50% in Japan and approximately 25% in other Asian markets in 1Q09, as a result of the global economic recession. Meanwhile, consolidated revenue passenger numbers was down 27.1% in Apr-2009 and 8.0% in May-2009, with mainline capacity expected to be down 9-10% year-on-year in FY2009.
However, despite reductions by the airport's major airline customer, SFO, which offers services to more than 30 international destinations on 25 international carriers, has seen new and/or resumed services from carriers including WestJet, Emirates, JetBlue, Virgin America, AeroMexico and Qantas so far this year. Airport management will be focused on these carriers to help ride out the storm.