Rapid international traffic growth at Montreal airport prompts terminal expansion
Analysis
Montréal-Trudeau Airport is planning a large expansion of its international terminal in response to continued rapid growth in international traffic. For the first time in its 70-year history the airport expects this year to have more international passengers than domestic or trans-border.
In 2010, international traffic accounted for 4.865 million passengers, or 37.5% of Montreal's total 12.971 passengers. Domestic accounted for 38.2% while trans-border traffic to the US, which is not included in international figures and uses a dedicated section of the airport with US pre-clearance customs, accounted for the remaining 24.3%.
International traffic projected to end 2011 above domestic figures
Of the three segments, international has been growing the fastest including a 6.4% increase last year and 11.9% jump through the first four months of 2011. Speaking at the Airports Leaders Forum in Singapore last week, Aéroports de Montréal CEO James Cherry said this year international traffic is destined to account for the biggest share of the traffic for the first time in Montréal-Trudeau's history.
Montréal -Trudeau's international traffic, which was only about 1.5 million annual passengers at the beginning of last decade, is expected to exceed 5 million passengers this year. Mr Cherry says Montreal's international traffic has been growing steadily since 2003 and averaging an annual growth rate of 7% to 10% p/a.
Annual passenger traffic and forecasted passenger traffic for Montreal, 2000 to 2015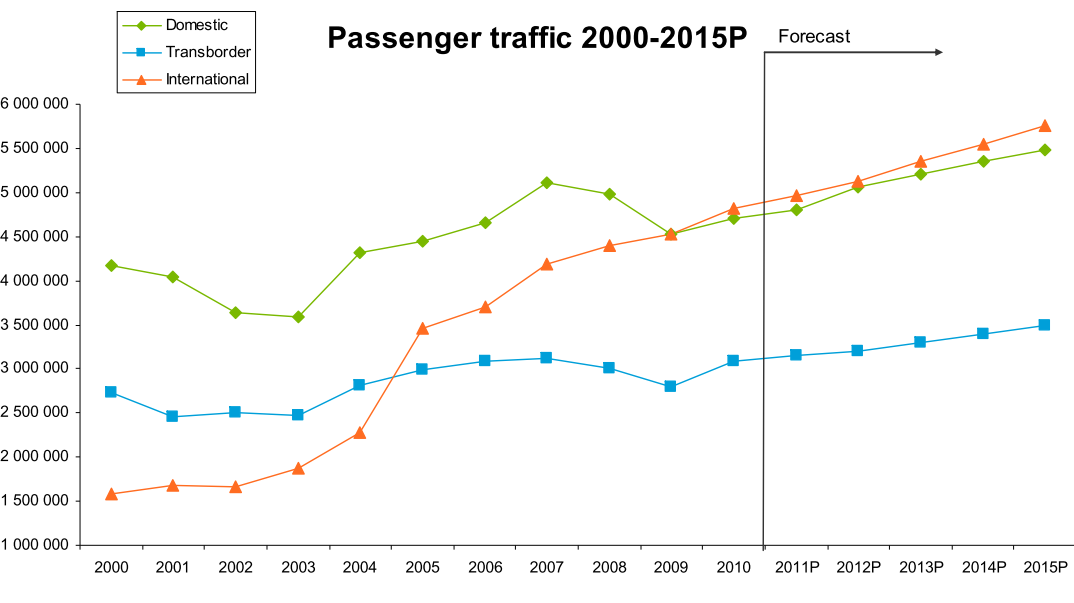 Monthly international passenger numbers for Montreal, Jan-2009 to Apr-2011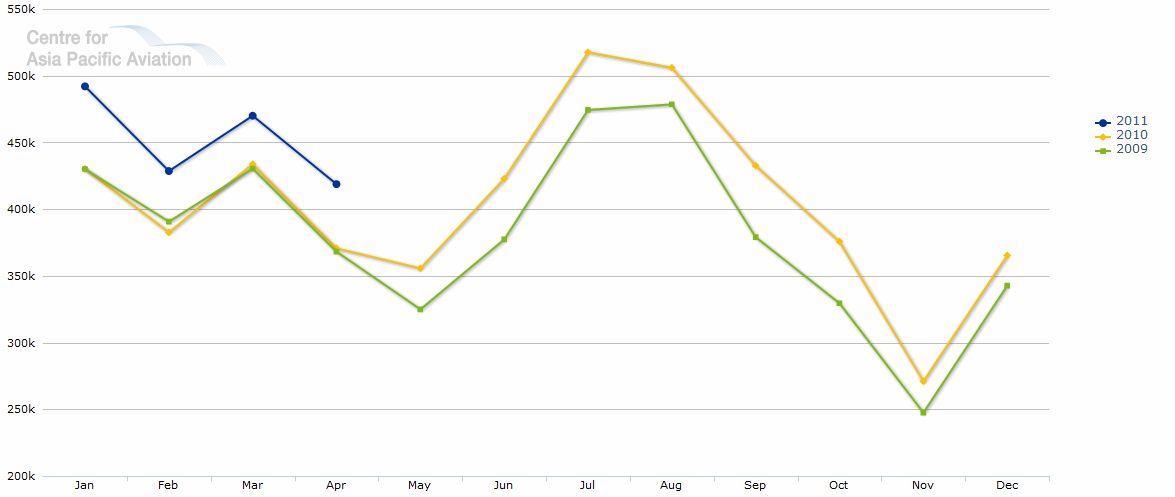 Mr Cherry pointed out that the rapid international growth has occurred despite the Montreal market being "fairly mature". The population in the Montreal area, which is about 10 million, is not growing and the propensity to travel is already high.
Six new international gates to be added
In response to the rapid international growth, Aéroports de Montréal is planning a two-phase expansion of Montréal -Trudeau's international terminal. Mr Cherry says when the expansion project is complete in 2016, the international terminal with have 17 contact gates compared to 11 currently. Two remote stands are also being added. The total cost of the project is expected to be between CAD500 million and CAD600 million.
Montréal -Trudeau's last expansion project was completed in 2009 and doubled total capacity to 15 million passengers per year. With 6.6% traffic growth so far this year, Montreal could reach the 15 million annual passenger mark as early as 2013. Montréal -Trudeau's Airport features a modular design, making expansion relatively easy to pursue. It currently has 55 contact gates and 10 remote stands.
Through the first four months of 2011, there were 1.81 million international passengers at Montréal –Trudeau compared to 1.54 million domestic passengers. In 2009 and 2010 there were also more international than domestic passengers in the first four months of the year but the gap wasn't as large. The launch of new international service, including by Qatar Airways, should also ensure the international tally remains above the domestic figures for the remainder of this year.
New Qatar Airways service a milestone in Montreal's network development plan
Qatar Airways became Montréal –Trudeau's 30th carrier at the end of last month, when it launched three weekly flights from its Doha hub. Wooing Qatar Airways was a major milestone for Aéroports de Montréal as it has been courting the three main Gulf carriers for several years. The Doha route is now the longest route from Montreal and opens up new connections, particularly to South Asia.
Mr Cheery said talks with Qatar Airways began in early 2004 and over the years Aéroports de Montréal presented data to Qatar Airways as well as Emirates and Etihad Airways to show the strong traffic flows from Montreal to the Middle East, India and Pakistan. He said so far the Montreal-Doha flight has been performing well and is "fully loaded". Mr Cherry added that it is too early to have specific market data on the new Doha flight but he expects a large portion of the passengers are flying to India and Pakistan while some are also backtracking to Syria and Lebanon.
There are large Syrian and Lebanese populations in Montreal. There are also large communities from North Africa, including Algeria, Egypt and Morocco. Montreal is already served by three carriers from the Middle East/North Africa region – Air Algerie, Royal Jordnanian and Royal Air Maroc. EgyptAir also previously served Montreal although it is now planning to launch service next year to Toronto rather than Montreal.
Chinese route next on Aéroports de Montréal's priority list
As a priority for the next stage of its network development plan, Aéroports de Montréal is now working on trying to secure service to North Asia with a particular emphasis on China. Mr Cherry says an average of 455 passengers per day travel from Montreal to East Asia and about half of this traffic is headed to China. Beijing is the largest single destination for Montreal passengers heading to East Asia, followed by Shanghai and Hong Kong.
Mr Cherry says Aéroports de Montréal is talking to Chinese carriers, including Hainan Airlines, about potentially serving Montreal. Hainan and Air Canada currently operate the Toronto-Beijing route while the China's three main flag carriers – Air China, China Eastern and China Southern – currently only serve Vancouver.
Aéroports de Montréal also believes there could be an opportunity for Air Canada to launch services from Montreal to China after the flag carrier starts receiving new B787s. But Mr Cherry acknowledged Air Canada is primarily focused on expanding its two existing hubs for Asian services – Toronto and Vancouver.
Mr Cherry said Air Canada has about a 45% share of the Montreal market. Based on schedules in Innovata, the Canadian flag carrier currently has seven long-haul routes from Montreal – Athens, Barcelona, Brussels, Frankfurt, Geneva, London Heathrow and Paris Charles de Gaulle. Leisure carrier Air Transat is Montreal's second largest carrier, followed by Canadian low-cost carrier Westjet and Air France.
According to Innovata, Air Transat now has about 20 low-frequency transatlantic destinations (includes summer-only routes) from Montreal including Athens, Barcelona, Basel, Bordeaux, Brussels, Dublin, Istanbul, Lisbon, London Gatwick, Lyon, Madrid, Malaga, Marseille, Nantes, Nice, Paris Carles de Gaulle, Rome, Toulouse and Vienna. Air France has three daily flights on the Montreal-Paris Carles de Gaulle route, including one A380 frequency.
Montreal's international and trans-border capacity (seats per week) by carrier, 18-Jul-2011 to 24-Jul-2011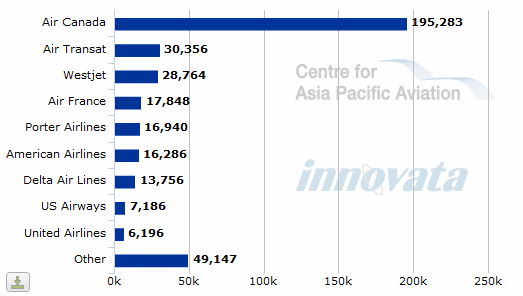 In the near term international traffic at Montréal –Trudeau will likely be boosted by increased capacity to Europe as well as improved connections to the Middle East and South Asia. For example, Turkish Airlines has been looking at serving Montreal and its fast-growing Istanbul hub could open up more connections for Montreal passengers to the Middle East and Asia.
Restrictive UAE-Canada bilateral blocks potential Dubai or Abu Dhabi route
A second Gulf carrier could also be supported in Montreal but is not feasible until there is a change in Canada's controversial policy limiting capacity for Middle Eastern carriers. Mr Cherry said Emirates has expressed interest in serving Montreal but is currently limited by the Canada-UAE bilateral. Emirates is now capped at three weekly flights to Canada, which it is already fully utilising with its thrice weekly A380 service to Toronto.
Etihad is also fully using its three flights per week allocation for its Abu Dhabi-Toronto service. Without an expansion of the controversial UAE-Canada bilateral, Emirates and Ethihad are unable to expand their Toronto services or launch Montreal. Qatar Airways is also capped at three weekly frequencies to Canada, which it is now fully utilising for the new Montreal service, prohibiting it from adding frequencies to Montreal or launching new destinations in Canada.
The restrictive policy is designed to protect Air Canada, which offers one-stop connections to the Middle East Asia via European cities with the second leg operated by its Star Alliance partners. Mr Cherry pointed out other carrier such as Air France, which offers Montreal passengers one-stop connections via Paris to several destinations throughout North Africa, the Middle East and Asia, is also vehemently against a change in policy. But Aéroports de Montréal is hopeful the policy will eventually change and the Qatar Airways experience will prove that it is not taking away traffic from other carriers but generating traffic growth for Montreal.
Mr Cherry believes that even if expansion of services to the Middle East leads to fewer European services for Montréal-Trudeau, that would be an overall positive development for the airport. He says in the summer season typically there are about 10 flights per day from Montreal to France and three or four to the UK. "We're so well served to Europe right now we can lose some of them," Mr Cherry said.
In addition to Air Canada's and Air Transat's numerous European routes, Montreal is served by seven European carriers – Air France, British Airways, France's Corsairfly, KLM, Lufthansa , Swiss and Portugal's SATA. Canadian leisure carrier Sunwing also operates on the Montreal-Paris route.
According to Innovata data, Western Europe now accounts 46% of Montreal's international (including trans-border) capacity. When excluding North American/trans-border flights, Western Europe accounts for an overwhelming 80% of international capacity at Montreal. In comparison, the Middle East and North Africa only now accounts for 8% of total international capacity (excluding trans-border).
Montreal's international and trans-border capacity (seats per week) by region, 18-Jul-2011 to 24-Jul-2011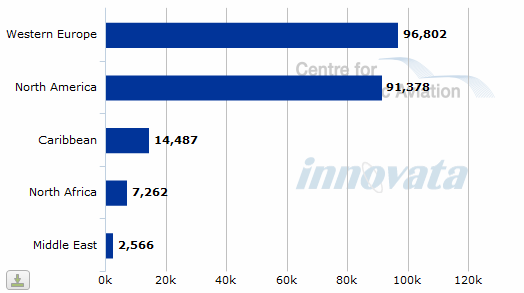 Paris is now by far the largest of Montreal's largest international and trans-border routes while London Heathrow is the third largest. Brussels and Rome also are among Montreal's 10 largest international/trans-border routes.
Montreal's 10 largest international and trans-border routes by capacity (seats per week), 18-Jul-211 to 18-Jul-2011