24-Jun-2009 11:55 AM
Qantas, Cathay Pacific, Singapore Airlines and Japan Airlines down, Malaysia Airlines up
Asian airline shares were generally down yesterday (23-Jun-09), reflecting overall reductions across Asia Pacific stock markets. Shares in Cathay Pacific, Singapore Airlines and Japan Airlines were down, by 1.5%, 1.3% and 0.5%, respectively. Malaysia Airlines gained 3.9%.
Asia Pacific selected airlines daily share price movements (% change): 23-Jun-09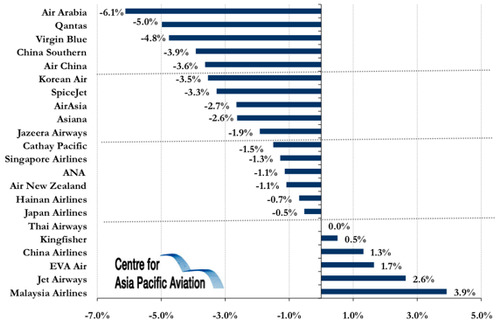 Shares in Qantas slumped 5.0% yesterday. UBS predicts lower earnings as a result of increased competition on the trans-Pacific route. According to UBS estimates, pre-tax contributions from Qantas' trans-Pacific services will fall from USD350 million in FY2008/09 to USD100 million in 2009/10.
OAG, meanwhile, released its airline capacity outlook for 2H2009 yesterday, revealing a 3.7% year-on-year reduction in flights and a 2.8% reduction in global airline capacity in the six-month period. According to OAG, total frequencies to/from Asia Pacific are expected to fall by 3.1%, partly due to the introduction of the A380 by Emirates, Qantas and Singapore Airlines, while services within Asia Pacific are expected to fall by 4.8%, with a 2.7% reduction in seating capacity.
Global trend in airline capacity: 1H2001 to 2H2009