Profits at Jet2.com parents company fall by almost a quarter; AirAsia returns to net profitability
Dart Group shares' gained 2.9% on Friday, following the previous day's 4.1% reduction, after the release of the company's financial results for the six months ended Sep-2009 on 19-Nov-2009.
Despite a reported 23% reduction in pre-tax profits in the period, to GBP28.1 million, Dart Group stated it expects full year trading to be in line with market expectations, and added that the 1HFY2010 results were in line with expectations and reflected the tougher trading environment in the aviation business.
During 1HFY2010, Jet2.com was successful in ancillary revenue generation (up 36% to GBP20.70/passenger) and in maintaining load factors (+1 ppts to 80%), although this was in part at the expense of yields.
Air Berlin sees "breakthrough" with GLS approvals
Also in Europe, Air Berlin's shares gained 1.7%, as the carrier announced it has become the first airline to receive LBA (German Federal Aviation Office) approval for employing GLS (GPS landing system) technology on its flights.
AirAsia returns to net profitability in 3Q3009
In the Asia Pacific, AirAsia stated it expects a further recovery in air travel demand moving forward, with CEO, Tony Fernandes, stating that "based on the forward booking trend, the underlying passenger demand in the fourth quarter is positive". He added, "while the airline industry is facing arguably the most difficult environment in recent memory, we see vast opportunities to grow our business".
The region's largest LCC returned to net profitability in 3Q3009, traditionally the carrier's weakest quarter, with a net profit of MYR130.1 million (USD38.5 million) aided by a 86% jump in ancillary revenues to USD38 million (compared to overall revenue growth of 4.5% to USD219 million) and rising passenger numbers (combined Group passenger numbers were up 24% to 5.9 million passengers, with the Malaysian operation's traffic up 19%), which more than offset a 27% reduction in average fares (for Malaysian operations) and a 11% yield reduction.
The carrier also benefited from the Malaysian Ringgit's strengthening against the US dollar, which resulted in a translation gain of USD30 million.
Looking forward, AirAsia stated underlying passenger demand for 4Q2009 is positive, with the carrier remaining on course to achieve the Group's target of carrying 25 million guests for the full year. The carrier added that its Indonesian and Thailand operations are performing well in 4Q2009 with high passenger growth rate and "encouraging" yield trend. Both the associates are expected to "show a respectable performance in the upcoming fourth quarter".
AirAsia's share price was down 2.3% on Friday but has gained 48% since the start of the year, in line with the 45% rise in the broader market index .KLSE.
AirAsia share price growth: Jan-2009 to Nov-2009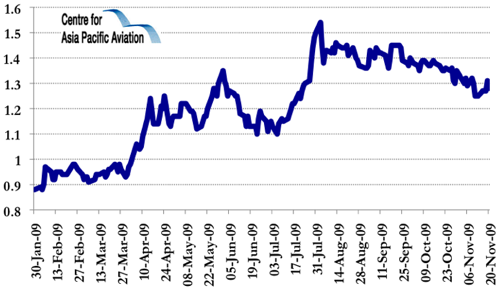 In the Americas, US airline stocks succumbed to broader market selling on Friday, closing slightly lower even as the price of crude oil pulled back below USD77/barrel. AirTran was the hardest hit, down 4.4%.
Selected LCCs daily share price movements (% change): 20-Nov-09