Premium travel outlook "very depressed" - IATA
Analysis
The economic blowtorch is well and truly on. The number of passengers travelling on premium tickets worldwide shrank at an accelerating rate for the third month in a row in Aug-08, according to IATA, as the deterioration in economic conditions caused a slump in business travel. In August, for the first time since SARS in 2003, there was a decline in the number of passengers travelling on both premium and economy tickets. The post Summer pick-up in premium traffic has also failed to materialise and the unprecedented financial market turbulence is expected to show up in even more depressed figures in the remainder of 2008.
IATA has meanwhile retained its forecast for a USD4.1 billion combined industry loss next year, stating that although fuel prices are now at half the recent peak, economies have "weakened sharply over the summer months". IATA added, "the industry is highly geared to the economic cycle and has always suffered substantial losses in previous economic downturns".
Premium passenger numbers were down -1.5% in Aug-08, while economy travel fell -0.1%. Outside the Middle East and the North Atlantic, premium traffic is in sharp decline.
IATA premium traffic growth by region (% change year-on-year): Aug-08
Worryingly for Asia Pacific airlines, all premium travel markets linked to the region weakened significantly in Aug-08.
According to the industry body, "prospects for premium travel, business travel in particular, look very depressed". It added, "the financial sector crisis will surely see a very large shrinkage in business travel from this sector. Moreover, the increased likelihood of recession in major economies next year will further weaken both business and leisure travel".
Asian freight markets down in Sep-08
All Asian airlines and airports that have reported monthly statistics for Sep-08 show freight volumes are declining and downward trends are accelerating. Only Shenzhen Airport has so far showed an improvement in Sep-08 from the deep cargo traffic reductions in Aug-08.
Airports' total cargo volume (tonnes) year-on-year growth: Jan-08 to Sep-08
Airport Authority Hong Kong has warned of tough times ahead for the aviation industry, as its cargo numbers declined 7.5% year-on-year in Sep-08 (and passenger numbers declined 4.7%). The US and Europe, China's biggest trading partners, saw a "sharp drop" in air cargo traffic to/from Hong Kong.
CEO, Stanley Hui, stated, "given the very difficult operating environment and shrinking demand in the economic slowdown, airlines are expected to further scale back their operations, or put on hold their expansion plans. He added, "the aviation industry is expected to face even more difficult times in the coming months".
Airline cargo volumes have been depressed for some months, but showed further weakness in Sep-08. Carriers have been slowing their capacity in the segment, which has helped to stabilise cargo yields, although significant reductions in the overall cargo business will be hurting Asian airline earnings.
Airlines' total cargo volume (tonnes) year-on-year growth: Jan-08 to Sep-08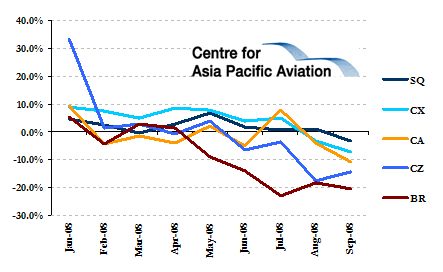 USD200 million would buy Virgin Blue
The companies that acquired a 12.4% stake in Brisbane Airport for AUD289 million (USD200 million) last week could have bought the whole of the airport's second largest customer, Virgin Blue, for the same amount. Virgin Blue's share price closed at a record low of AUD 27.5 cents on 17-Oct-08, valuing the airline at AUD289 million (USD199.5 million). CEO, Brett Godfrey, stated the airline is "at the mercy of the market".
For a foreign airline seeking access to the Australian domestic market, the New Zealand domestic market, trans-Tasman routes, a strong and rapidly expanding South Pacific network and soon-to-launch widebody operation to the US, USD200 million must surely rate as a bargain basement price. For example, Singapore Airlines was prepared to pay over USD900 million (in partnership with Temasek) for 24% of loss-making China Eastern Airlines at the start of the year.