Premium traffic woes to accelerate, with revenues set to fall
Analysis
Premium travel demand fell significantly around the world in September, and further declines in business confidence in October would lead to further "substantial declines" in premium travel, according to IATA.
Total international premium traffic slumped 8% in Sep-08 year-on-year. It included some very concerning regional data, namely a 29% drop within the Southwest Pacific (dominated by Australia), an 8.7% fall on Europe-Asia routes, a 12.1% plunge within Asia and an 11.6% drop in demand on North Pacific routes.
Even the previously high-flying Middle East was not spared, with big falls within the region (-13.8% in Sep-08 year-on-year), as well a 7% reduction on services to Europe, a 17.7% reduction to the Southwest Pacific and an 18.2% reduction to Asia. This is a potentially worrying development for the Middle East sixth freedom carriers and their hubs, which have thrived on connecting traffic between the major regions. The Middle East economy is also cooling rapidly as oil prices have dropped by almost two thirds from their recent highs.
International premium demand by region (% change year-on-year): Sep-08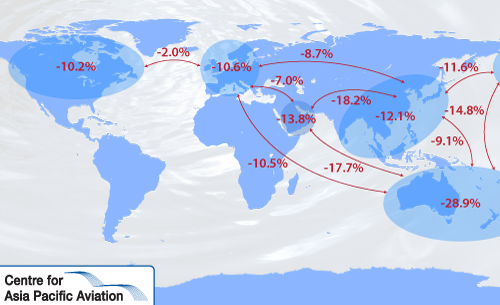 IATA stated the sharp fall in business travel coincided with a steep decline in the confidence of manufacturing businesses in Europe, Japan and the US. Premium traffic on North Atlantic markets fell 2% in September, reflecting the sharp economic downturn at both ends of the market.
Short-haul hit harder than long-haul
The industry body added, "all long-haul markets are now showing signs of weakness, but their decline remains less than that seen on shorter-haul markets". Structural weakness in Europe (as LCCs have increased their market shares) has dragged down premium demand in that market over the past couple of years.
The global economic downturn appears to be accelerating the replication of this trend in the Asia Pacific region as well, with the CEOs of several leading carriers, including Singapore Airlines and Qantas, recently reporting premium travellers are "trading down" to economy on shorter segments. Likewise, the CEOs of the region's leading LCCs, including Jetstar, Tiger Airways and AirAsia, have all reported stronger corporate traffic lately.
Short-haul premium pain: Total international premium traffic vs Within Far East vs, Europe and North America (% change year-on-year): Sep-06 to Sep-08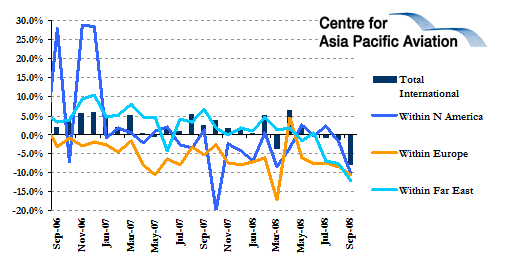 Premium revenues tipped to decline
The collapse in premium travel volumes is now leading to a virtual standstill in premium revenue growth, according to IATA. It stated, "premium fares were still rising into the late Summer, as airlines sought to recover part of the rise in actual fuel costs paid through price rises in this less price sensitive market segment. Until September this had kept revenue growth up, despite weakening volumes".
The industry body warned that further declines in volumes in the months ahead would mean premium revenues "are likely to begin to decline in absolute terms".