Precision's IPO off to slow start but hopes remain high
Analysis
Precision Air's Initial Public Offering (IPO) is off to a slow start, hindered by reported delays in the distribution of application and prospectus forms, and a low initial turnout. Despite this, lead advisor for the issue, Orbit Securities, is confident interest will pick up and the planned TZS27 billion (USD16.5 million) will be raised. Orbit stated the listing price, which has attracted some criticism for being too high, is based on the carrier's potential to grow and not on its past financial performance. A successful listing would reflect favourably on the airline's prospects and the wider Tanzanian economy.
Precision Air key IPO dates
Offer opening date: 09:00 on 07-Oct-2011;
Closing date: 16:00 on 28-Oct-2011;
Announcement of offer results: 11-Nov-2011;
Crediting shares to CDS accounts, dispatch of depository receipts and refund cheques: 25-Nov-2011;
Listing and commencement of trading on Dar es Salaam Stock Exchange: 08-Dec-2011.
See related CAPA analysis: Precision Air hopes IPO will see expansion plans take-off
Slow start
Precision Air's IPO opened on 07-Oct-2011, with the carrier offering 58,841,750 shares (approximately 30%) for sale at TZS475 (USD0.28) per share, with a minimum number of shares per application of 200 shares. Funds raised from listing on the Dar es Salaam Stock Exchange (DSE) will go towards the carrier's fleet and route expansion plans, which include the reported purchase of five aircraft to extend service to the Democratic Republic of the Congo and Angola. Ninety-three percent of the expected funds will be used for capital expenditure while the remaining 7% will be used for working capital. Precision eventually plans to begin international services to destinations outside of Africa, although possible routes have not yet been announced.
Precision Air's proposed shareholding structure
| | Michael Shirima | | Public |
| --- | --- | --- | --- |
| Number of shares | 68,857,650 | 66,157,350 | 58,841,750 |
| Percentage (%) | 35.52 | 34.13 | 30.35 |
Orbit Securities reported that just 40 individuals had collected application forms by mid-morning on 07-Oct-2011. The company is however optimistic the offering will gain more interest and stated the progress so far is promising. "We normally do not expect much in the first day as investors as still reading the prospectus before they decide. It is actually encouraging and we expect more subscription next week," stated Orbit CEO, Laurean Malauri. Orbit stated it received "many inquiries" over the weekend.
The DSE now lists a total of 17 companies, including Kenya Airways, CRDB Bank, Swissport Tanzania, Tanzania Breweries, Tanzania Tea Packers, Kenya Commercial Bank, National Investment Company and others. Precision Air will be first Tanzanian local carrier to be listed on the DSE, which should present as a good opportunity for local investors.
Kenya Airways, the only other airline listed on the DSE, has shown a downward trend in share price value (index) from a three-month high of KES34.75 on 19-Jul-2011, reflecting the poor performance of equity markets globally over the period, to a low of KES24.751 on 03-Oct-2011. Kenya Airways' shares picked up slightly on 07-Oct-2011, on the same day Precision's listing opened.
Share price (KES) movements for Kenya Airways: 11-Jul-2011 to 07-Oct-2011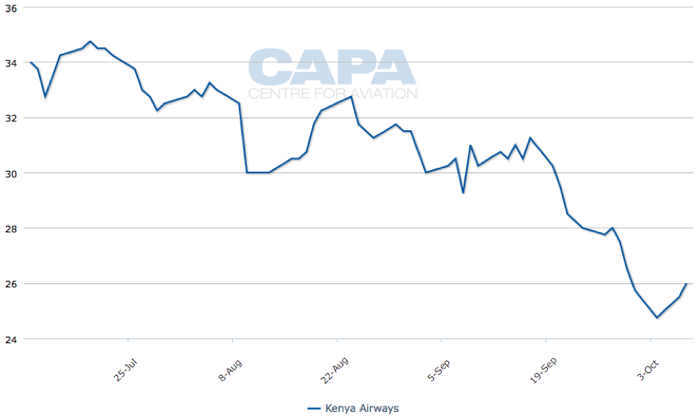 Precision Air has the potential to be a successful carrier and investors will take comfort from Kenya Airways' 49% stake in the airline. However fuel prices and competition levels will be the key concerns, as are general equity market conditions.
It is not an easy time to get an IPO away, given the volatility of equity markets in recent months. As reported by CAPA last week, pressure on airlines and investors is mounting due to the likelihood of a period of slow growth in developed economies. Fears of a double-dip recession are looming and in 2011 so far, airline share prices recorded a 32% decrease, according to IATA's Aug/Sep-2011 Airline Financial Monitor. See related CAPA analysis: Airline industry in continued 'crisis' state amid uncertain outlook: IATA
Background information
Top 20 airlines operating in Africa by capacity (seats per week): 10-Oct-2011 to 16-Oct-2011